Links contained in this post and elsewhere on my website may include affiliate links. When you make a purchase through these links, I earn a commission at no additional cost to you. I only link to products and services that I love - and that I think you will love, too!
Read Time:
5 Minute, 8 Second
Just like people, dogs can benefit from the supportive, healthful nature of many herbs. Herbs for dogs can be used as powders, herbal extracts, herbal glycerites, or as teas. Giving herbs to dogs can be a bit stressful for owners, though. After all, your dog might not be as enthusiastic about taking herbs as you are about giving them! Here are a few tricks I keep up my sleeve for making sure my dog, Chaucer, always looks forward to taking the herbs that I offer.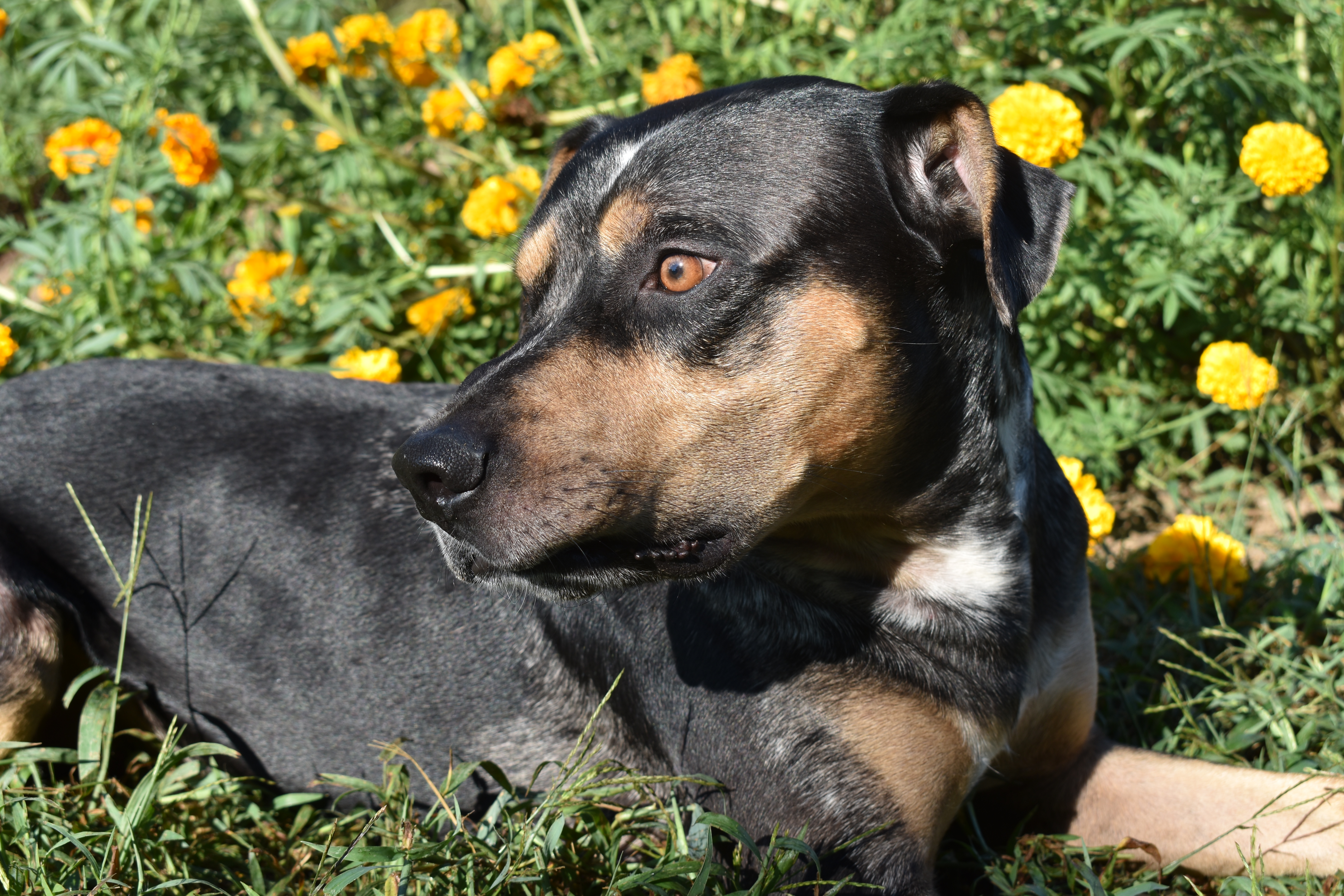 "Uh oh, are you talking about herbs again? I heard my name. Maybe I should go hide. . . "
Stress-Free Ways of Giving Herbs to Dogs
One of the important things I keep in mind when giving herbs to my dog is how to do it with the least amount of stress. This applies for both of us! Chaucer weighs 60lbs. Restraining him to properly give pills or liquids by mouth quickly turns into a wrestling match that he (usually) wins. It's stressful for him, too, especially when he doesn't feel well.
Instead of stressing us both out with a contest of strength and will, I add herbs to his food or use one of the methods below so he thinks it's a treat! He usually responds very well to any of these suggestions, even if he doesn't have much of an appetite.
These bribes also work well for giving tonic, nervine, and nutritive herbs. Chaucer is young and, so far, has been very healthy. When I give herbs to Chaucer, I usually give herbs like nettles and  burdock. These are nutritive, alterative herbs that can be used regularly even when he's feeling well. We also use nervines when we travel to help him stay calm and focused (he LOVES to travel and gets very hyper and excitable).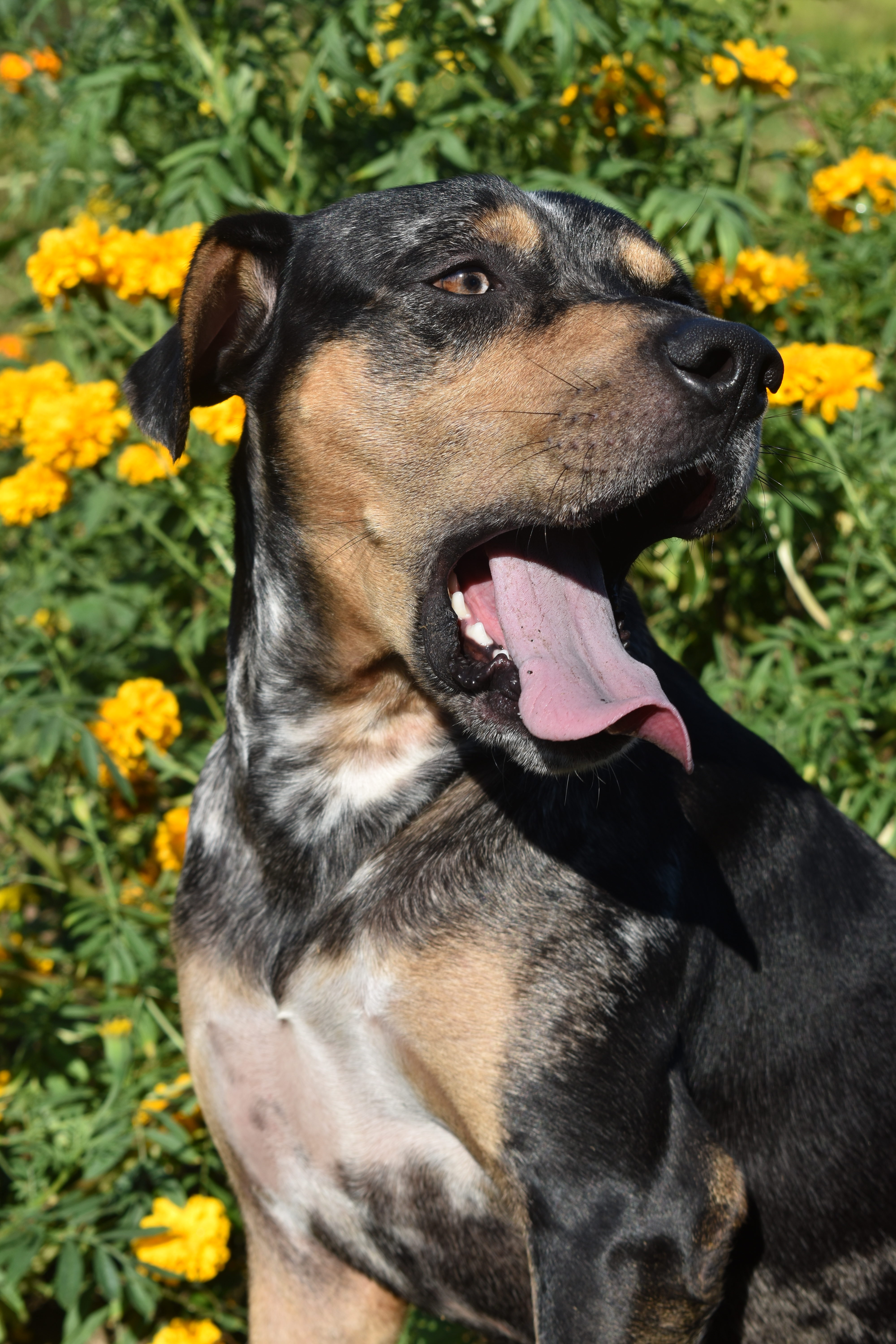 "Herbs can be gross! Good thing Mom doesn't give them to me anymore. . . "
Here are some Chaucer Approved herbal bribes. . . Shhhhh, don't tell him, ok?
Mixing with Nut and Seed Butters
Using nut butter as a carrier for herbs is a quick, simple solution. It doesn't work well for herbal teas, but it's perfect for other forms. I stir one serving of herbal powder, glycerite, or extract into a tablespoon or two of nut butter. Once the herbs are mixed in,  apply the nut butter on their nose or paws, onto a treat dispensing toy, or let them lick it off the spoon.
Chaucer especially likes peanut butter, almond butter, and sunflower seed butter. Just be sure to check the label and use an all natural nut butter that doesn't contain sweeteners – xylitol and artificial sweeteners can be dangerous for dogs. Chaucer especially likes this barnacle treat dispenser toy (#affiliate). I like it too, because he's had it for two years and hasn't been able to destroy it yet! He uses the large size, but there are several to choose from.
Add to Yogurt or Cottage Cheese
If your pup likes plain, unsweetened yogurt, they may accept powdered herbs or an herbal extract in a spoonful of yogurt. Cottage cheese may be another good bribe food to mask the taste of herbs. You can also mix in your pup's favorite veggie or fruit tidbits for extra temptation. Chaucer especially likes bananas, blueberries, and pumpkin in his yogurt. Frozen yogurt bites for a cold treat can be fun, too.
Make Herbal Bone Broth
Bone broth made with veggie scraps and powdered herbs can be a great way to convince your dog to drink up for health. This is especially helpful if you are using nutritive herbs like nettles, or have a dog that needs an extra boost of hydration and electrolytes. This is one of the best ways to give herbal teas, but it may not be tasty enough to mask strong smelling or bitter tasting herbs or herbal extracts. Chaucer and I have experimented with nettles and calendula petals in bone broth.
Make Ice Cubes with Herbs
Chaucer loves to play with ice cubes in the summer. We've used bone broth and herbal teas to make the ice cubes for a fun change of pace. You may need to experiment a little to find flavors that your dog likes, but this is great for mild tasting herbal teas like cleavers, violets, nettles, corn silk, and clover. Chaucer really enjoys fruit like watermelon, strawberries, and apples, and using a little juice can help mask an herbal extract when needed. Mixing in a little baby food can provide more flavor, too. Besides organic beef or chicken, Chaucer loves banana baby food mixed into his ice cubes!
Disguise Herbs in Canned Food or Baby Food
There are plenty of natural canned dog food brands on the market now, and keeping a few cans on hand can be a good idea. The strong flavor and smell of canned food can help mask herbal flavors. Canned food is also good for the novelty factor if your dog doesn't normally eat it! Chaucer  licks the bowl clean before he even realizes there were herbs involved. Ditto for baby food in flavors you know your dog likes. You only need to give a spoonful or two to deliver herbal powders, extracts, and glycerites. In that case, transfer the unused food to an airtight container in the refrigerator so you can dole it out over the course of a day.
Giving herbs to dogs doesn't have to be stressful. By turning the process into a chance for your dog to enjoy some healthy treats, you both win. Just ask Chaucer!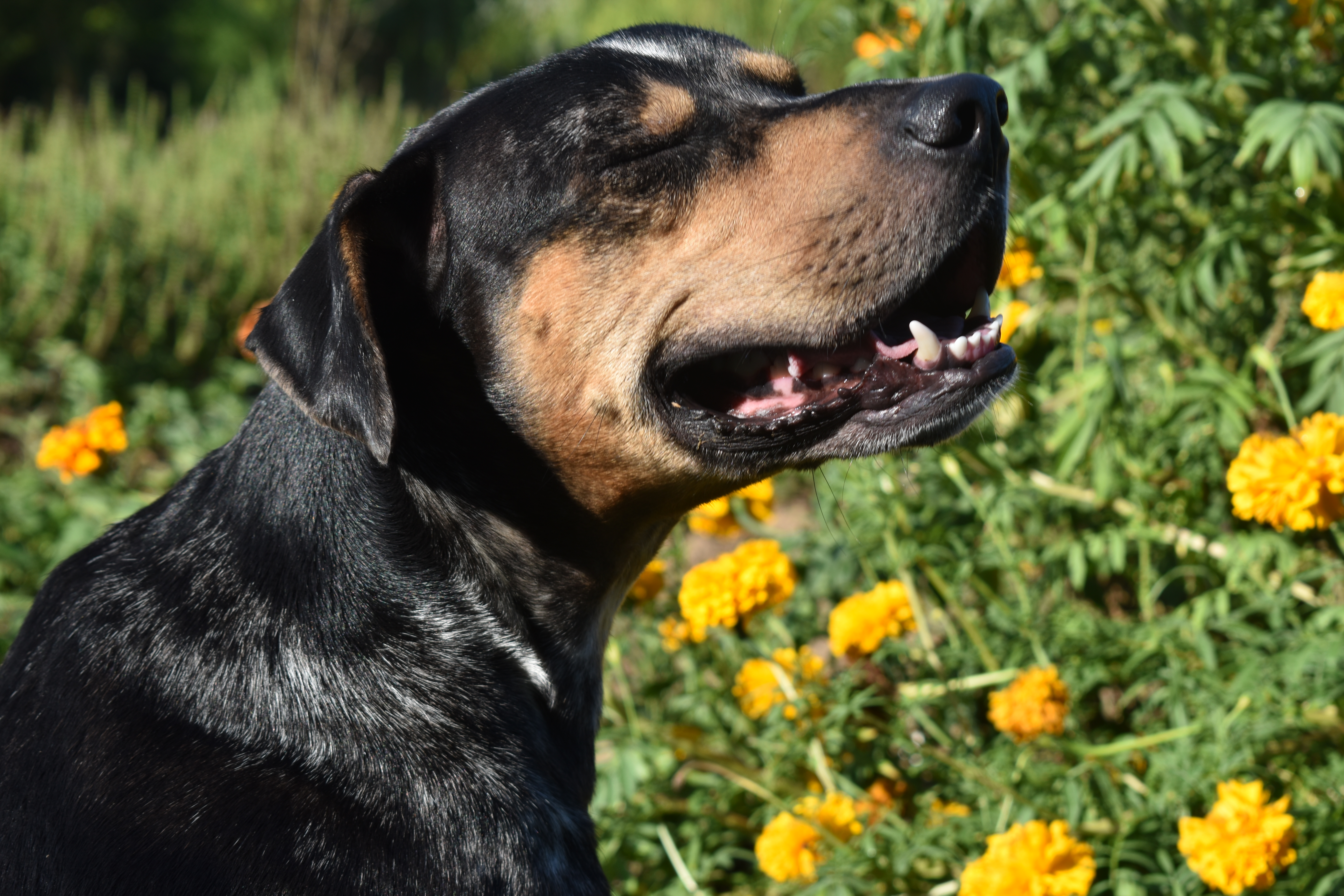 "Mmmmm. . . More treats, please?"
Keep in Touch for More Herbalism for Dogs
This article is part of a new monthly column about canine herbalism. For more of Chaucer's favorite tips, tricks, and treats for herbal dogs, be sure to sign up for my monthly newsletter. Every month, I send out a recap of all of my blog posts so you won't miss any!
If you're interested in herbalism for pets, you might also enjoy my book review of Veterinary Herbal Medicine by Winn and Fougere.
All the best,
Agatha