Links contained in this post and elsewhere on my website may include affiliate links. When you make a purchase through these links, I earn a commission at no additional cost to you. I only link to products and services that I love - and that I think you will love, too!
Read Time:
4 Minute, 9 Second
Finding good herbal info for pets and livestock can be daunting. If you're a homesteader or interested in long-term emergency preparedness, you'll naturally want to include your pets and livestock in your herbal education. Today, I've got a book review that's exactly what we've been looking for! Read on for my review of Veterinary Herbal Medicine by Susan G. Wynn and Barbara J. Fougere.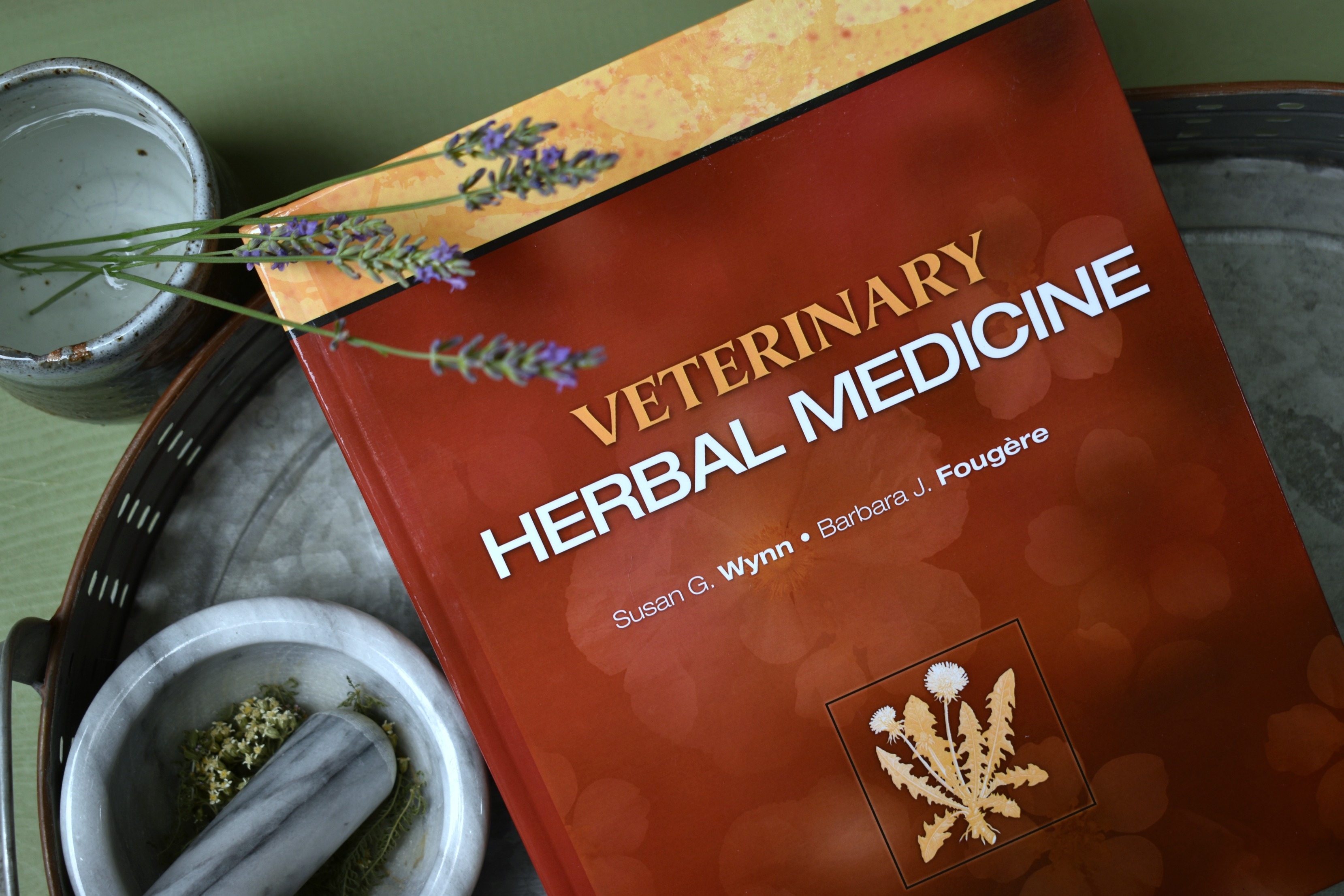 First, yes – I know it's a textbook. I think it's important for home herbalists to have a few textbooks on their bookshelves! Sure, they can be challenging reading material. However, it's a great way to stretch your herbal skills a little at a time. It's also a great value. Most herbal textbooks are under $100. Compared to advanced herbal courses online (usually $1200 and up!) they're a steal. Besides that, textbooks provide some of the most reliable herbal info around. So don't be afraid to add them to your reference library at home!
I'm really impressed with this textbook for several reasons. It's always great to find a book that explores traditional frameworks of herbalism and how they match up with modern research. This book goes one step farther and specifically addresses how that applies to animals. Traditional Chinese Medicine and Ayurveda are both covered. Sample formulas are provided for many common health complaints.
The materia medica has several stand-out features. Besides general info on each herb, the authors discuss studies about:
how herbs benefit livestock immunity
reproductive vitality in breeding stock
and athletic performance in competition animals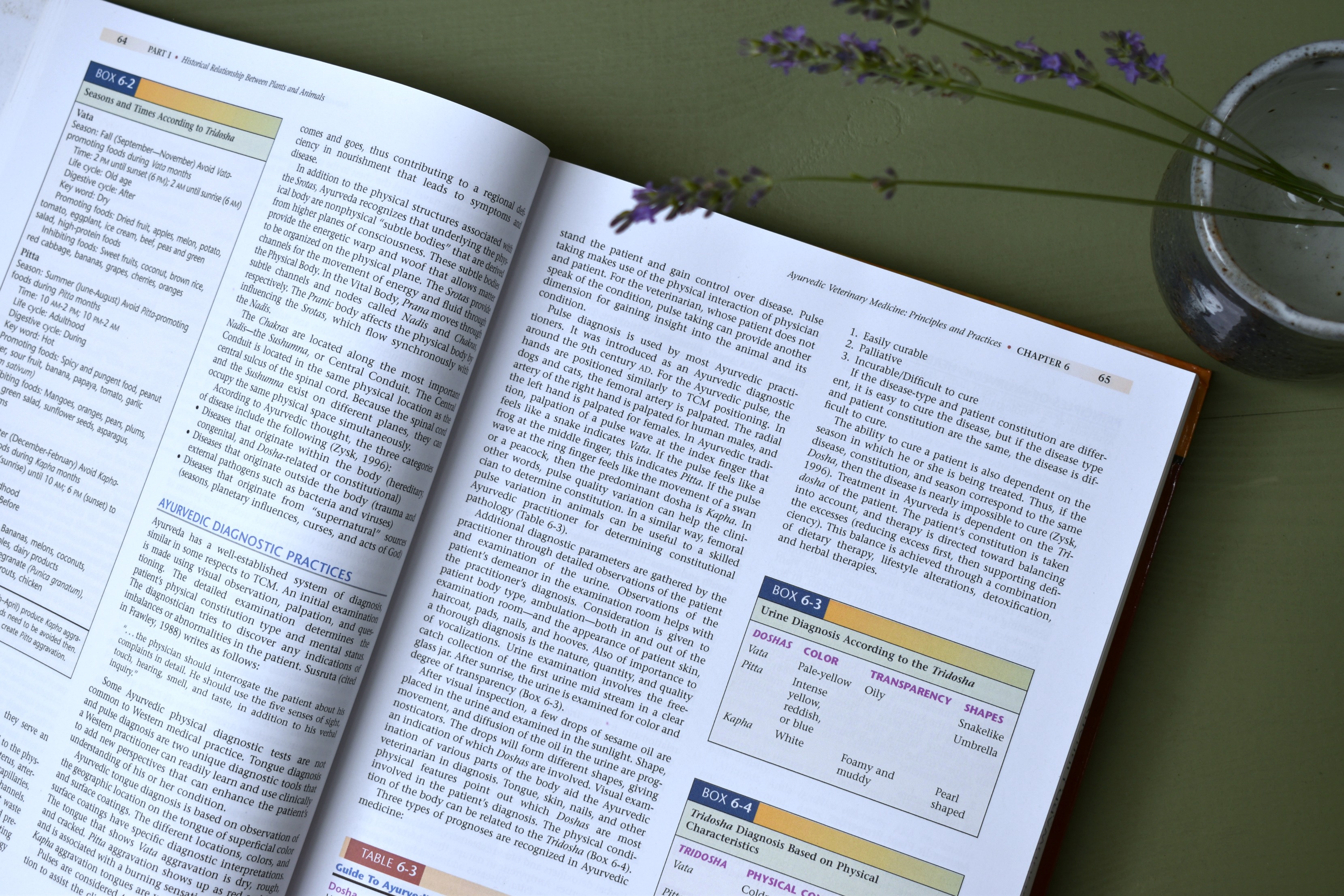 Navigating the Book
Veterinary Herbal Medicine contains four parts. Part one looks at animals in herbal history. Section two examines herbal medicine controversies. Part three focuses on the science behind the plants. Modern herbalism is the focus of part four. The way the book is laid out feels very intuitive. It's easy to use as a quick reference!
Part I: Historical Relationship Between Plants and Animals
This portion of the book examines TCM and Ayruveda and how to apply them with animals. It also includes a history of veterinary anthropology and how wild animals self-medicate with plants. This is useful background information for using herbs with your own pets and livestock. 
Part II: Herbal Medicine Controversies
This section includes information on evaluating herbal research. This is a less common skill for home herbalists to have. However, I think it's worth cultivating. It opens up so many doors for having a deeper understanding of the plants. The authors provide balance between traditional herbalism and how it differs from modern research. They also discuss how the two worldviews complement one another.
Part III: The Plants
This section includes medical botany and plant chemistry. There's even a brief chapter on designing herb gardens. I am especially impressed by the thoughtfulness behind the two chapters addressing conservation and substitution of endangered herbs.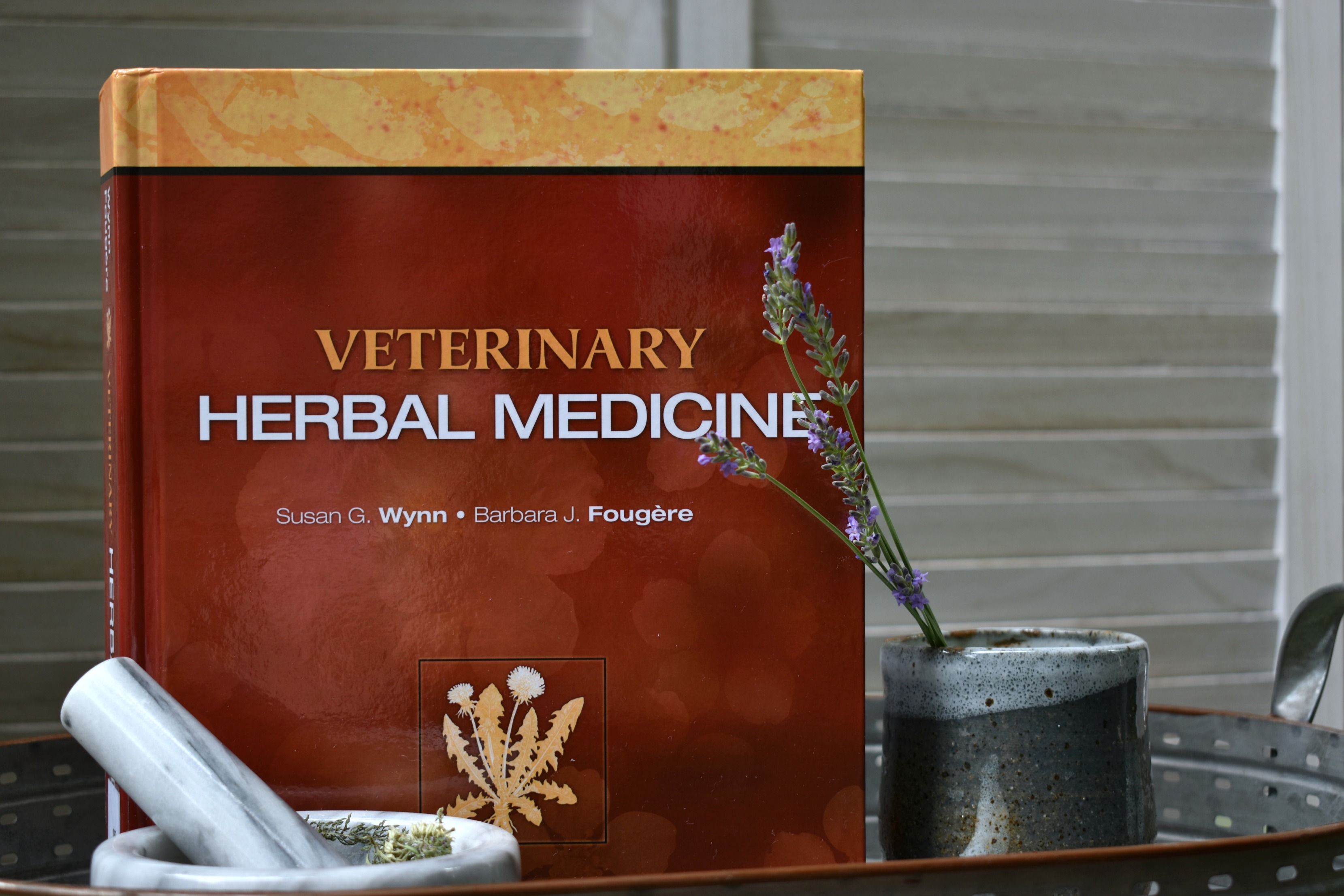 Part IV: Veterinary Clinical Uses of Medicinal Plants
The fourth section of the book contains suggested formulas for health problems. It even includes specific chapters for horses and dairy cows. The materia medica is a good resource for quickly researching individual plants and their uses. Each entry includes a pronunciation guide for the plant's scientific name, and a list of common names for each plant is also included. This is where to look for dose and safety information, too.
Veterinary Herbal Medicine
I'm thrilled with this guide because now I have an easy way to look up which plants are safe for my pets. I can also easily find information on dose.
In my experience, it's difficult to find reliable herbal information for animals. As someone who has owned all kinds of pets and livestock, I'm aware that metabolisms work differently between species. What's good for the goose may be good for the gander, so to speak. . . but what about for the barn cat? With this textbook on hand, I can quickly look to see if there are any species-specific warnings for an herb.
As far as I'm concerned, this one is a solid 10 out of 10. This book is a valuable addition for anyone who is serious about herbal health for pets or livestock. Here's the link to buy it on Amazon if you would like to add it to your own homestead reference library!
All the best,
Agatha
About Agatha
I'm an herbalist and author from Atlanta, Georgia. Thanks for visiting my blog! My popular herbal recipe book is full of creative ideas for supporting wellness with adaptogens like rhodiola, holy basil, and ashwagandha. You can learn more about my book here. It's available for purchase through Amazon, Barnes and Noble, or by request at your favorite local book shop!