Links contained in this post and elsewhere on my website may include affiliate links. When you make a purchase through these links, I earn a commission at no additional cost to you. I only link to products and services that I love - and that I think you will love, too!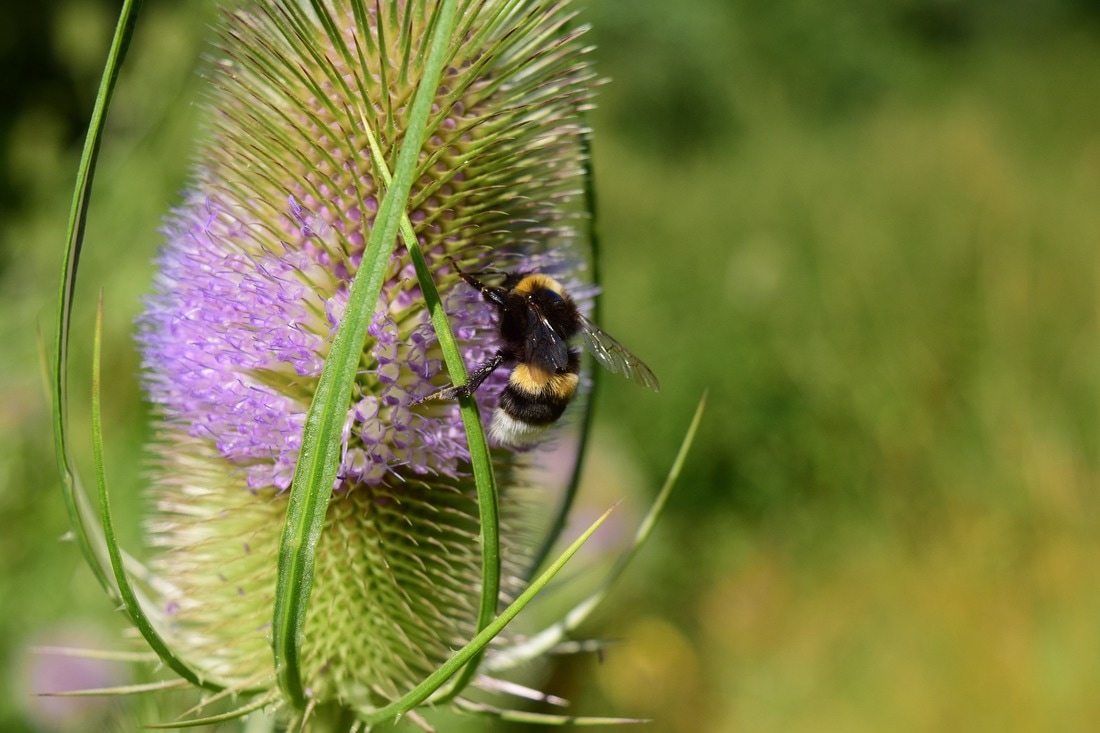 Although it's easy enough to find information on yarrow, plantain, and even comfrey for herbal first aid uses, there are several other plants that are nice to have on hand after traumatic injuries like sprains, strains, tears, and broken bones. We've already talked about two of them (mullein and black cohosh), but let's take another look at them as well as at boneset, arnica, and teasel.
Boneset
Eupatorium perfoliatum
In The Earthwise Herbal: A Complete Guide to New World Medicinal Plants, herbalist Matthew Wood has this to say about boneset: "In practice, boneset has turned out to be a superlative remedy for bone repair. Comfrey will seal bones together even when they are not correctly set and in the wrong place, but boneset will help bring them together in the right place and then set them from the inside out." Boneset was also traditionally used for fevers and illnesses where deep, aching pain in the bones and muscles was present. Herbalist Richard Whelan has a
good article about boneset
.
Mullein
Verbascum thapsus
As we have mentioned before, mullein is an excellent respiratory system support herb, but it also has been used traditionally for broken bones, bruising, and other post-traumatic injury aftermath. It has a reputation for being particularly useful for injuries to the fingers, toes, and spine; as well as broken bones that are hard to set. The Medicine Woman's Roots has a
fantastic article on mullein
that details mullein's uses for the musculoskeletal system as well as the ways mullein can be used as a nervine for emotional support.
Arnica
Arnica montana
Arnica is a topical-only herb because it can be toxic if used internally. Used externally, though it is one of the most well-loved herbs for sore muscles, strains, sprains, bruising, and insect bites. You can read more about arnica in this detailed entry from
King's American Dispensatory, 1898
.
Black Cohosh
Cimicifuga racemosa
We've already talked about how black cohosh isn't just for women. Supporting the body while it recovers from muscle pain, tightness, and whiplash is another example of how this herb can be helpful to both men and women.
Teasel
Dipsacus sylvestris, D. japonica
Teasel has an affinity for the joints, tendons, and bones. Especially bad injuries where things have been pulled, torn, and wrenched. D. japonica was used for these purposes in TCM, and Western herbalists have explored the use D. sylvestris as a substitute. I don't know of any good resources online that discuss the full depth and breadth of teasel, but The Book of Herbal Wisdom by Matthew Wood has an excellent chapter devoted to teasel.
All the best,
Agatha