Links contained in this post and elsewhere on my website may include affiliate links. When you make a purchase through these links, I earn a commission at no additional cost to you. I only link to products and services that I love - and that I think you will love, too!
Read Time:
2 Minute, 37 Second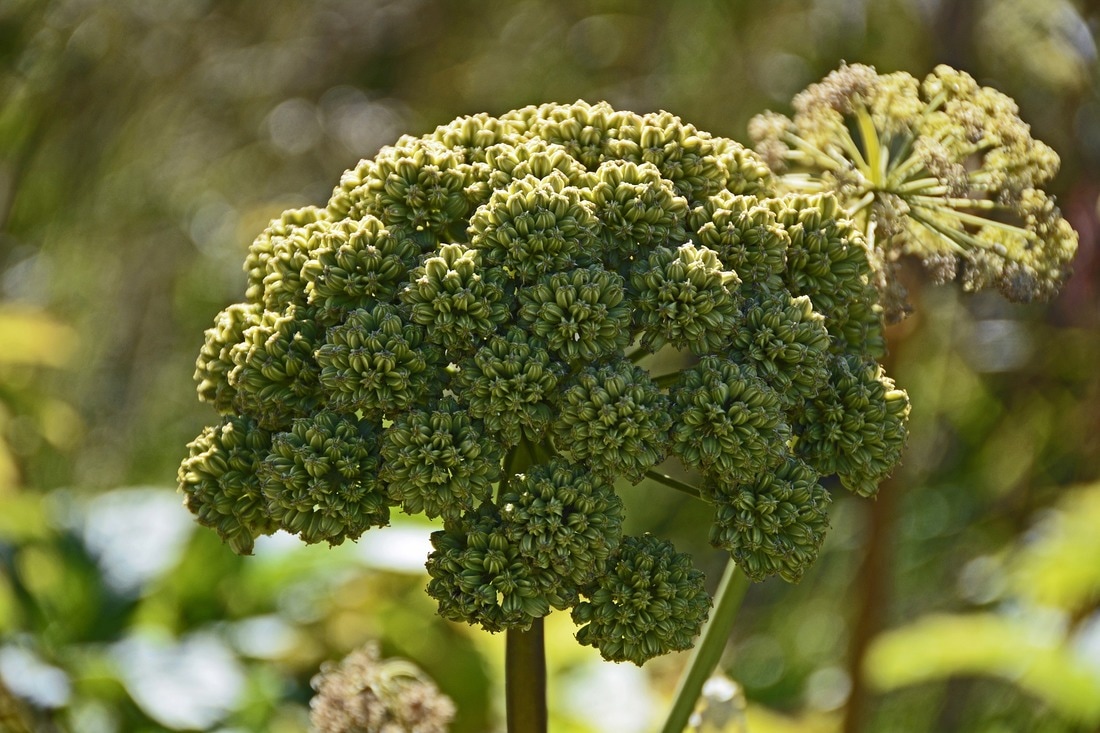 Today, let's look at herbs that you might want to include in a basic herbal first aid kit for home use if you are looking at using simples.
When I first started putting together my herbal first aid kits, it was much easier to focus on individual herbs and learn to combine them as compounds later. It also makes sense to focus on the most versatile herbs, so finding herbs that have multiple uses instead of one very specific use is usually a good idea. The following 5 herbs are some of the most versatile that I know of, and I've included the reasons that I keep them in my own herbal first aid kit.
Angelica
(Angelica archangelica)
Besides being useful for digestive health (which is one of it's most well-known uses), I also like having it on hand for respiratory health support during coughs and colds, and it's a warming, relaxing herb to have on hand for menstrual cramps.
Herbal Actions: carminative, bitter, diaphoretic, diuretic,emmenagogue, expectorant, and nervine
Elderflowers
(Sambucus nigra)
Elderflower tea is a staple during cold and flu season and allergy season. It was traditionally used to help work up a good sweat at the first sign of feeling under the weather, and it's also a good upper-respiratory support herb during allergy season.
Herbal Actions: anticatarrhal, antispasmodic, diuretic, diaphoretic, sedative
Sage
(Salvia officinalis)
Common garden sage is more versatile than it's current culinary status indicates. This is one we keep on hand mainly as a tea. A hot cup of sage tea with a little honey is a traditional way to comfort a sore throat. In addition, because sage is traditionally thought of as a nervine that supports and rejuvenates the nervous system,  it's a great tea for calming down and relaxing at the end of a stressful day.
Herbal Actions: diaphoretic, carminative, nervine, antispasmodic, astringent
Meadowsweet
(Filipendula ulmaria)
Meadowsweet is a very balancing herb for the digestive tract, so I love having it in my first aid kit for that reason alone, but it's also a traditional antirheumatic used to support bodies in pain. As a digestive herb, it's astringency meant it was historically given during bouts with diarrhea, it's traditional association with balancing the stomach made it a common herb to reach for during episodes of heartburn, gastritis, and even nausea.
Herbal Actions: antirheumatic, carminative, antacid, antiemetic, astringent
Yarrow
(Achillea millefolium)
Yarrow is probably top of the list on just about everyone's first aid kit. It can be used as a diuretic to support the urinary tract and was traditionally used as a diaphoretic to help "sweat out" a fever. It's a bitter, so it's useful as a digestive support herb, and externally it's very supportive of the healing process whenever there are injuries like cuts and bruises. It's very balancing for menstrual flow, whether it's too heavy or too light. It's astringency made it a traditional herb for diarrhea and dysentery. All reasons that I keep yarrow on hand always!
Herbal Actions: Diuretic, anti-inflammatory, diuretic, bitter, hepatic