Links contained in this post and elsewhere on my website may include affiliate links. When you make a purchase through these links, I earn a commission at no additional cost to you. I only link to products and services that I love - and that I think you will love, too!
Read Time:
4 Minute, 40 Second
As an herbalist, I've focused more on plants and left fungi to their own devices. Until now! I took an online mushroom class and loved it. To be honest, I was curious but overwhelmed and not sure where to start. Mushrooms are in a class all their own, and I had zero point of reference for learning about them. As a kid, my parents and grandparents were confident about plants, but the rule about mushrooms was definitely, "Don't touch that!"
So, when the Academy released their mushroom course I was super interested (#affiliate). As you probably know by now, I was once part of the Academy's writing team and I'm a huge fan of their courses. Discover what's in the course, what you'll learn, and why I think it's such an accessible entry point for anyone interested in learning how to grow, forage, or use mushrooms.
Starting out with unit one
This section of the mushroom class covers a thorough introduction to the world of mushrooms. There are four lessons. I loved reading about fungi in folklore, which is lesson one. After that, the next two lessons cover biology and ecology. Lesson four examines how important fungi are for environmental restoration.
After studying this section of the course, I feel much more confident about the vocabulary of mushrooms. The very first lesson includes a printable glossary of common mycology terms that's really helpful. As someone who didn't know much about mushrooms, it was great to get my bearings so quickly.
Learning identification skills with unit two
As a botany nerd, I really enjoyed unit two. This part of the mushroom class teaches the patterns of mushroom identification. If you're familiar with botany, you know that there's a whole set of vocabulary that helps describe plants. It's no different with mushrooms! Lesson one is packed with gorgeous printable resources to download, all describing key features of the way mushrooms look.
After studying the physical attributes of mushrooms in lesson one and learning to use an identification key in lesson two, lesson three provides a tour of mushroom chemistry. Ever wondered what gives mushrooms their beneficial properties? Or why they have a certain color or taste or smell? It all comes down to chemistry!
Mushroom foraging with unit three
I enjoy mushroom spotting. That is, I take my camera or sketchbook and go for a ramble to document what I see. However, the idea of foraging mushrooms intimidates me. After the first two units, I felt more comfortable with the idea. And unit three really does a lot to clarify even further. The mushroom identification checklist printable in lesson one is incredibly helpful.
As with foraging plants, there is an ethical component and that's covered in lesson one. Lesson two provides detailed info on common wild mushrooms. Lesson three, though, was my favorite in this unit. It's all about cultivating mushrooms! After finishing this part of my mushroom class work, I can't wait to get started with some mushroom logs.
Honestly, though- I think unit four was my favorite!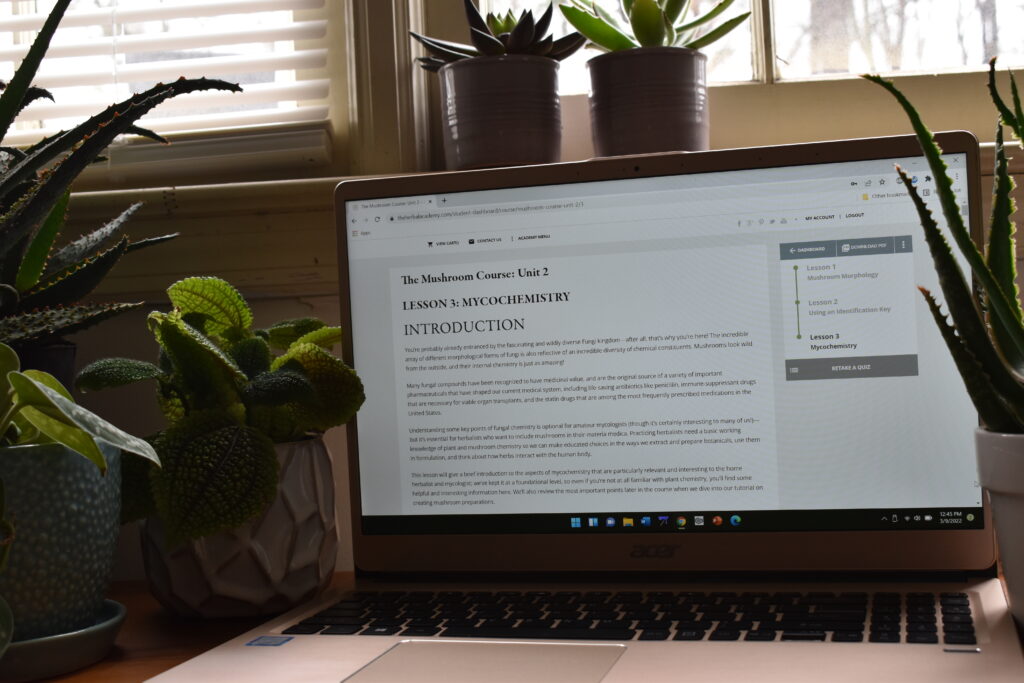 Studying mushroom benefits with unit four
As an herb nerd, unit four was my happy place in this course. Lesson one was a little woo-woo for my taste, as it talked about mushrooms and plant spirit medicine. I do appreciate that the Academy gives all styles of herbalism a place at the table. But things got back on track with the other lessons, which cover more practical and science-based topics.
I loved reading about culinary uses and recipes in lesson two. I often use shiitake mushrooms to make a yummy miso broth in the winter, so I'm excited to have some new recipes to try. Lesson three discusses mushrooms' influence on the immune system. The remaining lessons explain how mushrooms can support other systems of the body.
Lesson six of this unit in the mushroom class explores how to prepare mushrooms. You'll learn how to make:
hot water mushroom extracts
dual extraction with water and alcohol
powdered extracts
concentrated syrups
What I enjoyed about this mushroom class
This is a great introduction to mushrooms for anyone who is curious but also wants a thorough, scientific introduction. There are many books available on the subject, but I struggled with feeling overwhelmed by the new terminology and, honestly, too many options! This course is the perfect balance of technical information that is well organized and thoughtfully presented.
I also loved that there are so many helpful resources in this course! Many of the lessons contain long, detailed videos by mushroom experts. The videos help bring the material in the lessons together. It was really nice to have teachers guiding me through the material on the virtual mushroom walks!
There are also quite a few printable resources. If you are a visual person, you'll love these! They make great study notes and look great if you print and laminate them! They are also available as a separate mushroom foraging kit (#affiliate) and a mushroom identification notepad (#affiliate) if you'd prefer.
As if all of that isn't enough, each lesson ends with recommended resources for further study. I love that each lesson ends with a list of trusted books and websites so I can continue to explore with confidence.
Ready for more mushroom mischief?
Here's a link to an article where I gathered some of the Academy's most interesting and informative articles about the benefits of mushrooms. If you can't wait to enroll in the Mushroom Course and get started with your own mushroom adventure, you can use my affiliate link below!