Links contained in this post and elsewhere on my website may include affiliate links. When you make a purchase through these links, I earn a commission at no additional cost to you. I only link to products and services that I love - and that I think you will love, too!
Read Time:
6 Minute, 17 Second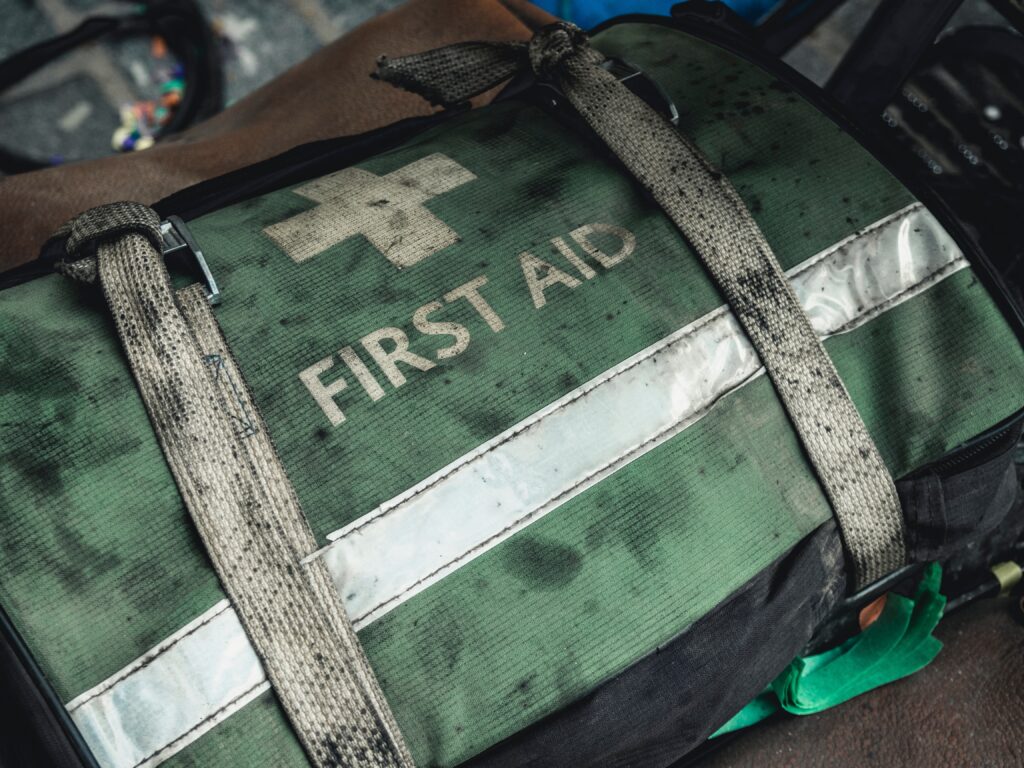 First aid is an important set of skills on its own, separate from herbalism,. Adding herbs brings several valuable things to the table. It's helpful to realize that herbs and first aid can cover different levels of skills and scenarios. Today, let's talk about setting the stage for herbs and first aid.
Levels of first aid skills
Where to find good information
Types of herbal first aid kits

Levels of herbal first aid skills
First aid is as much a skill set as it is a kit. Situations requiring first aid can be relatively minor (like a splinter or a paper cut). Or, they can be life or death. Before you begin thinking about herbal first aid, you need to learn first aid skills.
If you haven't ever done so, consider signing up for CPR and First Aid classes through the Red Cross. These classes equip you with the skills to safely handle common, everyday situations. If you are interested in taking your first aid skills to the next level, there are a few options.
Wilderness first responder programs and Medical Person In Charge certifications are more comprehensive. Community colleges may offer a certificate for Emergency Medical Responder (EMR). These types of trainings are helpful when you are ready to level up your skills.
For most people, learning everyday first aid basics and how to add herbal support to those skills is a good place to start!
Here's my full article on the Levels of Herbal First Aid.
Where to find good information​
Once you have solid first aid skills, you can add the herbal component. There are plenty of opinions and lots of conjecture when it comes to using herbs for first aid. When you looking for information in this arena it's important to look for the right sources.
Experienced herbalists are good, as opposed to someone who is mainly a survivalist but may not have in-depth knowledge of herbs. Most online wellness sites focus on supplement-counter advice that's not helpful, either. An herbalist can steer you away from common "herban legends" that pop up from time to time.
Herbalists are also able to provide context. This means you will get all of the nitty-gritty details you need to know if you hope to use herbs and get good results. Herbalism is a system. It's a highly organized way of looking at the human body and plants. Trying to water it down to a list of this-for-that advice isn't the best idea.
Working with an herbalist who specializes in community first aid is even better. Some herbalists utilize their skills in the field with first aid stations at events or community clinics. These settings focus on quick, short term work with a wide variety of people.
Where to learn herbal first aid
Here are a few of my favorite online resources for learning herbal first aid. These resources are from practicing, professional herbalists. They include:
The Human Path's Herbal Medics Academy
Northeast School of Botanical Medicine
Matthew Wood Institute of Herbalism
The Herbal Academy
Herbal Medics Academy
Sam Coffman, RH, AHG is the founding herbalist at The Human Path school in San Antonio, Texas. I've taken Sam's online Herbal Medic Basic and Austere Acute Medicine courses. I highly recommend them if you are interested in advanced herbal first aid. Eventually, I hope to take the Wilderness First Responder certification with them as well.
Sam's online classes usually follow a webinar format. The courses are affordable and they offer Q&A sessions and open office study sessions for students.
Northeast School of Botanical Medicine
7Song, the herbalist and founder at Northeast School of Botanical Medicine, has some wonderful online resources for herbs and first aid in the class handouts section of his website.
Herbal First Aid for Large Groups looks at different types of first aid situations you might encounter. Family herbalists can learn a lot from this one, as well. It has a list of herbs to use as a guide for further study.
Matthew Wood
Herbalist Matthew Wood, RH, AHG has many free resources on his website, too. He also offers online classes on a variety of topics. Many of his classes are useful for learning advanced skills- helpful if you are interested in herbalism for first aid.
I'm currently enrolled in his Materia Medica class and love it. Like The Human Path, his courses tend to be a webinar format.
The Herbal Academy
My favorite online herbal learning resource is The Herbal Academy. I've worked with them as part of their course development team and as a blog contributor. Their courses are the highest quality and most professional available online.
Their programs can take you all the way from complete beginner to advanced skills. You can look at their offerings here and check out all of their great blog articles here. I strongly recommend them as a foundation before you study with anyone else. Use their courses to get your bearings, then add other herbalists for more specialized information.
Types of herbal first aid kits
We will talk more about herbal first aid kits over the next few weeks, but just as there are different levels of first aid there are also different types of herbal first aid kits that you can consider.
These kits vary based on purpose and your skill level. The three types of kits that I use are:
everyday carry kit
herbal comfort kit
herbal field kit
Everyday carry kit
This type of kit is small enough to fit into a purse, backpack, or pocket. EDC kits travel with you around town or on short trips. Their purpose is to get you home in the event of a short term or personal emergency. Here's an article I wrote about my EDC kit.
Herbal comfort kit
More comprehensive than an EDC, an herbal comfort kit should go in your personal supplies. It belongs in your 72-hour kit or your evacuation kit (such as a BOB or GOOD bag). Include things that work well for you and that you like.
Herbal field kit
The most comprehensive type of herbal first aid kit is a field kit. They are designed to handle many scenarios so you can provide care for your family or community. You need to have a strong knowledge base to build and use this type of kit.
Follow along for more herbs and first aid info
September is preparedness month, so I'm doing a series of videos and articles about my first aid kits to help you get started. I will continue to add more links as I get them up!
An overview of my first aid kits
Articles
Learning herbalism as a prepper– another article I wrote for Survival Mom.
My everyday carry herbal first aid kit. An article here on Indie Herbalist that explains what I keep in my kit and why, and how to keep it portable.
Three types of herbal first aid kits. I wrote this article several years ago when I was just getting started with my own herbal first aid kits. A lot of info has changed as my skills and situations have evolved, but it's still great info!
An article with more details about the Levels of Herbal First Aid.
Prepping is about mindset, and so is herbal prepping. Read The Best Mindset for Prepping with Herbs.
Here are six questions to ask yourself about your herbal preparedness skills.
Post updated November 9, 2020
Photo credit: Unsplash