Links contained in this post and elsewhere on my website may include affiliate links. When you make a purchase through these links, I earn a commission at no additional cost to you. I only link to products and services that I love - and that I think you will love, too!
Read Time:
4 Minute, 4 Second
Sam Coffman, herbalist and Green Beret Medic, teaches herbal preparedness courses online and in-person with his wife, Suchil. I've taken several classes with them and can't recommend them enough! Now, Sam has written the crash-course handbook for herbalism and emergency preparedness. Here's my Herbal Medic book review and why I think it's essential reading for homesteaders, preppers, and anyone concerned about being able to care for loved ones in the aftermath of a natural disaster.
My Herbal Medic book review
My overall summary of the Herbal Medic is that it's thorough, well-organized, and packed with useful diagrams and notes that supplement the text.
The book contains four parts:
Orthodox First Aid
Herbal First Aid
The Herbal Medic in Action
Materia Medica
I recommend keeping a copy with your herbal preps, especially if you keep field kits or an herbal GOOD bag. You'll want to take a good course on the subject to get your bearings if you aren't already familiar with the subject matter. However, it's an incredible reference and a very practical introduction on using herbs for preparedness.
Part one: orthodox first aid
If you've never taken a first aid course, you probably should. Wilderness first aid courses, especially, help prepare you for austere and off-grid settings. You might find yourself in tricky situations after a natural disaster, when hospitals begin to ration care during a pandemic (sound familiar?), or if you enjoy hiking or hunting in the back-country. Once you have a course under your belt, this handbook offers the perfect reference to keep your memory fresh.
Part one includes topics like scene survey, basic skills, and an illustrated guide to first aid techniques. These topics are the foundation for the rest of the book.
Part two is all about herbal first aid
In part two, you'll find the basics of herbal first aid. It covers the foundations of herbalism. Included in this portion are instructions for making things like:
infusions
extracts
salves
infused oils
There's also guidance on blending herbs to create successful formulas.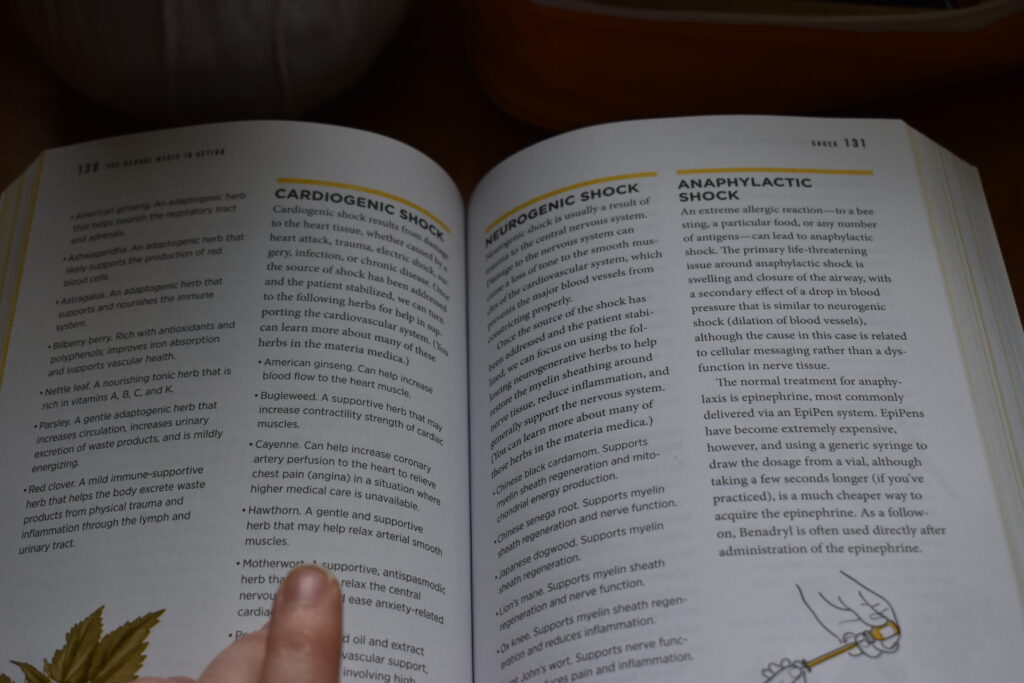 Learn to put your skills in action in part three
Next up in this herbal medic book review: part three of the book. The Herbal Medic in Action covers things you might encounter:
different types of shock
wound assessment and management
caring for burns
It also covers bone fractures, environmental injuries like frostbite, and dealing with venoms and poisons until you can get to higher care.
This section wraps up with chapters about viral and bacterial infection, special considerations for the eyes, ears, nose, and throat, and emergency childbirth. Part one handles how to approach a scene and assess what's going on. Part three discusses possible scenarios and how to proceed once the scene is safe.
Materia medica for emergency herbalism
In part four, you'll find 70 herbs that are helpful for the herbal medic. The summaries for each plant are detailed and go beyond the basics. They are the perfect balance between short-and-sweet and detailed.
Each plant entry contains:
the official botanical name
main botanical actions
which parts are used
how to use each part
preparation and dose
Information on safe use and knowing when to avoid an herb are just as important. When there are considerations for use these are also included with each plant.
Herbal medic book review summary
For preppers and homesteaders, this is truly a must-read. The Herbal Medic is full of practical, tried-and-true information on the subject that you're not going to find anywhere else. It's also the perfect handbook to read often to keep your memory sharp on herbal first aid topics.
Herbalists who don't normally have an interest in emergency preparedness will find this book to be a solid introduction to the topic. It also offers a unique perspective on herbalism that is useful for community herbalists. Besides preppers and homesteaders, it's a valuable resource for herbal first aid tents, street medic projects, and rural communities where access to higher care may be delayed and coordinated by volunteers due to hospital closures.
Here are my reviews of some of the classes I've taken with Sam and Suchil. I'm not an affiliate with Sam's herb school- I just think he does really great work. If you're interested in herbalism for austere scenarios, being a street medic, or being better prepared to care for loved ones in any setting his classes are perfect.
A review of The Herbal Medic Basic course (the first course I took with Sam)
My review of the Austere Acute Care course.
You can find Sam's online courses over at the Herbal Medics Academy.
Ultimate list of herbal books
If you enjoyed this Herbal Medic book review, you will love my ultimate list of herbal books! Browse my shelves to see what I've been reading, and find the next perfect book for your own herbal library. Read it here: An Herbalist's Ultimate Guide to Herbal Books.