Links contained in this post and elsewhere on my website may include affiliate links. When you make a purchase through these links, I earn a commission at no additional cost to you. I only link to products and services that I love - and that I think you will love, too!
Read Time:
3 Minute, 28 Second
Earlier this year, I completed another online course with Sam Coffman RH, AHG and Dr. Steve Pehrson, MD. Here's why I decided to take the course and what I learned. This Austere Acute Care course review also explains how the Human Path herbal courses are set up and what you can expect if you decide to study with them.
I took my first class with Sam in 2016. He and his wife, Suchil, run a survival school in San Antonio, TX. I enrolled in their Herbal Medics Basic online course because one of my career goals as an herbalist is working as a street medic and running a mobile herb clinic.
Sam's background as a Green Beret medic brings an incredible amount of practical information to his herbal courses that I haven't seen anywhere else. I was hooked!
Austere Acute Care Course Review
As the name suggests, the Austere Acute Care course focuses on working as an herbalist in less than ideal settings. Sam provides the herbal perspective and Dr. Pehrson teaches lectures based on his knowledge and experience as an MD (he is also former Special Forces).
It's a twelve week course that covers:
Analytical thinking and problem solving in austere settings
Pharmacology
Acute care scenarios for the respiratory, cardiovascular, urinary, and digestive systems
Mental health and traumatic brain injury basics
Immunity and infections
. . . and a lot more. I'm still reviewing the webinars and slideshows even though I finished the course over the summer. There's THAT much information!
Perspectives and skills
The course is part of the Herbal Medics Academy training at The Human Path. It works either as a stand-alone course or as part of the wider curriculum.
It's ideal training if you are interested in providing herbal support for remote or emergency settings or in underserved communities. From what I've seen, many of the herbal courses available for developing clinical herbalism skills focus on the types of things you might encounter as a wellness coach.
This isn't a bad thing. Many people are generally healthy and looking to optimize their lifestyles with herbs. Or they may have chronic concerns that are also being skillfully managed by their team of specialists and MDs. That's the perfect match for "normal" clinical herbalism.
However, the needs of underserved and post-disaster communities are very different. The objectives and thought processes for working in emergency and underserved environments are very different. The Austere Acute Care course does an excellent job filling in those gaps.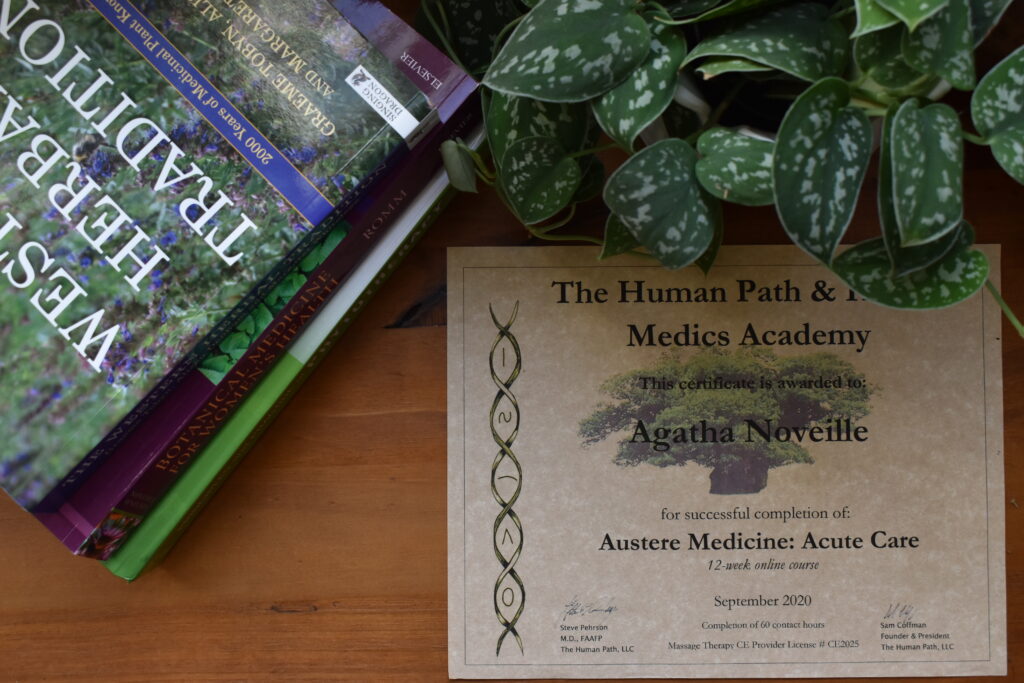 Course format
Like the other herbal courses at Human Path, the Austere Acute Care course uses a webinar format. Every week, there's a lecture from Sam on the herbal topic. Dr. Pehrson also provides a lecture from the medical side.
Each lecture is recorded so you can listen when it's convenient for your schedule. There are also regularly scheduled Q&A sessions for review. All of the webinars and slides are downloadable. So you can always go back and refresh your memory!
At the end of the course, you take a final exam to determine whether you pass.
My thoughts on the Austere Acute Care course
I learned so much from this course. Dr. Pehrson's lectures are challenging and thought-provoking. I think it's really unusual to find an MD who is willing to speak so candidly about what austere environments can be like, and is comfortable with integrative care. I really appreciated his perspective.
Sam's lectures are packed with information on materia medica and herbal theory, as always! Sam approaches Western herbs from a TCM perspective, which adds a lot of depth to his teaching. He also draws on his experiences running community clinics. The result is a very practical approach.
Next classes with The Human Path
I'm looking forward to the Austere Medicine: Trauma Focus online with Human Path in 2021. I'm also planning to get my Wilderness First Aid certification!
Eventually, I'd like to complete the Wilderness First Responder program, so the WFA will be a good project to work on until they are able to reopen the campus when things begin to get back to normal after the pandemic.
Find the next Austere Acute Care course here.