Links contained in this post and elsewhere on my website may include affiliate links. When you make a purchase through these links, I earn a commission at no additional cost to you. I only link to products and services that I love - and that I think you will love, too!
Read Time:
3 Minute, 30 Second
Creating a diy herb journal is a great way to track your herbal studies and become a better herbalist! An herb journal can be adapted for many different purposes and styles. Which style is best for you?
Personally, I keep a materia medica to study individual herbs, a bullet journal for my course and class notes, and a commonplace book with recipes. Here's a little about each one to help you get started!
A materia medica
Herbal materia medica are herb journals that focus on herb profiles. Each entry in a materia medica contains information about a single herb. It's like creating a personalized herb encyclopedia! This organized style of DIY herb journal uses templates and illustrations to create the perfect herbal learning tool.
My current materia medica is in an artist's notebook. I've also used a computer folder, a box of index cards, and spiral-bound notebooks. Curious about making your own? I have a full-length article on creating a materia medica here.
It's helpful to create a template for your materia medica entries. This free printable is a great place to start. Download the pages and print them out whenever you start studying a new herb. Add the finished pages to a three ring binder, and you're all set.
The Herbal Academy has a course that teaches you how to create a materia medica, and they have a beautiful materica medica journal that's ready for you to use!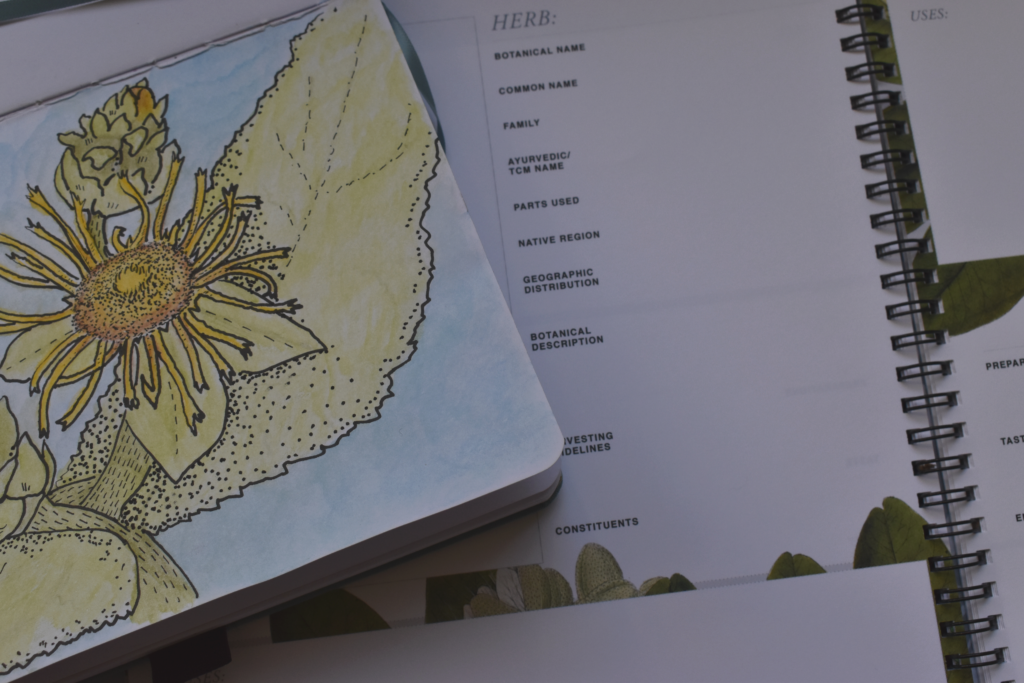 Bullet journal as a DIY herb journal
Take lots of herbal classes online? Love to read herbal books and take notes on what you read? Have multiple extracts and projects in the works? A bullet journal is the perfect way to organize your herbal studies and projects!
Personally, I use an herbal bullet journal to organize my notes whenever I take a class or listen to a webinar. I also use it to keep track of gardening projects. They can be handy for herbal businesses too! I use a BuJo for running my blogs and tracking freelance work.
Bullet journaling is a style of note taking and daily planner created by Ryder Carroll. It's super flexible and easy to adapt around a theme or your needs. Learn the basics here, and then think of all the ways you can adapt it to your herbal studies.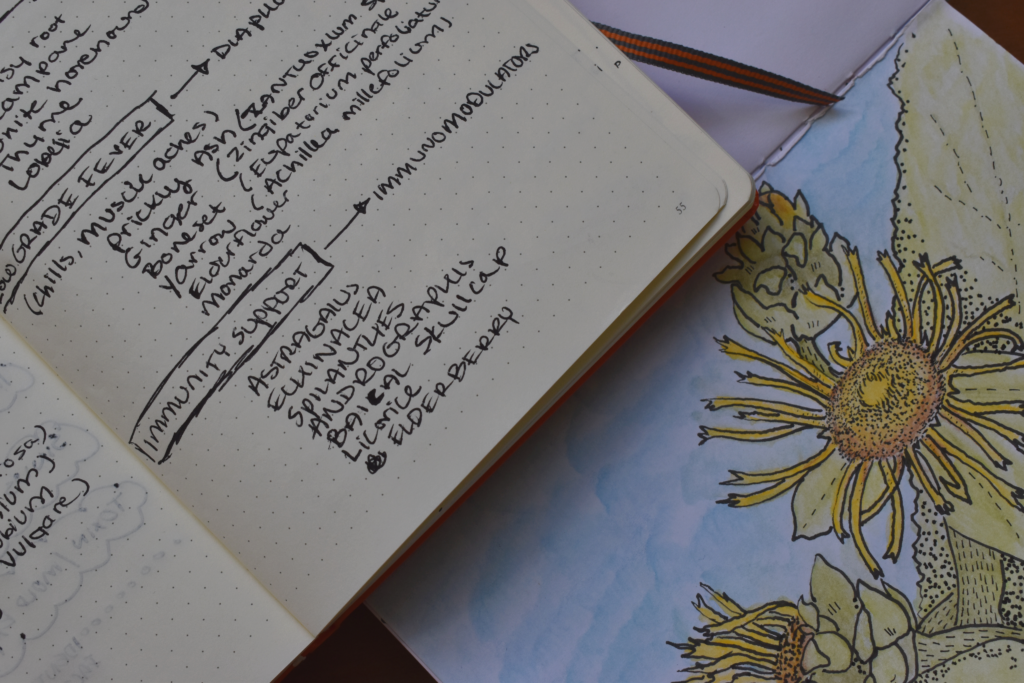 An herbal commonplace book
Commonplace books are a great solution if you want to keep track of recipes, passages from your favorite books, quotes from your favorite authors, or gardening and foraging notes.
Historically, commonplace books served as a way to keep track of things like recipes, household industry, and weights and measures. However, they were also used by their owners to record inspiring passages from books, poems, and letters.
Anything herbal that has personal significance can go into a botanical themed commonplace book and create a record of your studies and personal growth!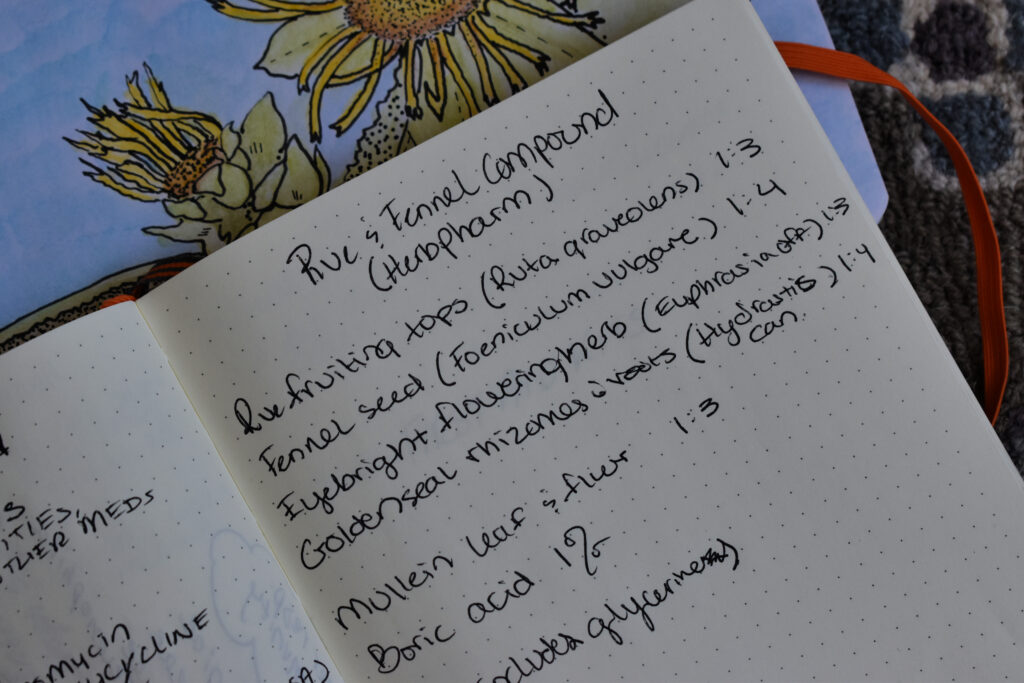 The journals I use
I like using Leuchtturm dot grid notebooks that I order off Amazon for my herbal bullet journal. The paper is a little thin, so they work best with pencil if you're concerned about bleed-through. I use pen, because it doesn't really bother me.
For my art journal/materia medica I like Archer and Olive notebooks. The paper is much heavier than in Leuchtturm notebooks and it's white (instead of ivory). They also have beautiful cloth covers with foil inlay. Archer and Olive notebooks come with either blank pages or dot-grid pages.
If you'd like to try an Archer and Olive notebook, you can use my code for a 15% discount!
Creating your own DIY herb journal
Materia medica, bullet journals, and commonplace books are three types of journals that I have found most helpful to keep track of my work. Your diy herb journal is only limited by your imagination! You could create an herbal mixed media art journal, experiment with daily written entries to record your progress and thoughts relating to herbalism, or even create a garden journal.
Consider what you are most interested in learning and tracking, and then experiment to find what works best for you. It's so much fun to look back over old journals and see your progress!