Links contained in this post and elsewhere on my website may include affiliate links. When you make a purchase through these links, I earn a commission at no additional cost to you. I only link to products and services that I love - and that I think you will love, too!
Read Time:
6 Minute, 47 Second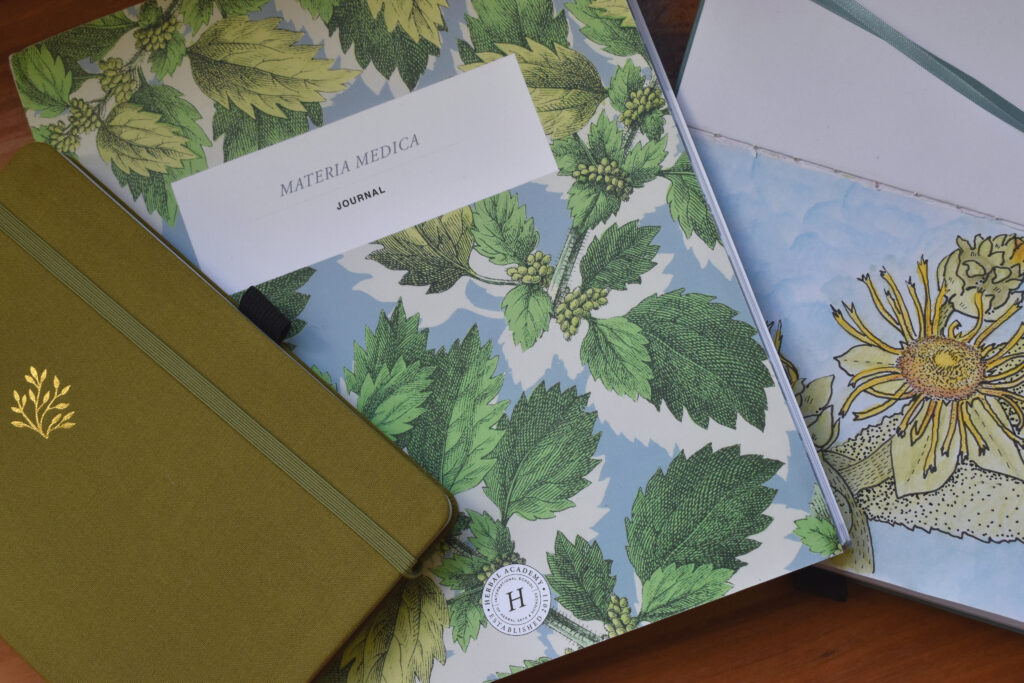 One of my favorite tools is my herbal materia medica. It's a personalized journal and herbal reference that makes it easy to look up herbs that I have studied. Essentially, it holds a lot of detailed information in one place. Below, I will share how I started my materia medica and how you can create your own.
What are materia medica?
This type of journal and herbal reference has been used for hundreds of years. Materia medica is a Latin phrase that literally means "healing materials." Published examples span from ancient times all the way to modern books.
A version of this article originally appeared on The Herbal Academy blog.
Materia medica have an important role in herbalism. The oldest ones give us insight into how plants were used in very different times and cultural settings. If you're reading historical materia medica, some of the language can be puzzling. You may need to study some historical context before the older materia medica begin to make sense.
But once we understand the context, we can discern the common threads from history that weave their way into modern uses and inspire modern clinical trials and scientific research. Some of our modern herbalists have also written brilliant materia medica. The patterns they discuss and the connections they describe help us build our own herbal skills in significant ways.
Although reading materia medica is a good way to deepen your knowledge, learning is also about being hands-on. That's why creating a personal materia medica is a useful learning tool that all herbalists can benefit from – beginners straight through advanced!
Your materia medica becomes both a study aid and a reference. It takes time to build a good materia medica, but it's worth it! Ready to start your own? Here are my best tips to help get you started.
Setting up your materia medica
Traditional materia medica are books of detailed herbal profiles. Modern materia medica can be more flexible. They don't have to be a book at all. Some ideas include:
sketchbook or journal
notecards in a file box
three-ring binder
computer file
My personal materia medica has taken many forms over the years. Sometimes it was a simple spiral-bound notebook or a computer file. Lately, I've been working on a beautiful keepsake materia medica. It's a fun project and a wonderful way to reconnect with herbalism at a deep and meaningful level.
Creating the herbal profiles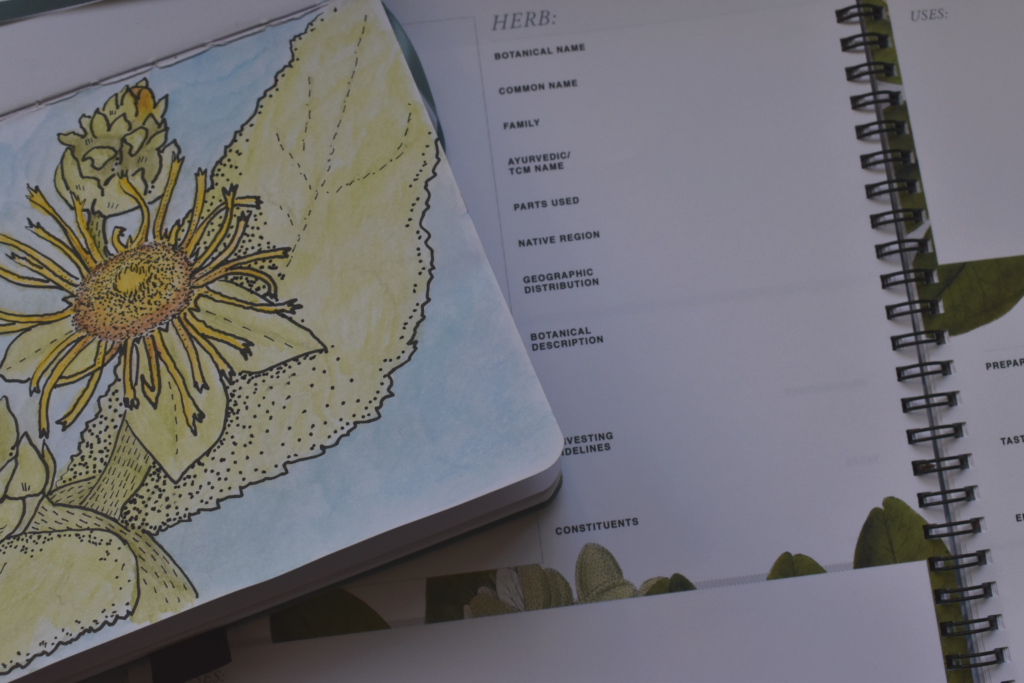 It's best to have a template so that every entry contains the same type of information. Working from a template will provide consistency for your materia medica entries.
Don't let yourself get overwhelmed with the process, though – take each herb a little at a time. It's ok to work on one entry over several sessions.
Consider leaving a little extra room after each materia medica entry. This way, you can add more information later. Here's what I include for each profile.
Identification information
Knowing basic identification for every herb you use is so important! This section in your materia medica is for:
Scientific binomial
common names
parts used
growing information/preferred habitat
how and when to harvest
botanical description
It's true that materia medica can be word-based with no visuals or illustrations. However, adding visuals to your materia medica gives it more dimension.
Some older manuscripts have beautiful illustrations, and you might want to add sketches, drawings, or photos of plants to help with identification. Creating these sketches or photos yourself allows you to focus on the minute details of each plant as you work.
Actions and energetics
The actions of an herb are the traditional pharmacology-style notes that describe what the herb does (like whether the herb is astringent or diuretic).
Energetics are descriptions of how the herb behaves in the body. These take personal constitution into consideration- an herb can be cooling, moistening, warming, or drying. This concept comes from folk herbalism.
If you work with TCM, this section is a good place to note the organ affinities and meridian correspondences, too.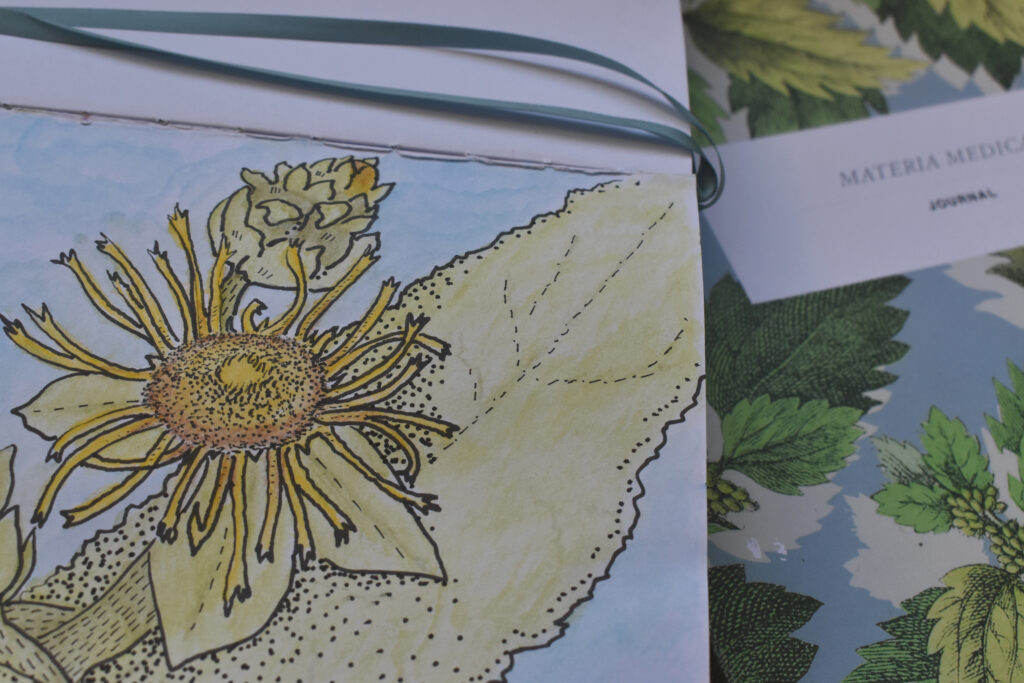 Specific indications
A single herb often has broad and diverse applications. Sometimes, you may read about or discover times when an herb is particularly well suited to a specific purpose.
When an herb is especially appropriate for a certain kind of individual or a specific circumstance, this is the place to note this information.
Clinical and contemporary use
This is the place to add notes from modern news sources and references to scientific literature and clinical trials.
It's also a great place to add information you glean from contemporary clinical herbalists. They may have astute observations from their work that build on traditional use.
Traditional use and folklore
This section is perfect for the interesting historical uses and lore associated with an herb. Herbs may have been used as part of religious ceremonies, seasonal celebrations, or included in mythology or folk tales.
Sometimes historical uses are more superstitious than fact-based. So proceed with caution and try to find context that explains the rationale for historical use.
Safety considerations
Any known side effects should go in this section. You should also include cautions about use during pregnancy; potential drug interactions, or allergies. The American Herbal Products Association's Botanical Safety Handbook is one of the most useful and well-researched guides to herbal safety.
Combinations and similar herbs
Recipes or formulas (historical, or of your own devising) can go in this section. You can also add a list of other herbs with similar uses, so that this section becomes a tool for cross-referencing.
Getting started with a materia medica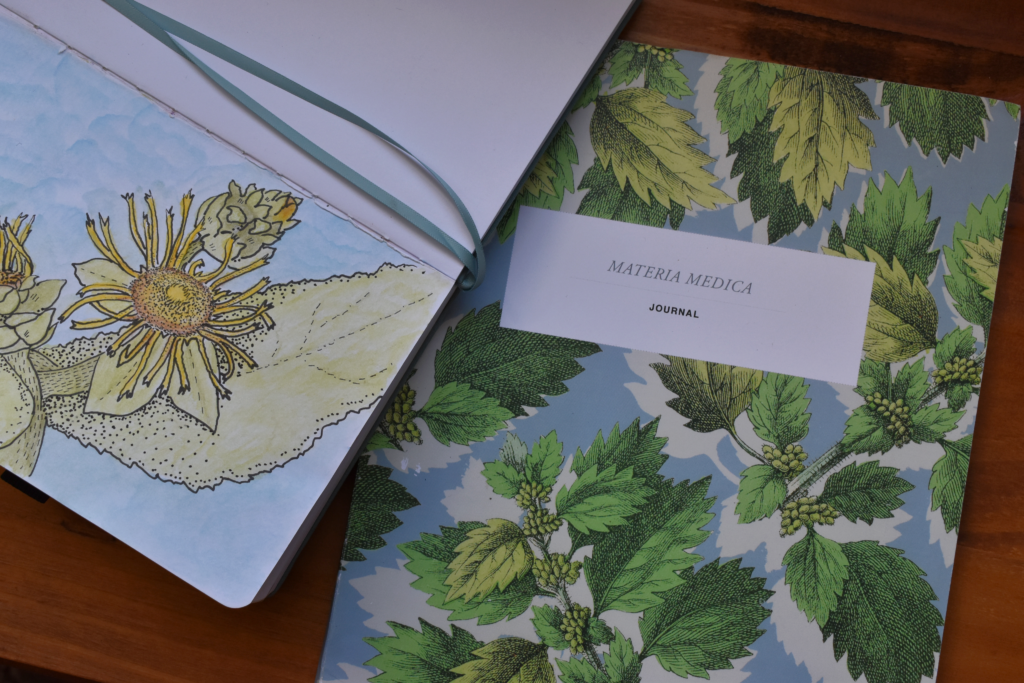 A personal materia medica is a brilliant tool for learning herbalism. Customizing your own is a meaningful way to connect with herbs. Whatever form you chose, you will learn a lot!
I do pen and ink sketches and often use water color pencils in my materia medica. I prefer using Archer and Olive notebooks- they have thick, bright white pages that work well with water-color pencils (I really like Faber-Castells) and Sakura pigma artist's pens. (#affiliate links)
Archer and Olive notebooks come in either dot-grid or blank pages, and they have beautiful cloth covers with foil stamping. Feel free to use my affiliate link to get a 15% discount if you'd like to give them a try!
The Herbal Academy also has a free materia medica printable you can use. It's the perfect place to start if you want to use a template. They are perfect if you prefer using a three-ring binder. The Academy also has a beautiful materia medica journal that's really lovely (#affiliate). I've used it in the past and really enjoyed it.
Where to find reliable info
Once you decide on a style for your materia medica, it's time to start filling the pages. It may seem like a daunting task to find credible information, but there are lots of excellent resources available if you know where to look. My ultimate herbal books list has many of my favorite references to help you get started, and I add to it as I continue reading new books.
If online resources are more your style, The Herbarium with the Herbal Academy is great (#affiliate). It contains a searchable database of herb profiles. It's very affordable and includes in-depth articles and intensives on herbalism you won't find anywhere else. You can learn more about it here. I keep a subscription because of the intensives and articles and love being able to access the database when I'm on the go.
Regardless of which resources you choose as you study, be sure to look for reliable, well-researched information. It's also really important to take notes about the books and resources you draw from as you create your profiles. I like keeping a bibliography at the back and sometimes use numbered references. Retracing your steps later for fact-checking – or simply for curiosity's sake- will be much easier.
Good luck creating your own herbal materia medica! I hope you enjoy the process and the end result as part of your own herbal journey.