Links contained in this post and elsewhere on my website may include affiliate links. When you make a purchase through these links, I earn a commission at no additional cost to you. I only link to products and services that I love - and that I think you will love, too!
Read Time:
4 Minute, 0 Second
Chive blossoms make a simple, elegant herbed butter for the spring and summer table. Read on to discover how to make your own chive butter blossoms.
April and May means time for chives! This well-mannered member of the Allium family is related to onions and garlic. It's not often used as a medicinal herb, but is mildly diuretic and, in my experience, is soothing for coughs in the same manner as onions or garlic. It's a perennial, so it's perfect for edible landscaping, too.
With our mild weather, I harvest chives well into winter but the real season to celebrate chives is spring. That's when this little plant blooms, and the adorable purple pom poms are a can't-miss kitchen opportunity.
Ways to Use Chives
One of my elementary school experiences with chives made me realize that not everyone has an herb garden. I've always been around gardens and herbs, so six or seven-year-old me took it for granted. My mother sent me to school with chives on Stone Soup Day. I think I was supposed to bring onions, but we didn't have any.
My teachers were impressed. I was confused. Doesn't everyone have chives? It's really hard to kill chives, and they are easier to grow than onions or garlic. Every first grader knows that!
No. No, they don't.
#weirdkidproblems
The Stone Soup was really good.
Of course, I continue using chives in soups, eggs, and salads whenever I am lucky enough to have this plant in my garden. Chives are always a conversation starter if it's a dish I'm sharing. When I want a real springtime show stopper, though (and one that's wicked easy, too!), I go with chive butter. Here's how I make it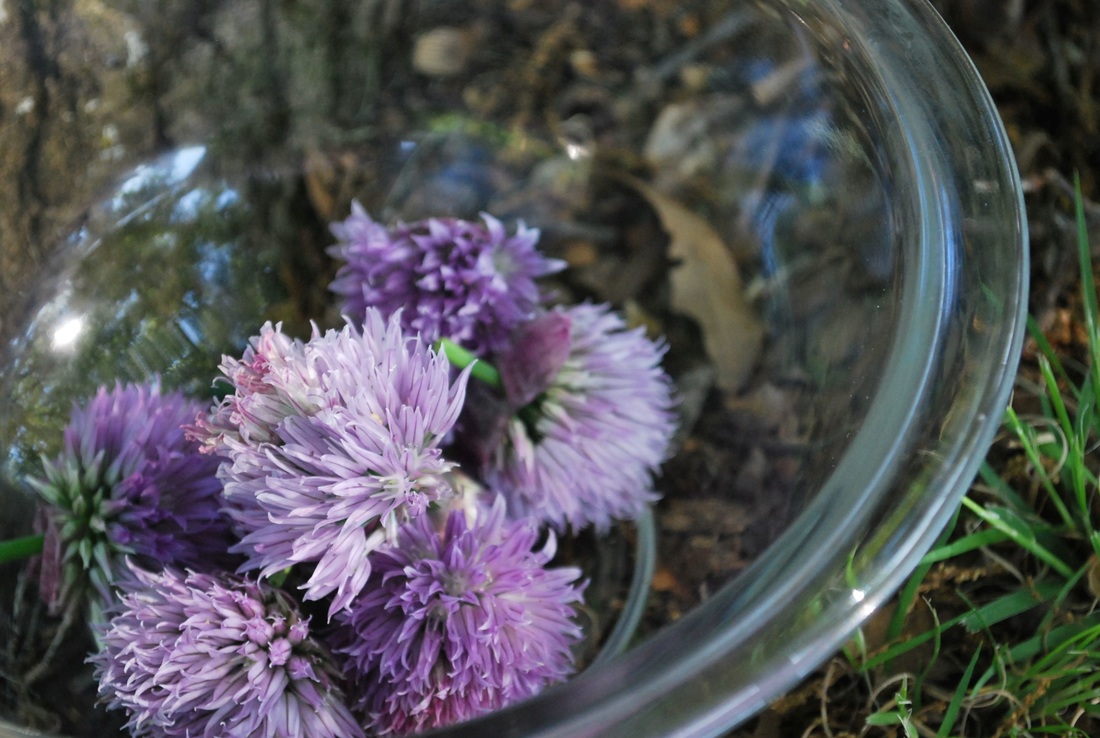 Ingredients
10-12 chive flowers
1 stick of butter (4oz)
How to Make It
Pick fresh chive flowers and combine them with the butter. Details are as follows.
Picking the flowers
First, you will need to acquire a handful of fresh chive flowers. I recommend spending a few moments loitering and smelling the flowers. Chive flowers smell like honey and garlic. It's an unusual fragrance, and actually quite lovely. Ants think so, too- they love chive nectar. If you find ants, then give the flowers a gentle shake and then drop them into a bowl. The ants will abandon ship fairly quickly
2. Next it's time to pick apart the flowers. If you look closely at a chive flower, you'll see that it is actually made up of many smaller flowers, each one on a tiny green stem. So you will be there for a while if you try to pick them off one at a time. Take a good pinch and give it a gentle twist-and-pull to separate many of the florets all at once.
3. Place the florets into a bowl while you work. Be careful to look for bugs. Set the bowl of flower confetti on a table or counter and watch for movement. Pick out the offenders and proceed to the next step.​
Combining the chives and butter
4. Next, cut the butter stick into pieces and place them in the bowl on top of the flowers. Give it a gentle shake to coat the butter with the petals. You can skip this step and go straight to the next, but I find the flowers are more evenly distributed in the finished butter when I do it this way.
5. ​Transfer the flowers and  butter to a zip top bag. Gently knead the bag between your hands. The heat from your hands will melt the butter, making it easy to mix. 
​6. When everything is combined, use a table knife to press the chive petal butter into a cute mold. This is the one that I used, but this one is also perfect!
​Finishing Up
One stick of butter probably won't fill the whole mold. That's ok. Just fill as much as you can and then put the molds into the fridge. Let them rest for about 15 minutes, or until the butter hardens. Once the butter is cold,  pop the chive butter blossoms out and store them in a glass canning jar until you're ready to use. ​​
​Try a pat of chive blossom butter on baked potatoes, veggies (especially corn on the cob!) or bread. Anything that benefits from butter and a touch of onion or garlic is perfect for this recipe.
Have fun impressing everyone with this easy, gorgeous herbal butter! It will add an extra touch of something special to your springtime table. I think it's definitely one of the most elegant and easy ways to add seasonal herbs to your kitchen.
See how pretty they are?