Links contained in this post and elsewhere on my website may include affiliate links. When you make a purchase through these links, I earn a commission at no additional cost to you. I only link to products and services that I love - and that I think you will love, too!
Read Time:
2 Minute, 16 Second
I was recently exploring on Pinterest and came across a recipe for Uzvar, a Ukrainian drink recipe made with dried fruit and spices. It sounded delicious, but of course, I really wanted to add an herbal twist. So, here is my winter punch recipe with elderberries.
The original Uzvar recipe
The recipe that inspired this is over at Tara's Multicultural Table. It comes from a book called Mamushka: Recipes from Ukraine and Eastern Europe by Olia Hercules (#affiliate). First off, can we please appreciate that this book is absolutely gorgeous? I need this on my shelf please and thank you:
The original recipe calls for dried apples, dried apricots, dried prunes, dried sour cherries, vanilla, star anise, and cinnamon. I left out the star anise because it tastes like soap to me, but I tried to stay pretty true to the traditional recipe otherwise.
Elderberry Winter Punch Recipe
One of the beautiful things about this Winter Punch recipe is how it showcases dried fruit. Before refrigeration was common, drying was one of the main ways of preserving fruit. So using dried fruit to make a warming winter drink makes sense.
I like using my slow cooker for recipes like this, so the directions below reflect that. It means I can do other things around the house without keeping a close eye on the stove. Today that meant batching a month's worth of photography for this blog and our sister website, Teacup Alchemy.
This recipe smells amazing while it's brewing, by the way.
Ingredients
5 oz each of dried apples, dried apricots, and dried prunes
5 oz dried sour cherries
1 oz dried elderberries
1 vanilla bean without the seeds
1 cinnamon stick
6 cups cold water
How to make it
Combine all of the ingredients in a slow cooker.
Cook on high heat for 4 hours.
Strain all of the fruit and spices out.
Store in the refrigerator and enjoy for up to two weeks.
A note on sweeteners: the original recipe calls for honey to taste. Personally, I didn't add any – I felt like it was sweet enough on its own.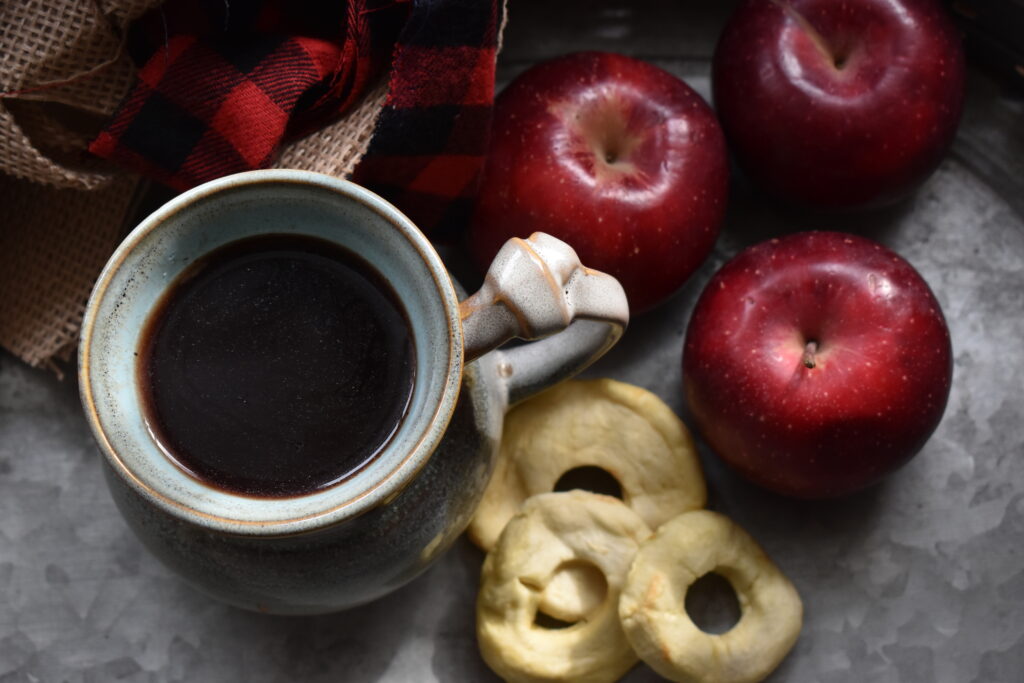 Elderberry Uzvar is a new favorite at my house
I'm really excited about keeping this recipe made and ready to enjoy this winter. Stored in the refrigerator, it should stay good for about two weeks. Warm it up to enjoy whenever you like.
The original post also mentions you can make a puree with the dried fruit and use it to top yogurt and porridge. I tried it and can confirm- it's very tasty. I hope you experiment with the recipe and find a version that works for you! It's a very simple way to add some herbal goodness to your day.