Links contained in this post and elsewhere on my website may include affiliate links. When you make a purchase through these links, I earn a commission at no additional cost to you. I only link to products and services that I love - and that I think you will love, too!
Read Time:
2 Minute, 32 Second
Looking for an easy mullein tea recipe? This yummy blend features herbs that support the respiratory system and healthy immune function. I have links at the end of the article to learn more about the benefits of mullein, but for now, let's focus on the tea!
The ingredients for this mullein tea recipe
Here's what you'll need. Ordering the four-ounce size of each will give you plenty of material to work with. This recipe only requires four ingredients because I think it's important to keep things simple and effective.
(Just a heads up: the following links are sponsored. I earn from qualifying purchases with Mountain Rose Herbs. They are my favorite supplier of dried herbs because of their quality and dedication to environmental responsibility!)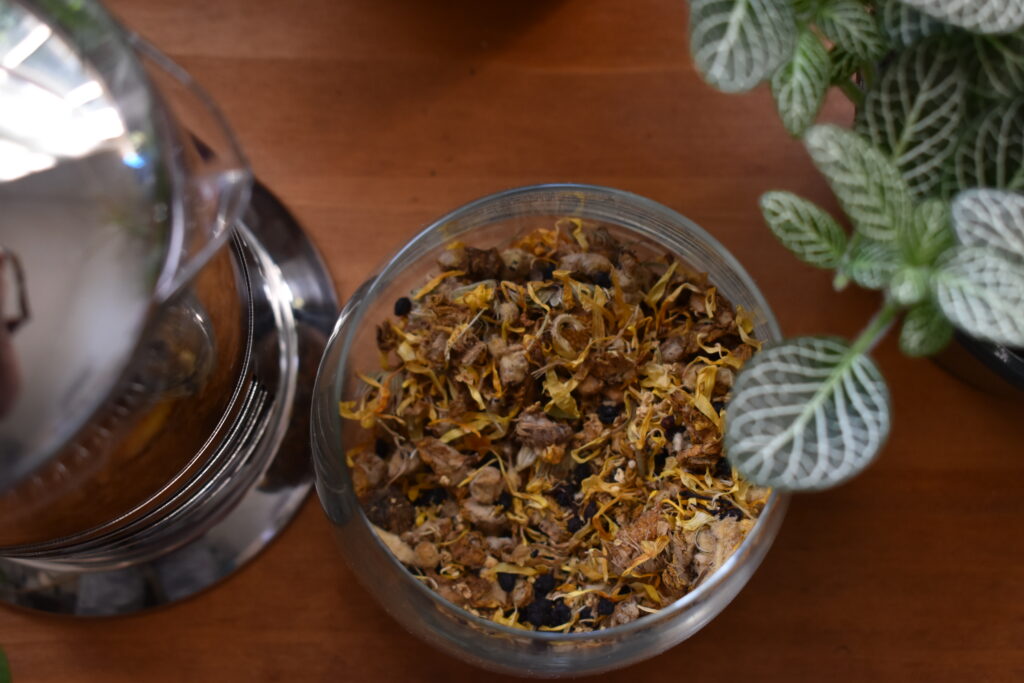 How to make the mullein tea recipe
Follow these directions to make a quart of tea. A serving size is one cup, so this will give you four cups of tea. Warm up a cup whenever you need it and you will have some to sip on all day.
Ingredients
3 Tbsp dried mullein flowers
2 Tbsp dried calendula flowers
1 Tbsp elderflowers
1 Tbsp elderberries
Tools
pot that holds one quart of water
quart canning jar with lid
dishtowel
saucer
unbleached coffee filter
strainer
Directions
1. Combine all of the ingredients in a quart glass canning jar. Place the jar on a folded dishtowel or heat-safe surface.
2. Bring a quart of water to a boil in a pot.
3. Pour the water into the jar with the herbs. Careful not to splash, it's hot!
4. Cover the jar with a saucer and allow it to steep for 20 minutes. Using a longer steep time than for a beverage tea makes the brew stronger.
5. After 20 minutes, make sure the jar is cool to the touch before moving to the next step.
6. Line the strainer with the unbleached coffee filter. Mullein flowers are covered with tiny, soft hairs. Drinking these can be annoying and itchy so you want to remove them from your finished tea.
7. Place the strainer over the pot. Pour the tea slowly through the coffee filter/strainer and into the pot.
8. Set the herbs aside to make a second batch of tea, or place them in your compost.
9. Rinse the jar to remove any leftover herbs and stray mullein fuzzies.
10. Pour the tea into the clean jar. Add your favorite natural sweetener to taste.
You can also cut the recipe above in half and make the recipe in a French press like I did for the photos.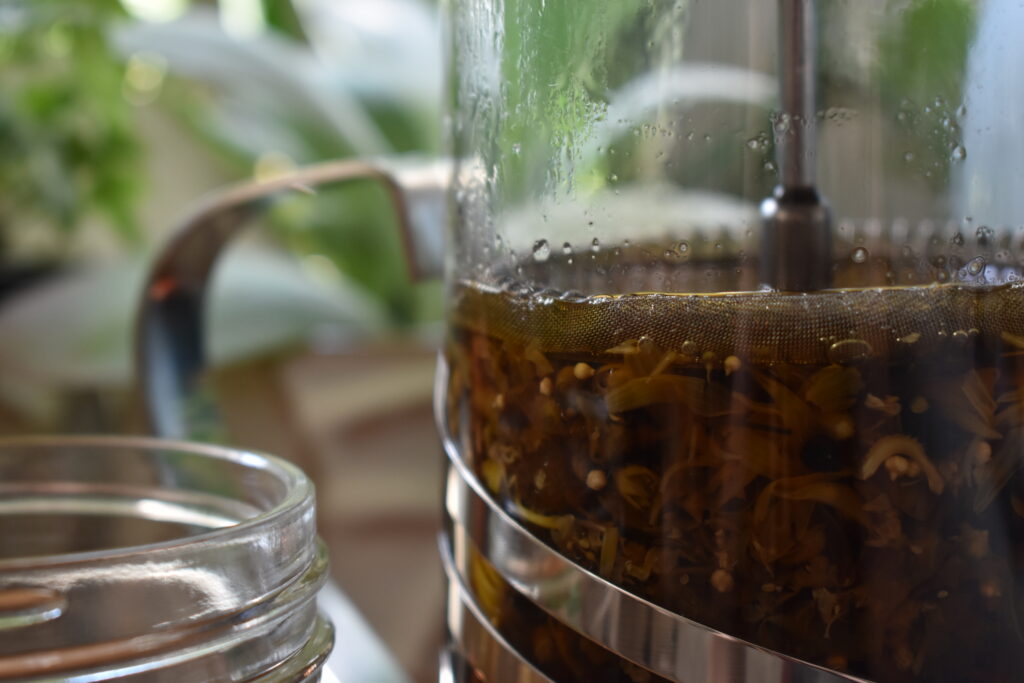 When to enjoy this mullein tea recipe
This mullein tea recipe is lovely any time of year for extra immune and respiratory support. It's nice to sip when I want a little herbal self-care during a challenging cold and flu season. I love it during allergy season, too.
More info about mullein
Other articles about mullein you might enjoy:
Mullein Uses According to Traditional Herbalism
An Herbalist's Guide to Mullein Flowers