Links contained in this post and elsewhere on my website may include affiliate links. When you make a purchase through these links, I earn a commission at no additional cost to you. I only link to products and services that I love - and that I think you will love, too!
Read Time:
2 Minute, 41 Second
The Modern Herbal Dispensatory by Thomas Easley and Steven Horne is a valuable addition to any herbal home library. It's especially useful for home herbalists interested in taking their DIY home apothecary skills to the next level.
What's inside The Modern Herbal Dispensatory
Did you enjoy A Modern Medicine Maker's Handbook by James Green? Then you will love The Modern Herbal Dispensatory! (#affiliate link) This handbook includes handy tips on making basic herbal preparations at home. It also covers advanced processes and a selection of herbal formulas to recreate at home.
Advanced extraction techniques
Most herbalists are familiar with maceration extracts. Fresh or dried herbs soak in alcohol to create this type of extract. But there are other varieties of extracts, as well. These include percolation extracts, fluid extracts, and soxhlet extracts. I often used percolation to make my extracts because it's much quicker than maceration. Maceration takes at least two weeks, but percolation can be done in 24 to 48 hours.
I haven't had a chance to experiment with fluid extracts and soxhlet extracts, but chapter seven in The Modern Herbal Dispensatory has step-by-step instructions and I'm looking forward to learning how to make them.
Formulas and dosages
The chapter on designing herbal formulas is short but packed with good information. The chapter on designing herbal formulas provides a clear plan for designing formulas that can be customized based on your needs.
It also looks at strategies for determining the correct serving size and frequency of use for formulas. It's important to know how to adjust serving size (sometimes known as dose) because someone's size and their sensitivity can both influence how they respond to herbs. Frequency can make a difference when a health imbalance is acute, chronic, or degenerative.
Materia medica
There's also a chapter with brief entries detailing single herbs. The entries are organized by common name. Each entry includes:
binomial
warnings
energetics
specific indications
properties
Each entry also includes a paragraph or two of general information about the plant.
Why it's a great resource
The Modern Herbal Dispensatory is a good orientation for learning to make herbal preparations. It's especially useful because of the crash course on creating herbal formulas in chapters 7 and 8. This book is easy to read and cuts right to the point in every chapter. The instructions are clear and simple to follow. It's a great resource for anyone interested in success with homemade herbal preparations. It's equally applicable for home herbalists, homesteaders, and emergency preparedness buffs! Here's a link to The Modern Herbal Dispensatory on Amazon (#affiliate link) so you can add it to your home library!
Love herbal books?
If you'd love to browse my collection of herbal books, you can take a peek at my shelves here. Also, if you are on Pinterest, don't forget to follow my herbal books Pinterest board!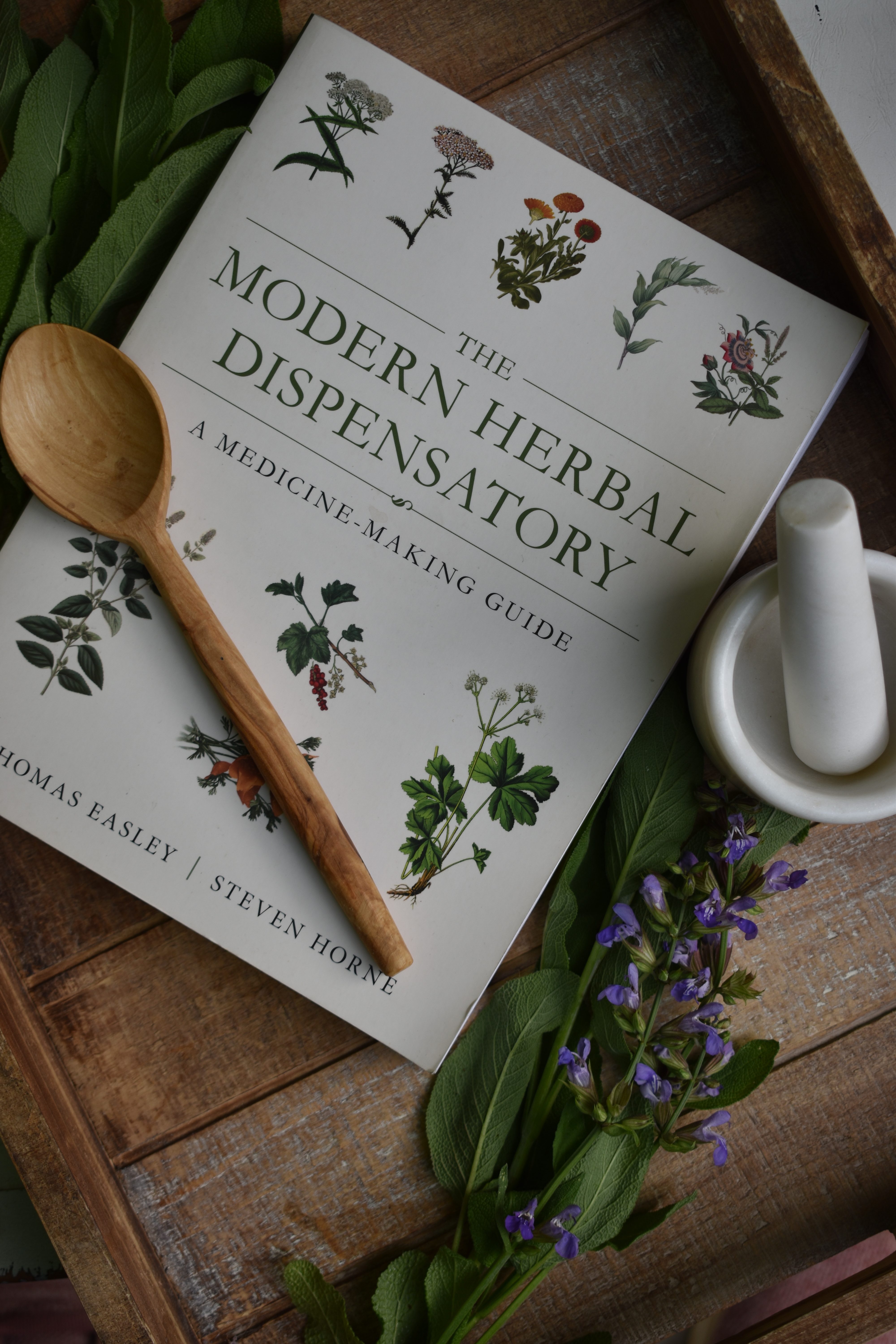 About Me
I'm an herbalist and author from Atlanta, Georgia. Thanks for visiting my blog! My popular herbal recipe book is full of creative ideas for supporting wellness with adaptogens like rhodiola, holy basil, and ashwagandha. You can learn more about my book here. It's available for purchase through Amazon, Barnes and Noble, or by request at your favorite local book shop!