Links contained in this post and elsewhere on my website may include affiliate links. When you make a purchase through these links, I earn a commission at no additional cost to you. I only link to products and services that I love - and that I think you will love, too!
Read Time:
5 Minute, 7 Second
Continuing education is something I take pretty seriously as an herbalist. I make time to stick my nose in a new book as often as I can and love a good hands-on project.  Taking new classes or courses is a regular budget item for me. So, when I was poking around looking for my next continuing education adventure I was really excited to find a course run by an herbalist and former Green Beret Medic: the Herbal Medic Basic Course.
I enrolled in the Herbal Medic Basic online last fall, and hope to return this fall for their Emergent Responder Program. Here are my thoughts on the program. (This isn't an affiliate post, by the way. Just my review of something I really enjoyed.)

An overview of the Herbal Medic Basic Course
This course is designed to give students a foundation for working in settings where access to medical care has been interrupted. This includes emergency settings where there is no doctor and hospitals aren't an option. As such, it deals with the type of scenarios that might be encountered after a major natural disaster. It covers many foundational herbal topics but also has a fairly unique approach to working in a clinical setting. For instance, in an emergency/field clinic setting, it's unlikely that you will be able to rely on lengthy client intake and a well-stocked herb shop down the street. You need to learn how to assess and work with a population in a way that maximizes your available time and resources.  
There is tons of great information in this course. To get the most from the course, be prepared to:
listen to lectures a couple of times each
print out the materia medica info and the class pdfs
stay organized with lists and notes
I'm still listening to the recordings and gleaning info several months after. 
Flexibilty is another plus.  Lectures are recorded so if you can't tune in live you can still listen to them later. (Very helpful for someone like me who has multiple jobs and a side hustle going on!). The instructor adjusted due dates when he realized the majority of students needed more time to finish. He was very accommodating and understanding. In addition, he was very accessible, happy to answer questions, and took the time to provide more background or details when students had questions. 
Hands on portion of the Herbal Medic Basic Course
Even though the course is online, materials are sent in the mail so you can practice some herbal projects at home like making a salve, syrups, and extracts. If you've never done it before, detailed tutorials are provided as part of class. There's even a group project to help you explore how to budget for setting up a post-disaster clinic. I'm not usually big on online group projects (herding cats, anyone???) but the project really helped bring the scenario to life in a way that receiving a print out of "this is what you need, this is what it costs, here's how to do it" would not have done.
A really useful thing that this course covered was how to make percolation tinctures. I haven't seen this covered in many other places, but I use it a lot at home. It's very handy for clinic settings when you can't wait around for 2 weeks for a tincture to be ready.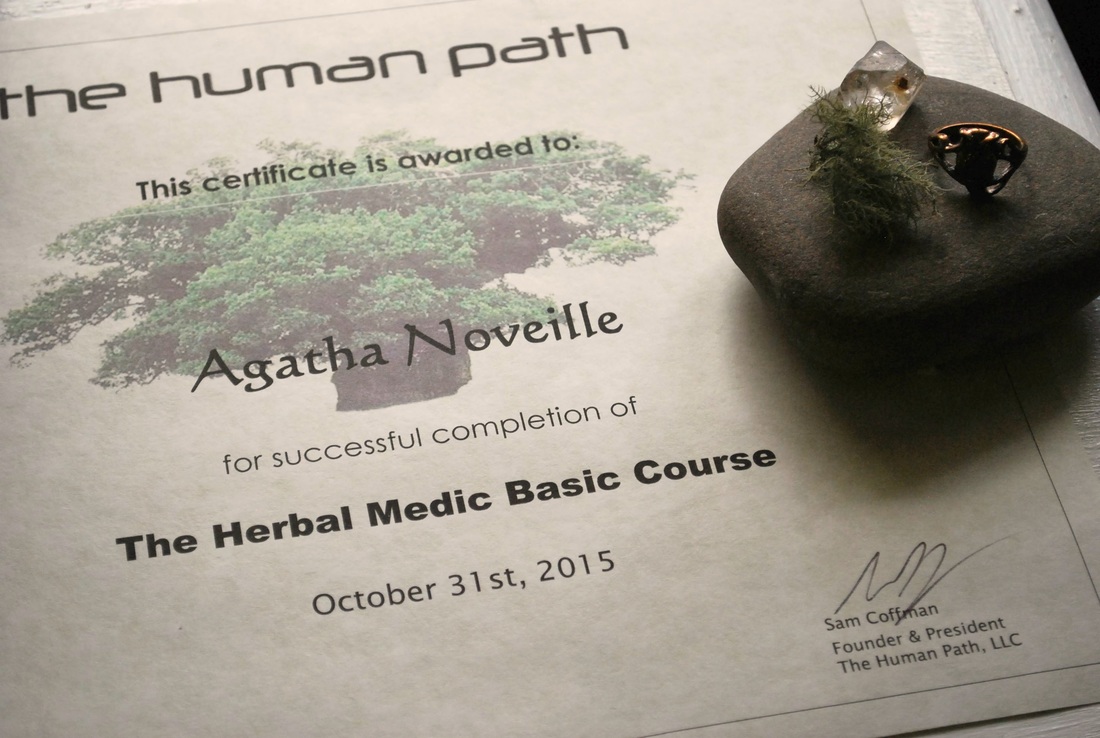 Feedback on rough spots
My only two critiques about the course are relatively minor. I was frustrated that the webinars tend to ramble. Students are allowed to ask anything about anything at any time. I would have liked it much better if the instructor covered the current lesson's material first, and then switched over to Ask Me Anything mode. The material is much easier to learn if it's not chopped up with unrelated questions. 
Update: The school now offers open office hours! Students can ask questions as needed during open office. It frees up the courses to focus on the webinar presentation. There are also live review study sessions for the same reason.
Also, the instructor occasionally eats while lecturing (at least during the semester I was enrolled). It's completely forgivable when you understand his whirlwind teaching/clinics/travel schedule (the school helps support humanitarian work with the Herbal Medics nonprofit), but there are still a few portions of the recordings I honestly can't bear to listen to.  >.<
Update: this hasn't happened in the other two courses I've taken.
My favorite parts of the course
Overall, the course really is fantastic. I think my favorite parts were probably the materia medica and the first aid/clinic set up lectures.
The materia medica portions cover many western herbs and native plants. They also provide a really great mix of well-known and less-commonly addressed plants. The material medical lectures provide a very practical combination of traditional use and modern science.
As far as the first aid and clinic setup lectures go- wow! Such great info. Everything from
set up strategy
recommended tools and supplies
intake processes
clinic workflow
basic first aid rules and mnemonics for assesment
The course also looks at how to interview clients and what kinds of questions to ask. The instructor's background in interrogation techniques gives him a very helpful perspective. It's intriguing to listen to him speak on this topic.
It's also great because it's not feasible to give clients a lengthy interview form to fill out. People show up, you talk to them, and you sort out what you can offer right there, real time. It requires a different approach to working with clients for health coaching, and one that Sam covers very well.

Basically, this is an absolutely phenomenal course if you are interested in off grid/ emergency herbalism. I look forward to continuing my studies with the school, hopefully in the near future! 
Update: I have since taken both the Austere Acute Care course and the 16 hr Wilderness First Aid certificate.
Find all of Sam and Suchil's herbal courses at The Herbal Medics Academy.
Originally published June 29, 2016. Last Updated October 28, 2021.