Links contained in this post and elsewhere on my website may include affiliate links. When you make a purchase through these links, I earn a commission at no additional cost to you. I only link to products and services that I love - and that I think you will love, too!
Read Time:
3 Minute, 3 Second
I was able to get out and do some garden clean-up today and was very surprised that the snow and ice from last week didn't seem to bother my herb garden at all. In fact, my herbs are way ahead of pretty much everything else. Here's a short photo essay of the early spring growth in my herb garden.
(Update: this was my herb garden a number of years ago. Enjoy this glimpse of my herbal journey!)
Spring growth of yarrow
I grew up around herb gardens, and have grown container plants in places I've lived, but this having my own garden thing still makes me jump up and down like a little kid. I transplanted this yarrow last year, from a plant my mom gave me from her garden, that she probably got from my grandmother (yep, we're all plant nerds around here!)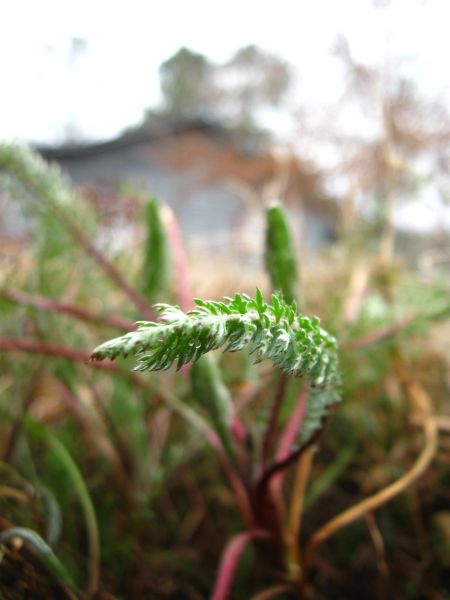 I'm really happy it seems to have settled in over the winter, because at first it was kind of picky.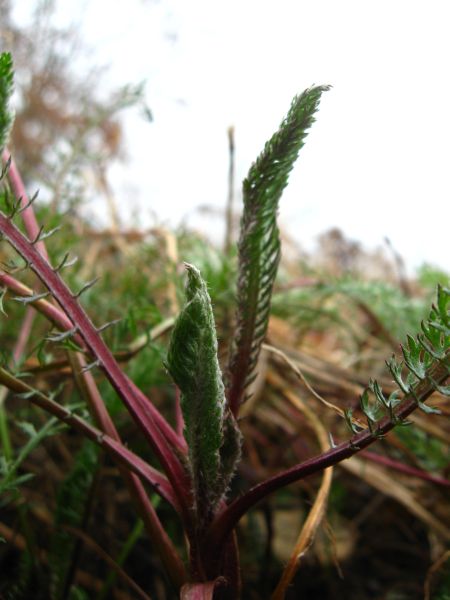 Lemon balm emerges. . .
Another gift from my mom, this lemon balm plant settled in almost immediately.
Don't ever feel bad for this stuff if you have to pull it out (and trust me, you will). It really won't care. I've seen it kill daylilies by smothering. Do you know how hard that is? To give you some idea, I have daylilies growing in my front pasture where there was once an old farmhouse ( I found bits of the old fireplace one day).
They get mowed, stomped on by horses, and generally neglected to fend for themselves. And they do quite well. In other words, this lemon balm stuff is a loveable abomination. I made fresh extract with this same plant last year and could have made gallons from the thing that grew (in a matter of a few months!!!!!) from the one tiny little bit my mom gave me. Nice to know it's getting a head start. . .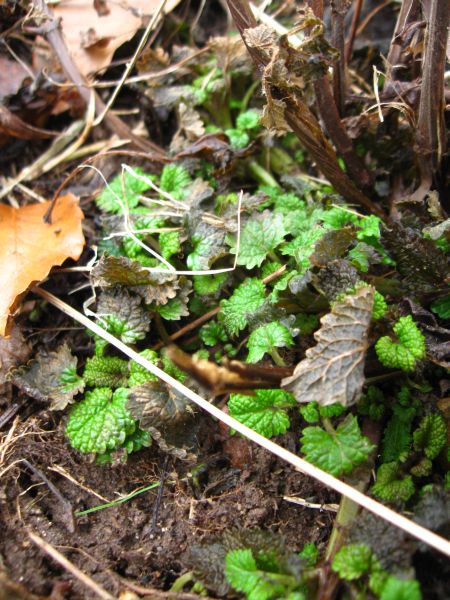 Valerian spring growth
I also started some valerian from seed last summer, and was rewarded with a beautiful plant that went absolutely nuts in my garden once I planted it out. I was quite proud of it, actually. The rest of the seeds didn't do anything ( I will try again this year!), but it had probably a two foot spread by the time the frost finally killed it. I think it was still growing well into November. So it doesn't surprise me that it is already putting out new growth!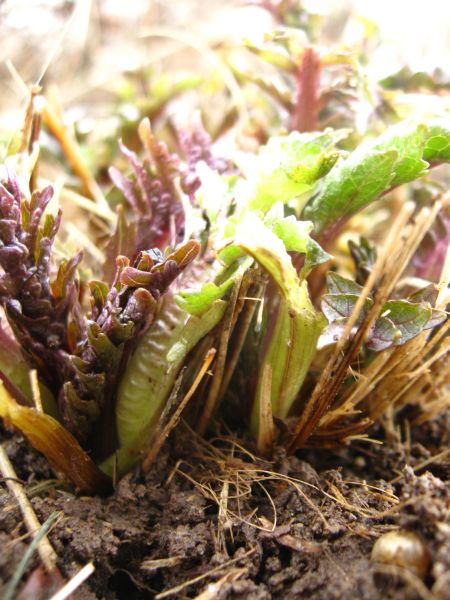 The roots are beautiful, too! Of course, this is the part of the plant most people are interested in. A little piece broke off when I was cleaning it up for the photos, and I can tell you that even this early in the year, it still smells pretty strong. Interesting, because most roots will be at their strongest in late fall.
If that's true, this one will knock my socks off when I harvest this year. Good thing I'm one of those weird people that think it smells delicious! Actually, the fresh root does smell more like something normal people wouldn't mind either. There's less stinky sock smell and something that is actually closer to pleasant. Even I don't like the stinky sock part, it's just that I can get past it to the other smells/tastes. The first impression seems to stop most people in their tracks.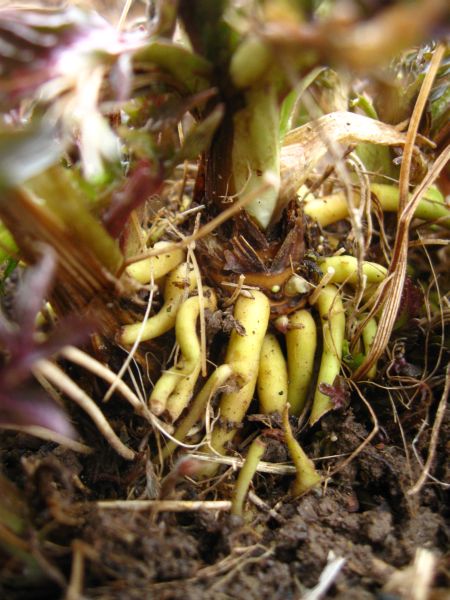 Hopefully, I will be able to start this year's seeds next weekend and will share my nifty way of making soil blocks for anyone else who is thinking of starting seeds this spring.
Updated October 8, 2021.