Links contained in this post and elsewhere on my website may include affiliate links. When you make a purchase through these links, I earn a commission at no additional cost to you. I only link to products and services that I love - and that I think you will love, too!
Read Time:
3 Minute, 24 Second
If you've ever wondered how to grow calendula, you'll be happy to know that it's easy. Some herb seeds are picky about their growing conditions. Calendula, on the other hand, is as easy to grow as marigolds or zinnias. Herbalists use the sunny orange flowers in teas, salves, and tinctures. Grow calendula in your garden, and you can make your own herbal goodies in no time!
Choose the right variety
First, it's important to choose the right plant! Make sure your plants or seeds are Calendula officinalis. Another common name for calendula is pot marigold, and sometimes there will be mix-ups with regular marigolds (Tagetes spp) being labeled as calendula.
Calendula officinalis comes in a color range of yellow to orange. Herbalists favor deep orange calendula with plenty of resin on the backs of the flowers. Most calendula flowers have petals around the edge of the flower disc, much like a small sunflower. However, I sometimes find spontaneous 'double' blooms in my calendula patch. That's nothing to worry about, and it gives you even more petals! The photo below is an example of a double bloom calendula.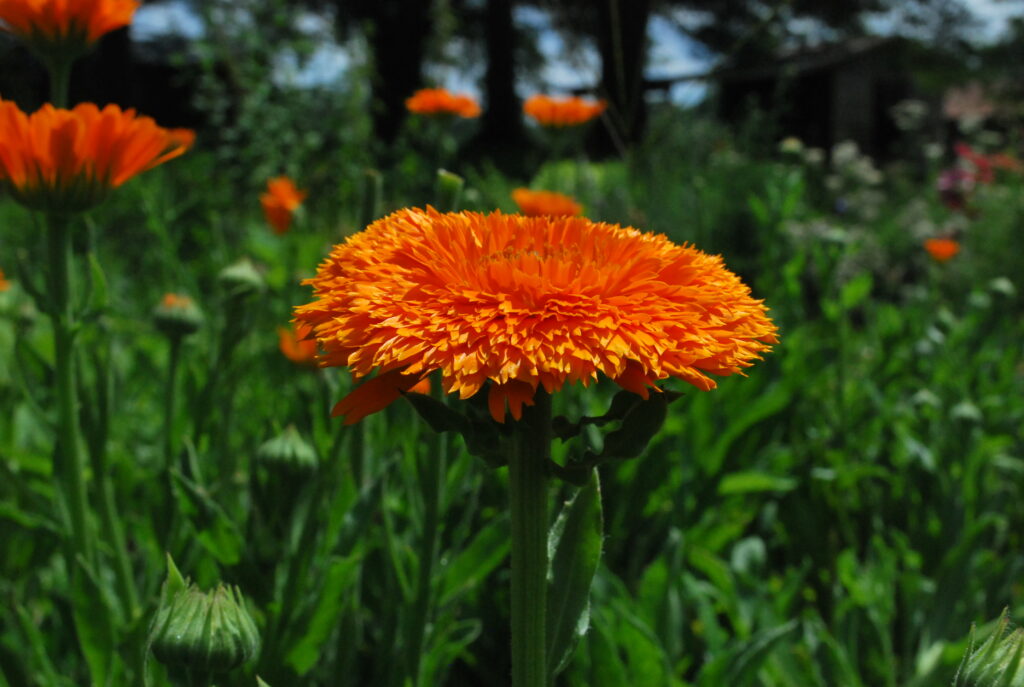 How to grow calendula from seeds
Whether to begin with calendula seeds or buy young plants is up to you. The seeds germinate easily, so it's usually more cost-effective to buy a packet of seeds. My favorite supplier is Strictly Medicinal Seeds. (I've used them for years and always been so happy with the quality of their plants and seeds).
You have two options with growing calendula from seed. Either plant them in the fall and they will germinate the following spring when they are ready, or plant them in early spring so they have some exposure to cool weather.
Moisture is also key. Calendula seeds need plenty of even moisture to germ. That's one reason they don't perform as well planted in late spring/early summer.
Direct sow your seeds in rows or square blocks. Thin seedlings to six inches apart once they are a few inches tall.
I usually start my calendula seeds in soil blocks in April and they do very well. My germination rates have always been high in soil blocks so I use one seed per block. You can use more and thin them out if you are concerned about germ rate.
How to grow calendula plants
If you decide to buy plants instead of seeds, treat your calendula like any annual flower. Transplant the seedlings into a sunny garden with good soil. Calendula also works well in container gardens as long as it gets plenty of water.
Plan on adding your calendula plants to the garden in the spring. Whether you grow from seed or buy seedlings, your plants will grow 12-18 inches tall. Give them 6 inches of space between them when first planted to prevent overcrowding.
This herb is incredibly hardy and will tolerate growing zones 2-11. I've heard that it's a perennial in zones 9-11, but I can't confirm that. I've always lived in areas where it is most definitely an annual.
I've never had problems with insect damage for my calendula plants. Pollinators love visiting the flowers, though, so it's great if you can leave some flowers on the plant. As a bonus, you can collect the seeds at the end of the growing season to plant the following year.
When to harvest calendula flowers
Calendula flowers will be ready 30-50 days after planting the seeds. Harvest them in the morning on a sunny day after the dew has dried. You don't need to harvest the stem, just the fully open blossoms. Place the flowers in a single layer on screens to allow for good airflow while they dry.
Other easy herbs to start from seeds
Ready to try your hand at adding more annual herbs to your garden? Here's a list of Annual Herbs That Grow Easily from Seed.
And if you are looking for a way to use your calendula flowers, be sure to bookmark this recipe for mullein and calendula tea with elderberries!