Links contained in this post and elsewhere on my website may include affiliate links. When you make a purchase through these links, I earn a commission at no additional cost to you. I only link to products and services that I love - and that I think you will love, too!
Read Time:
4 Minute, 21 Second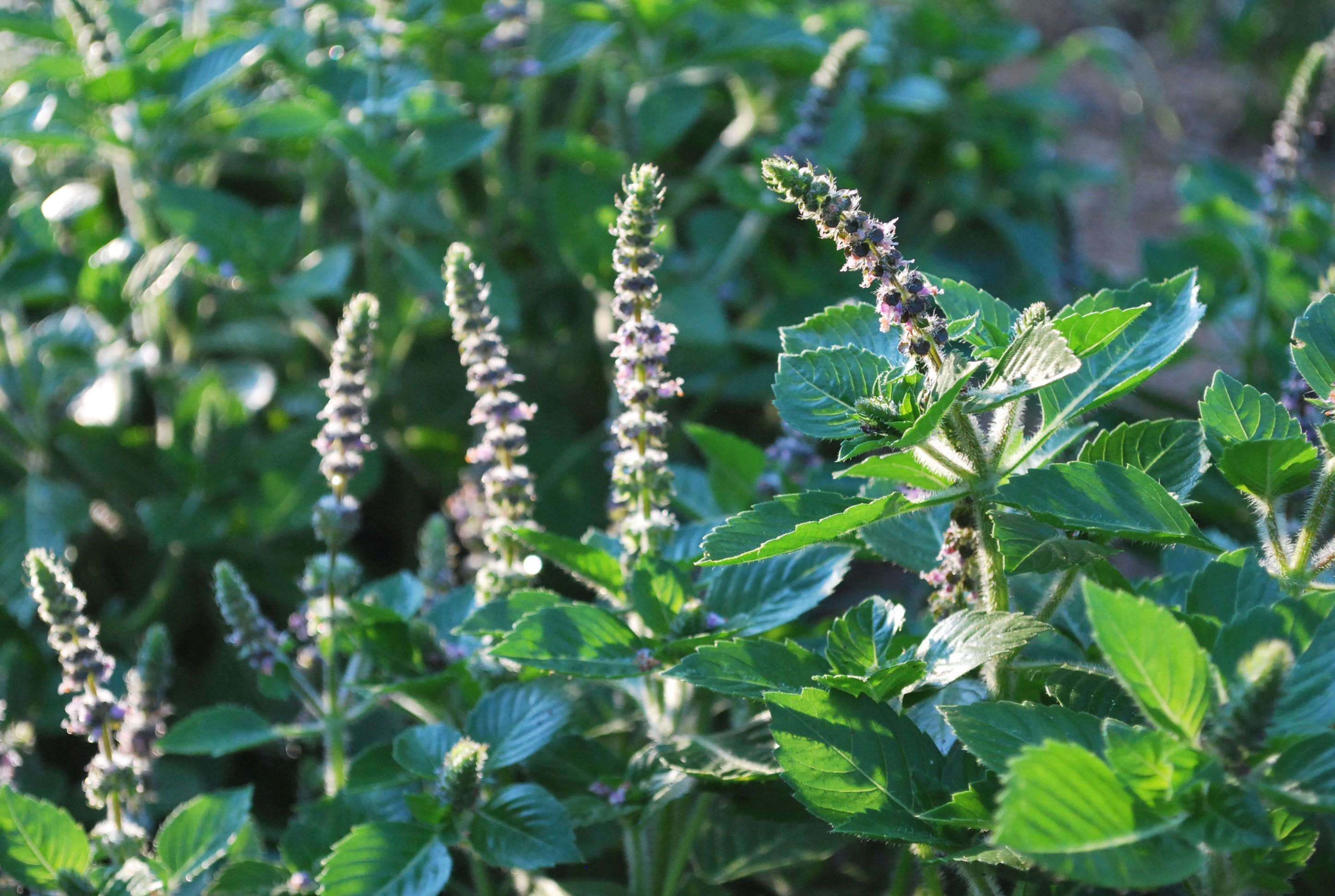 Growing tulsi can be a rewarding project for the home herbalist because this adaptogenic herb is easy to grow and yields abundantly.  It's a beautiful plant as part of the landscape, and you'll also be able to enjoy the incredible fragrance whenever you work in your garden.
I've grown tulsi for three years now. The first two years I grew Rama tulsi, but this year I bought the tulsi set from Strictly Medicinal Seeds and did a trial grow to see how the different varieties would do at our farm. Each variety was wonderful, but there are definitely pros and cons to each if you want to grow tulsi as a crop vs for personal use.
Here's my experience with how each variety compares with the others.
Two tulsi species
First, it's important to note that there are actually two species of tulsi. The type of tulsi most commonly available in bulk, as supplements, and in tea is Ocimum tenuiflorum (syn. O. sanctum). This is also the type you are most likely to find in plant nurseries here in the U.S. and which is tended widely throughout India and parts of Asia.
There are several different varieties of O. tenuiflorum available, similar to the way you will find different varieties (or cultivars) of herbs like sage or thyme. The ones we grew this year are temperate (sometimes known as Kapoor) tulsi, Rama, Krishna, and Amrita.
Another species, O. gratissimum, can be used in the same ways as its more domesticated cousin. The fragrance is markedly different, but still recognizably "tulsi". This variety is known as Vana tulsi.
My tulsi trial
It's important to be a bit stubborn if you're a gardener. Things rarely go as planned, and that was definitely the case with my tulsi trial. Amrita tulsi did not germ well for me, although the other varieties came up well, and then all of my seedlings damped off – and I do mean all of them.
I actually had to start my tulsi trial twice this year, because I lost ALL of my seedlings the first time around. We had an exceptionally long, cold spring and many of my seedlingss weren't happy about it!
But my Amrita seedlings failed to thrive the second time around, too. This appears to be a peculiarity of this variety when coupled with my particular location – all of the other strains did magnificently once we started over. I will probably tinker with them some more next year. In the meantime, let's look at how the other varieties fared.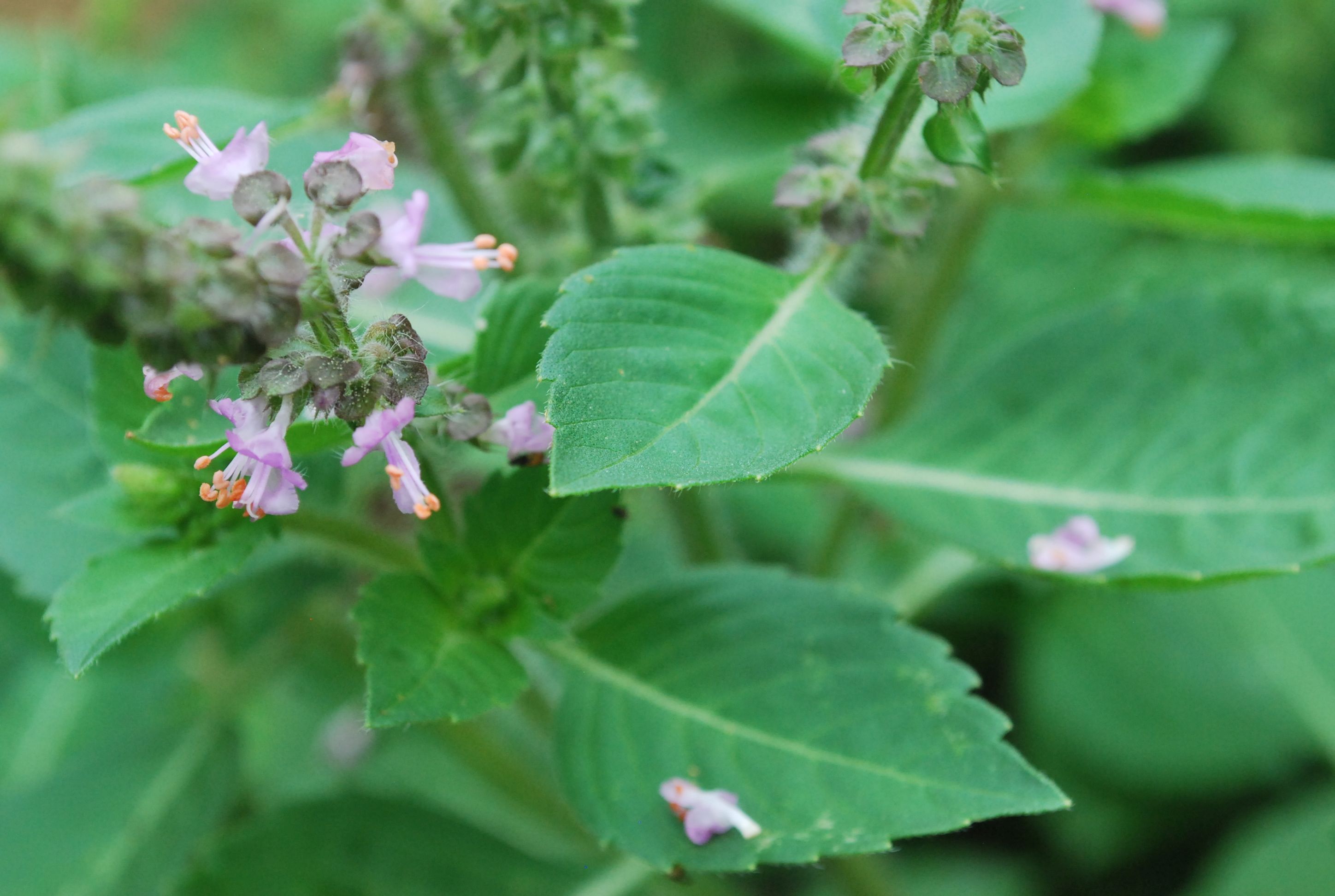 Temperate (Kapoor) tulsi
This one will probably be the variety I mainly grow here on the farm going forward. The fragrance is absolutely divine, plus it yielded heavily and responded well to cut-and-come-again harvesting throughout the growing season. This was also the variety that was ready for harvest earliest in the season.
Temperate tulsi forms a pretty little hedge full of blooms that continually blooms all summer long. It was low maintenance and looked really nice the whole season, so if looks are important (as for a teaching garden or a community herb garden) this tulsi is a very good bet. Bees and butterflies seem to adore it, as well – the row was always bustling with pollinators.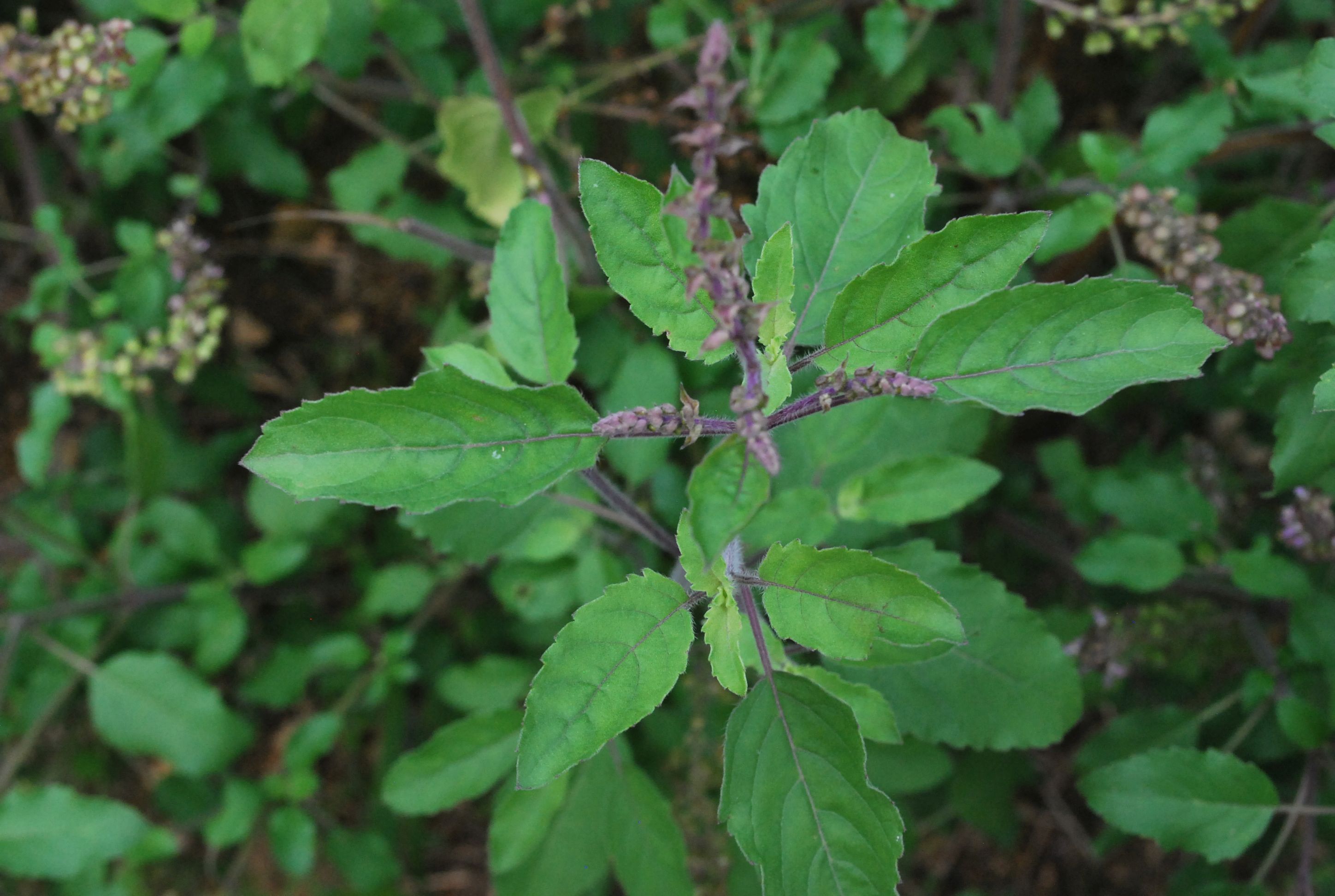 Rama tulsi
I've grown Rama before and know that it is a dependable variety for us. The fragrance has more clove notes than Kapoor, which tends to have lighter, fruitier notes. I also know that this variety withstands our poor soils and occasional drought conditions like a champ. It tends to get leggy under our conditions, but that's easy enough to remedy by pinching back early on and often.
Krishna tulsi
I'm waiting to see how Krishna tulsi does under drier conditions here, but I have to admit – this one is quite handsome. The leaves turn a stunning dark purple as it matures. It was the slowest grower for us, but I think it's worth the wait! Like Rama tulsi, it required some pinching back to encourage bushier growth. Unfortunately, it never bushed out as well as Rama did for me. Fragrance is almost identical to Rama tulsi.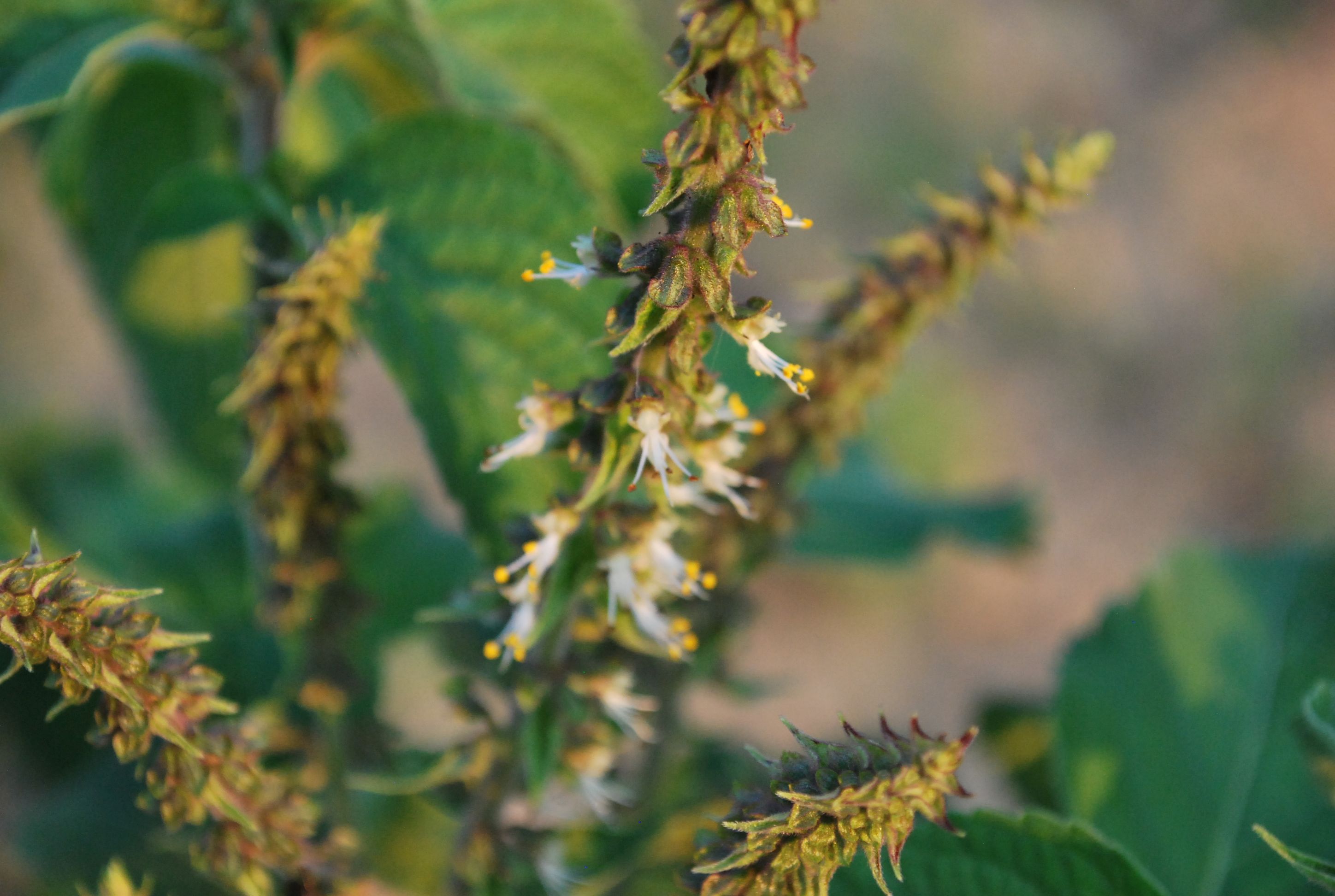 Vana tulsi
This variety reached full height midway in our growing season. It has a lovely, bushy growing habit. The flowers are white, and the flower clusters have a much more angular appearance – they reminded me of little dragons or snakes. The fragrance is heavier and muskier than the other varieties.  
This variety gets a little droopy on hot, dry days here. I'm not sure if it will be a consistent variety for us. However, I love it and hope to continue growing a few plants of it every year just for personal enjoyment. It would also make a fragrant and unusual substitute for coleus in an annual bed for landscaping – I'm contemplating using it like that next year.  
If you like using the herbs you grow in creative recipes and love adaptogens, you will enjoy my herbal recipe book, The Complete Guide to Adaptogens! I've also published an eBook, Tulsi for the Garden, Kitchen, and Home Apothecary, with even more dreamy tulsi recipes to try.