Links contained in this post and elsewhere on my website may include affiliate links. When you make a purchase through these links, I earn a commission at no additional cost to you. I only link to products and services that I love - and that I think you will love, too!
Read Time:
7 Minute, 55 Second
Summer is the perfect time to take the first steps for becoming a home herbalist. It's the best season to dabble in the garden and long, sunny days mean that inspiration for connecting to the green world are all around us. Read on to discover some of my favorite suggestions for learning herbalism in summer.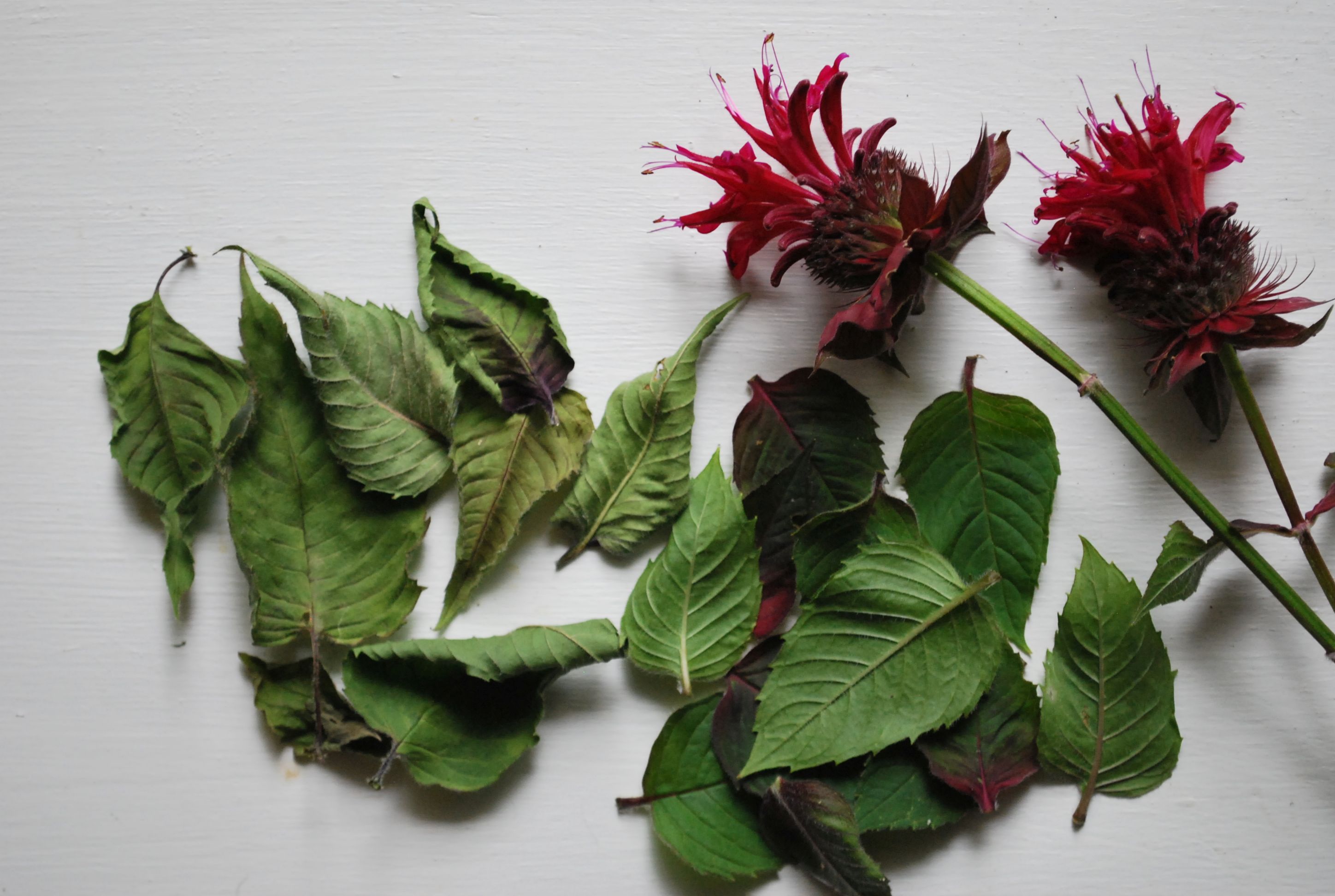 Study a Summer Ally
If you are looking for the absolute best way to begin learning herbalism, I suggest jumping right in and starting with the plants themselves. Studying a single herb in-depth is a simple but surprisingly effective way to start your journey into herbalism. Some summer herbs to consider are calendula, yarrow, peppermint, rose, or elderflower. Once you've chosen an herb to study, head to your library to borrow at least three herbal books with information on the plant you've selected. You will need to take notes on the following:
Botanical or Binomial Name
That's the two part name that looks a bit like Latin. So, for instance, dandelion's binomial is Taraxacum officinale. It's important to learn an herb's botanical name because herbs can share common names. An example is hibiscus. There's the showy, garden hibiscus (one example is Hibiscus rosa-sinensis) and then there is the hibiscus variety used in herbalism, which can be called hibiscus or roselle, but which has the binomial Hibiscus sabdariffa.
Parts Used
Sometimes only a certain parts of an herb are used. It's important to know the what and why behind this. Do a little research to discover what parts of your herbal ally are commonly used and how they are usually prepared. With dandelion as our example again, we would note that the leaves can be made into a tea or an extract and so can the roots. However, the leaves tend to have more of a diuretic action than the roots. Both can also be prepared as a food, which lets us know that dandelion is usually quite safe to use.
Safety and Serving Size
Some herbs may have safety considerations depending on the person using them and whether they take any OTC or prescription medications. Some herbs are safe for adults but not for children, and pets may have important safety considerations as well. It's important to do your research on suggested serving size, too.  More is not necessarily better!
Traditional Uses and Modern Research
I've found that it's important to balance learning traditional uses and modern research when studying a new herb. There are two reasons for this. One, modern research often fills in important details that are missing from historical accounts (such as more complete safety information). It can also help verify what traditional herbalists have passed down to us. Second, learning about traditional uses gives a very different profile of use and action that deepens our understanding of the complex relationships between an herb and our bodies.  
Physical Description
Botany has a very specific vocabulary for describing the appearance of plants. It's good to become familiar with this vocabulary. One of the easiest ways is to look up the botanical description in a field guide and define any terms with which you are unfamiliar. This cuts through the overwhelm of learning what can seem like another language and give you concrete examples of what each term means. It's also good to describe the plant in your own words. Do parts of the plant remind you of something else? How would you describe it to a friend? If you can, add a photo or drawing of the plant to your notes.
Explore the Art of Foraging
Plantain, mimosa, and honeysuckle are common herbs that grow abundantly in summer. They are also easy to harvest respectfully without having a negative impact on native ecosystems. You might be fortunate enough to have them growing in your own backyard! If you are new to botanical identification, I recommend going on a few plant walks with a naturalist or herbalist to get comfortable with a few abundant local plants. They may be able to suggest small organic farms or community gardens that would welcome your help removing "weedy" herbs. 
If you are relying on field guides, remember to double or triple check the plant against photos in different books. It can be easy to make mistakes when you are first learning, and seeing different photos of the same plant can help you spot the difference. Your County Extension agent may also be able to direct you to master gardener volunteers who can help you identify plants you are unsure about.
Add Herbs to Your Summer Skin Care Routines
Plantain poultices, rose petal vinegar, and jewel weed salve are summer specialties that are simple for new home herbalists to make. Just as importantly, they are perfect for calming the skin care woes of summer like too much sun, bug bites, and small cuts and scrapes from outdoor adventures.   
Probably the easiest herbal summer skin care project is learning to make a plantain poultice. This simple,  time-honored practice is easy to learn and very useful. To make a plantain poultice, fresh Plantago major leaves are crushed and applied directly to the skin to help soothe minor burns and bug bites. Hold the crushed leaves in place with a band-aid or gauze if desired. You can learn more about making poultices from my article How to Make a Poultice with Dried or Fresh Herbs. (#affiliate)
Craft Seasonal Summer Teas
The seasonal tea cup is one of my favorite parts of home herbalism. By focusing on certain seasonal herbs, we can support our bodies' balance as we move from one season to the next. For me, summer wouldn't be complete without iced herbal teas like lemon balm, peppermint, or roselle hibiscus. Herb and fruit infused water is another summer favorite at our house. Don't miss my recipe for bee balm, peppermint, and watermelon agua fresca!
Do Some Summer Reading
Summer is a great time to find a tree, spread out a blanket, and stretch out to relax and read. Why not make it some herbal reading? Two engaging titles for home herbalists are Body Into Balance by Maria Noel Groves and The Book of Herbal Wisdom by Matthew Woods. Both of these books get high marks for readability, making them good choices to take along and dip into wherever and whenever you find some time to relax this summer. They are written by experienced clinical herbalists and offer a deeper look into herbalism than most beginner's guides, but they aren't difficult to follow.
Take a Short Course
Summer is also the perfect time to commit to a short course of herbal studies. For new home herbalists, I highly recommend the Herbal Academy's Materia Medica Course (#affiliate). You will learn how to study individual herbs step by step to deepen your knowledge and skills of how they are used. It's only $39, so it won't break the bank- perfect for a little summer skill building on a budget. I was part of the writing team for this course, so I'm very familiar with it.
The Herbal Academy has three other short courses at the moment and these would also make great summer projects. You can choose from Botany and Wildcrafting, Herbal Self Care for Stress Management, and The Craft of Herbal Fermentation
Start Stocking Your Home Apothecary
Many herbs come into season in the summer, so this can be a good time of year to begin or replenish our herbal pantries. It can be tempting to buy a little of every herb imaginable, but I find that it's best to start with a few and work up from there.
Try choosing a tea (like a recipe from the book Healing Herbal Teas by Sarah Farr) and buying the ingredients you need to make the recipe. Buy a little extra and you will have enough to make an extract of each and keep a little on hand for other projects. Slowly add to your apothecary as you work with new teas or formulas and you will be able to expand your supplies without feeling lost or letting anything go to waste.  
Find Community
Summer is the busy season for guided plant walks, community workshops, and even herbal conferences. Find ways to explore herbalism within your community by checking the bulletin board at your local herb shop, looking for events in your area through Herb Rally, or selecting a conference or event to attend at a venue nearby. Opportunities like these can help you explore home herbalism in a setting that welcomes questions and allows you to experience herbalism hands-on with other new students.
Enjoy the Moment
Summer can be a time where we stay extra busy with work, travel, and outdoor fun, but it can also be a wonderful time to slow down and savor the connections we build with our herbal allies. Remember to take some time to enjoy your herbal journey through the summer months and stay open to discovering other seasonal projects that support your growth as a home herbalist. You never know what new allies or experiences you might find.
My herbal recipe book, The Complete Guide to Adaptogens, is full of creative ways to add herbs to your menu and your wellness routines! You can buy the gorgeous hardback edition here on Amazon or through your favorite local book shop.
All the best,
Agatha