Links contained in this post and elsewhere on my website may include affiliate links. When you make a purchase through these links, I earn a commission at no additional cost to you. I only link to products and services that I love - and that I think you will love, too!
Read Time:
3 Minute, 30 Second
Spring greens are in full swing here on the farmstead, and it has been an incredible year for dandelions. I've never seen the blossoms this large or plentiful. Dandelion jelly is one of my favorite spring traditions, so I thought I would share just how easy it is to make this unusual forager's delicacy.
There are other recipes for dandelion jelly floating around the internet, but I worked this one out because it uses a homemade pectin stock, which is pretty cool. The recipe is based on the Tea Jelly recipe in Canning for a New Generation, by Lianna Krissoff. It uses homemade fruit pectin made from granny smith apples. You can also find instructions to make your own pectin here.
This is a pretty simple recipe. The last time I made jams and jellies was when I was nine or ten and "helping" my mom. Mostly by getting underfoot. So I was delighted that this went as well as it did and came together so easily.
The taste of the finished jelly reminds me of honey. I think the light apple flavor of the stock goes really well in this case. It isn't overpowering and it adds a nice dimension to the jelly. There is a slight bitterness at the end that makes it unmistakably dandelion.
For the sake of brevity, I will cut right to the recipe, and save a treatise on preparing the flowers for another post. Just know in advance that you need to separate the flower petals from the small green leaves on the back side of the flower. Essentially, you will just need to pinch and pull to separate the petals from the stem. It's tedious, but not quite as bad as it sounds.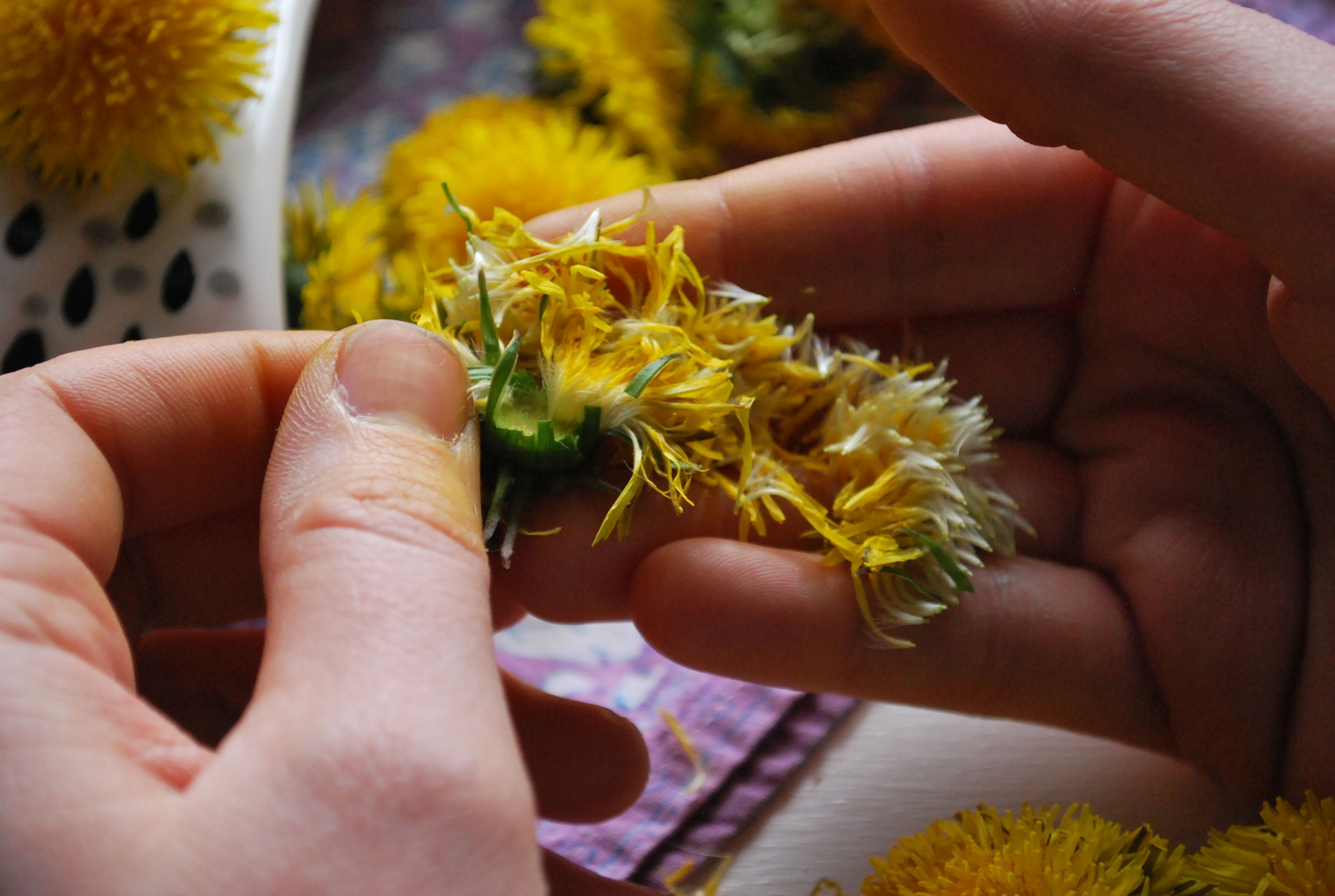 Ingredients
2 or 3 cups fresh dandelion petals (separated from the green part on the back of the flower)
2 1/4 cups boiling water
3 cups of homemade green apple pectin
1/4 cup fresh lemon juice (strained)
3 1/4 cups sugar
Yield: Makes 3 half-pint jars, and can be water bath canned.
Tip: Before you begin, have sterilized jars, lids, and rings ready to go. You will also need an accurate candy thermometer.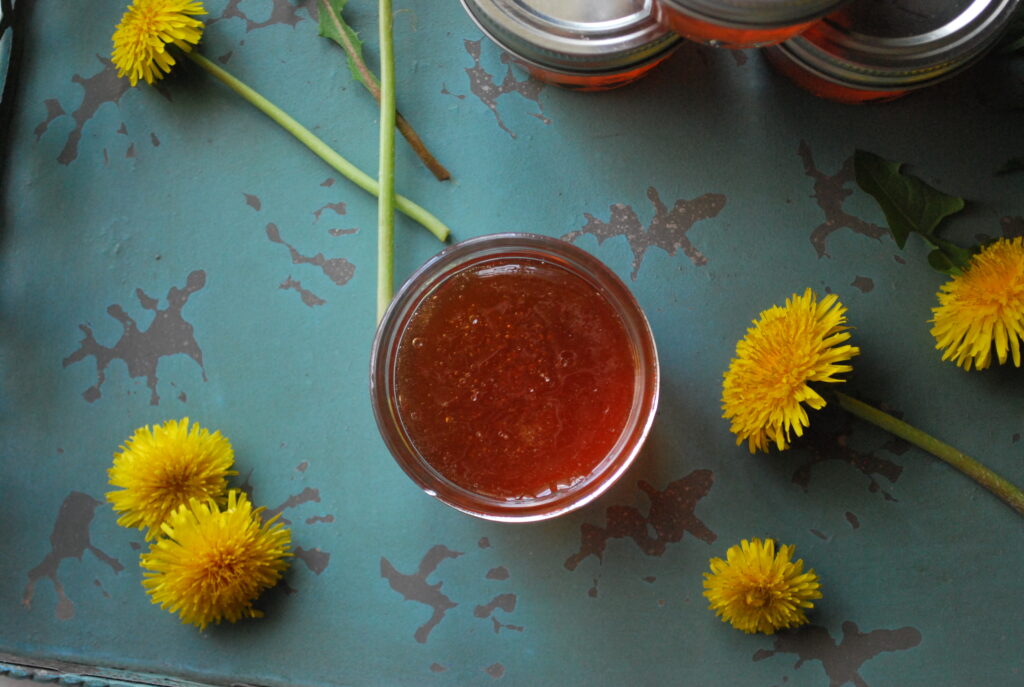 How to make dandelion jelly
Making dandelion jelly is very much like making fruit jelly but instead of fruit juice, you will use a strong tea made with dandelion petals. Once you have your tea ready, you will combine it with the green apple pectin, lemon juice, and sugar. Here are the steps:
Put the petals into a heat proof bowl and pour the boiling water over them. Cover the bowl with a plate and steep for ten minutes, or until the petals have lost most of their color.
Pour the dandelion petal brew through a strainer into a six to eight quart pan. Add the green apple pectin, lemon juice and sugar to the petal water, and bring to a boil over high heat. Keep an eye on it to make sure it doesn't boil over and make a mess.
Cook until the temp reaches 220 degrees Fahrenheit (use a candy thermometer to check).
Ladle into sterilized jars, lid up, and water bath process for five minutes. Allow the jars to cool completely once removing them from the water bath. I line them up on a towel on the counter in an out of the way spot so that the seals have time to set properly.
Don't forget to enjoy the jelly left in the bottom of the pot that the ladle couldn't get- bread or crackers not required, but a large serving spoon is recommended because the pot will still be very hot.
The most complicated part of this recipe is the homemade apple pectin, but after that everything is a cinch. It has become a staple in my jam and jelly-making file and I love making extra to give as gifts. It's a fun and unusual way to enjoy dandelions and celebrate spring!
More fab floral recipes
Love to make edible treats with flowers? You might enjoy this violet flower oxymel recipe! I also have a recipe for this beautiful mimosa flower jelly on our sister website, Teacup Alchemy.