Links contained in this post and elsewhere on my website may include affiliate links. When you make a purchase through these links, I earn a commission at no additional cost to you. I only link to products and services that I love - and that I think you will love, too!
Read Time:
2 Minute, 36 Second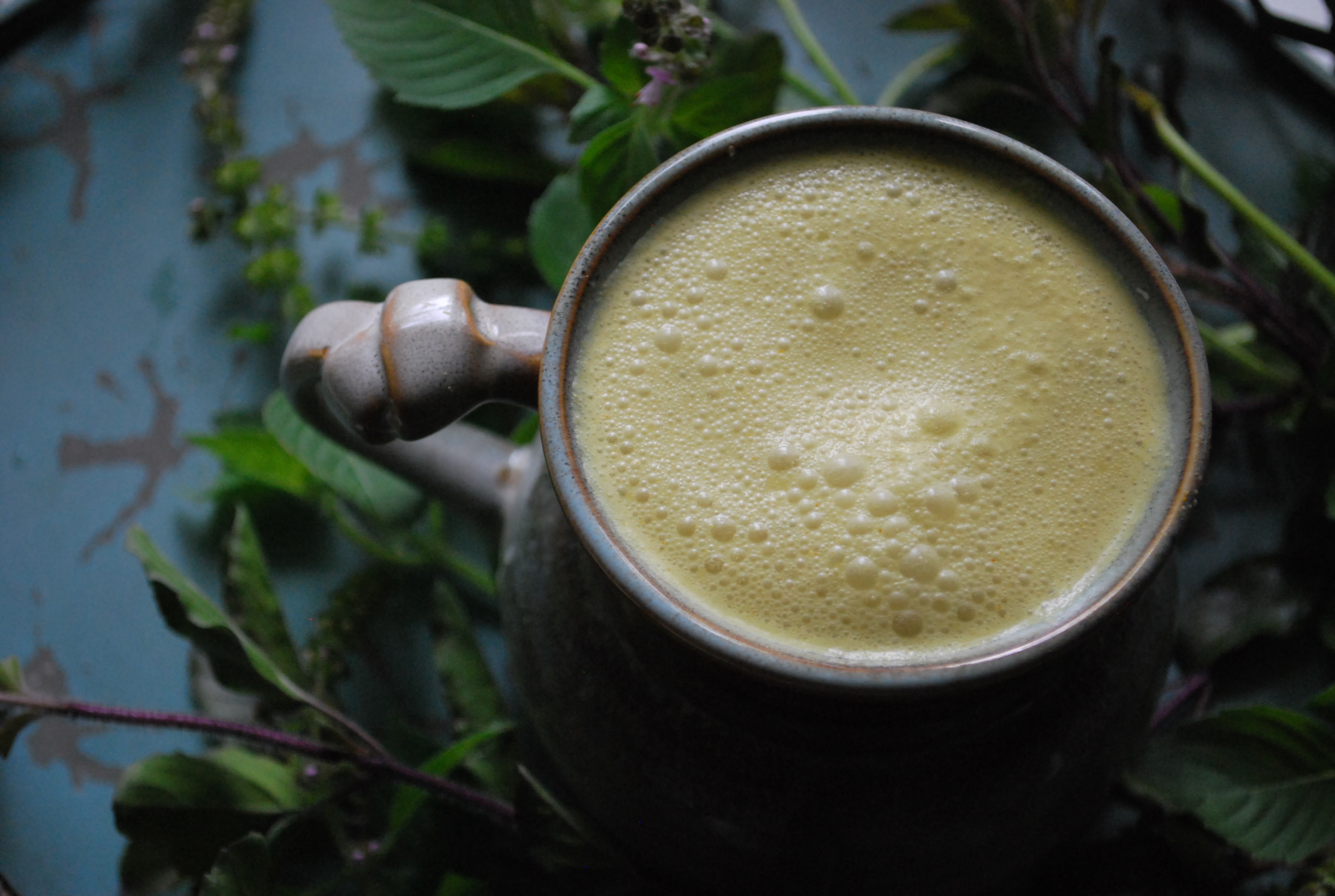 Have you ever tried making golden milk with fresh tulsi and fresh ginger? The results will absolutely blow you away. It's a delicious change of pace from the usual golden milk, and the turmeric and tulsi team up perfectly as a power couple to support your immunity and emotional wellbeing. Find my recipe below!
(P.S. If you don't have fresh tulsi, you can use a serving of your favorite tulsi extract instead!)
Golden Milk with a Twist
Golden milk is a traditional Ayurvedic recipe that uses milk, honey, turmeric, and black pepper. It's considered to be highly nourishing and often lauded for the anti-inflammatory properties found in turmeric. Unfortunately, I think that the taste of golden milk, at least in the original version, can leave a bit to be desired. Turmeric is very earthy and, personally, I've never really enjoyed it as golden milk!
In this version, coconut milk pairs with fresh ginger and fresh tulsi to create a much more sublime, aromatic golden milk that I love and prefer to drink chilled. If you can, buy a ready-to-drink coconut milk- usually found in the alternative dairy section at the grocery store along with nut, soy, and rice milks- instead of canned. Canned coconut milk will be too creamy to work well and usually has a higher fat content and calorie count.
This recipe is from my e-book, Tulsi for the Garden, Kitchen, and Home Apothecary.
Here's how to make your very own Turmeric Tulsi Latte. (Serves one, so double up if you want to have enough to share!)
Turmeric Tulsi Latte
Ingredients
1" piece of fresh ginger, peeled and grated
1" piece of fresh turmeric, peeled and grated
1-2 tbsp finely minced fresh tulsi
1 ½ cups ready-to-drink coconut milk
¼ tsp ground black pepper
¼ tsp dried turmeric (optional)
How to Make It
In a blender or food processor, combine the grated ginger, grated turmeric, minced tulsi, black pepper, and coconut milk. If you like, you can add ¼ teaspoon of turmeric powder to add an extra boost of turmeric and to deepen the color of the finished golden milk, but it isn't necessary.
Blend for two to three minutes, until the tulsi leaves are blended well with the coconut milk and the milk begins to take on a golden color from the turmeric.
Allow the golden milk to rest in the blender for 5-10 minutes. The color will deepen as the turmeric infuses into the coconut milk.
Strain the blended golden milk through a mesh strainer or cheesecloth to remove the pulp.
Pour into your favorite glass or mug and enjoy!
If you don't have fresh tulsi on hand, remember that you can use a serving of holy basil extract instead.
Don't forget to buy your copy of Tulsi for the Garden, Kitchen, and Home Apothecary! You'll find instructions for making tulsi extract and glycerite to stock your home apothecary, lots of details for growing tulsi in your herb garden, and five more easy and delicious recipes to make with your homegrown tulsi.
All the best,
Agatha