Links contained in this post and elsewhere on my website may include affiliate links. When you make a purchase through these links, I earn a commission at no additional cost to you. I only link to products and services that I love - and that I think you will love, too!
Read Time:
3 Minute, 49 Second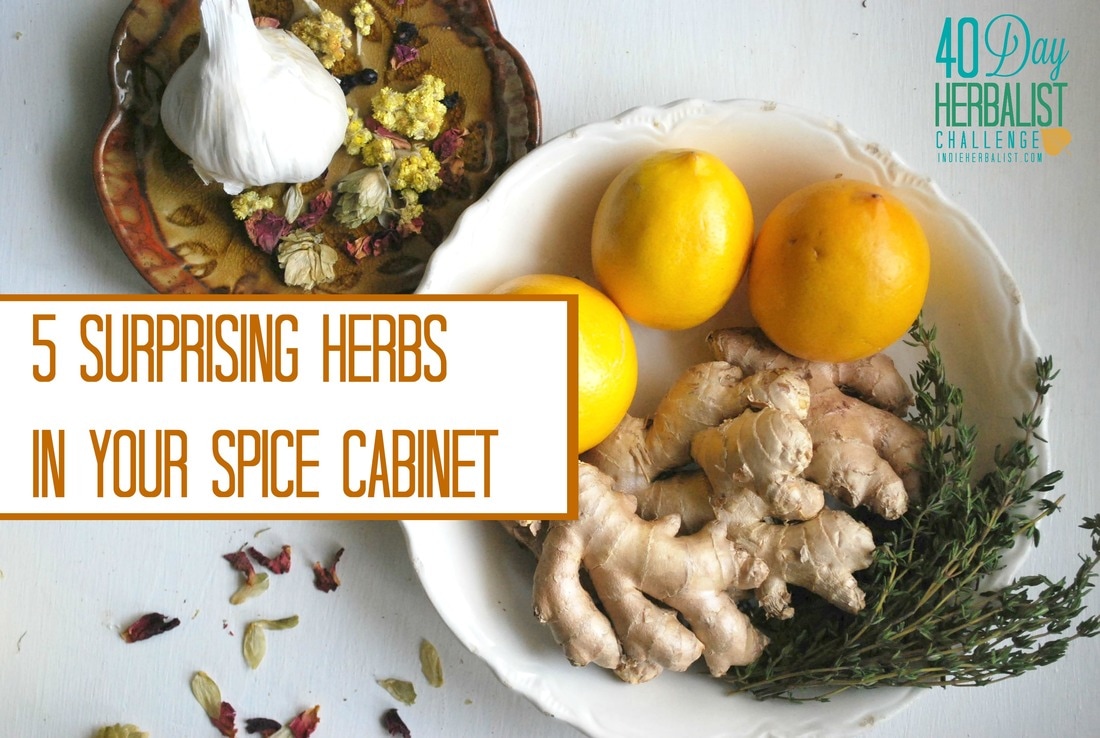 Day 10 of the #40DayHerbalist Challenge

The herbs and spices in your kitchen cabinet have some uses that may surprise you, so consider today a mini introduction into the magic of kitchen herbs. Next week, we will begin using simple herbal ingredients that you likely can find at your grocery store to make recipes like a flavorful cooking oil that features rosemary, which is fantastic for circulation, digestion, and cognitive function, an immune supporting syrup with garlic and thyme, and even a vinegar tonic that features parsley, sage, and citrus.  For today's Challenge, I've done a roundup of articles and resources on 5 of the most interesting herbs that may be hiding in your kitchen! I purposefully kept today's Challenge short so that you will have plenty of time to enjoy reading through the links below – some of the articles are quite long, but well worth the read!
​
Time needed: 20 minutes+
Tools needed: (optional) pens/pencils, notebook
5 Surprising Herbs from Your Kitchen
​These 5 herbs are some of my favorites in terms of their potential to delight and amaze with their versatility and interesting histories of use. I think you will find them pretty interesting, too! 
Basil – Occimum basilicum
Did you know that the basil often used in Italian dishes has similar properties to the adaptogen tulsi? It's true that they are both basils, although Occimum basillicum is the common garden and kitchen variety, while Occimum tenuiflorum (aka Occimum sanctum) is tulsi. In fact, herbalist Rebecca Altman at King's Road Apothecary uses the two almost interchangeably.   
Rosemary- Rosmarinus officinalis
Although it is widely known as a kitchen seasoning, few people know that this is actually a nootropic in disguise. Nootropics are a class of herbs that are believed to support mental function and cerebral circulation, and support positive moods. Rosemary is also valuable around the home. 20 Ways to Use Rosemary gives a glimpse into why this herb shouldn't be tucked away on your spice shelf and forgotten.
Sage – Salvia officinalis
Sage was valued as a longevity tonic in times past. The binomial is derived from latin "Salve" – to save, to be well, and it's no coincidence that the plant bears this name. Sage Throughout the Ages highlights some of the more interesting historical tidbits and modern uses for this herb.  Sag
Summer Savory – Satureja hortensis
Summer savory is less well known than other herbs in the mint family, but it has been used since the time of the ancient Greeks and Romans, and was grown in monastic gardens during the middle ages. You can learn more about summer savory's uses for the nervous system, digestion, and even as an aphrodisiac in this monograph from The Herbarium.
Thyme- Thymus vulgaris
Thyme is a wonderful herb to have on hand for winter health. It's warming and supportive for the lungs (it has been used traditionally for coughs and colds, including whooping cough). Thyme is one of the original sources of thymol, which was widely used as an antiseptic during WWI. A Modern Herbal, written in the early 1900s, has a fascinating entry on thyme that can be read online.  
Chances are, the other spices on your kitchen shelves are also more useful than you might expect at first glance! In fact, it would be easy to do an entire materia medica focused just on your kitchen herbs.
Your Mission


Next week, we will begin a hands-on segment in the Challenge. If you would like to follow along, here are the ingredients you will need. None of the recipes will be particularly complicated, but that's the beauty of everyday herbalism – a few ingredients are all you need to create useful herbal preparations that support health and showcase the vibrancy and flexibility of everyday herbs. A small quantity of each herb is all that's needed – even the small boxes of fresh herbs in the produce department that weigh in at around .5 oz are enough.
Fresh Rosemary
Fresh Garlic 
Fresh Ginger
Fresh Thyme
Fresh Parsley
Fresh Sage
More Fun!
Thanks for your patience while we work out a hiccup in the audio and pdf for today and yesterday. I apologize for the delay. We hope to have them available over the weekend!
​