Links contained in this post and elsewhere on my website may include affiliate links. When you make a purchase through these links, I earn a commission at no additional cost to you. I only link to products and services that I love - and that I think you will love, too!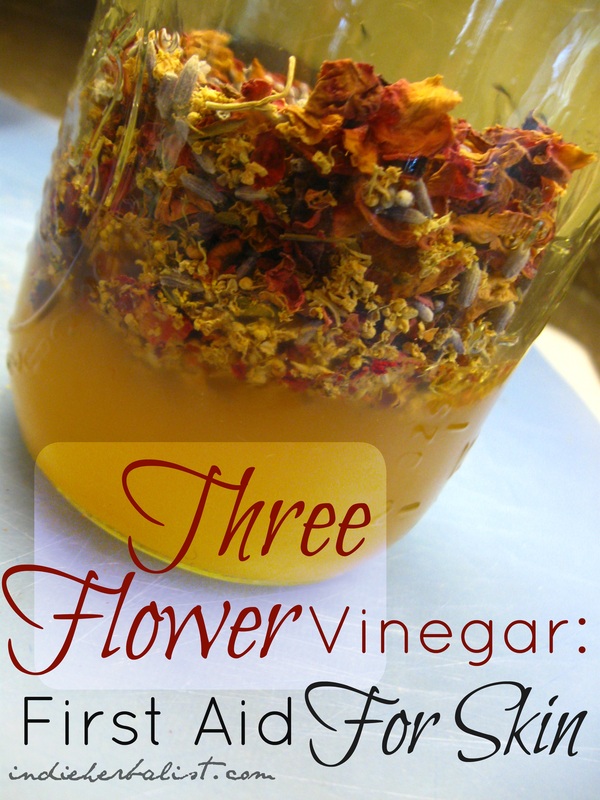 As usual, the formulas I prefer are the workhorses of the herbal world- nothing fancy, but versatile; and nice and strong. Despite being made of nothing but a few girly-girl flowers and some apple cider vinegar, Three Flower Vinegar is no exception. It's a wonderful concoction to have on hand for angry, irritated skin, but it works equally well for soothing emotional irritation, too. The finished product smells divine, so don't avoid trying it just because you're thinking "Eeeew! Vinegar!"
Topically, I use Three Flowers for:
burns and sunburns

dry/itchy skin

as a facial toner if I feel like pampering myself

as a liniment for muscles that are tight and achy from stress

ditto for adding a few tablespoons to a nice, warm foot bath. 
Three Flower Vinegar can also be used as a condiment or beverage. I add a teaspoon to a glass of water with a little honey or molasses as one of my favorite drinks when I'm feeling stressed out- much more interesting than soda, and much better for you, too. If you like kombucha, you should give it a try. It's similar to some of the "botanic" kombucha formulas on the market.
For this recipe, you will need:
2 tbsp dried
lavender buds
1/2 cup dried
rose petals
1/4 cup dried
elder flowers
2 cups apple cider vinegar (preferably one with the live culture, or the "mother" still included- the less processed, the better)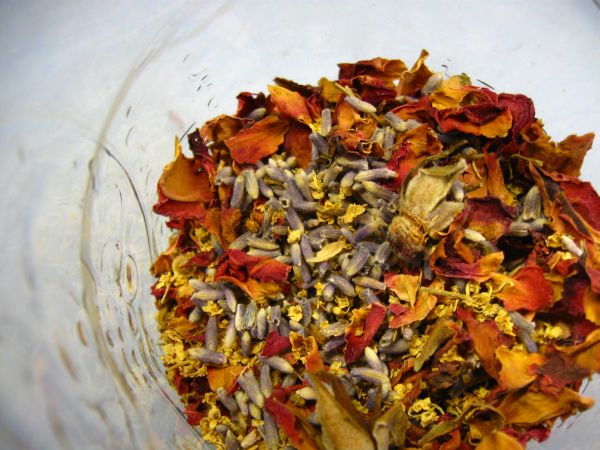 A plastic or glass lid is best if you have one because vinegar doesn't play well with metal. If you don't have a non-reactive lid available, you can use a layer of wax paper to keep the vinegar from corroding anything.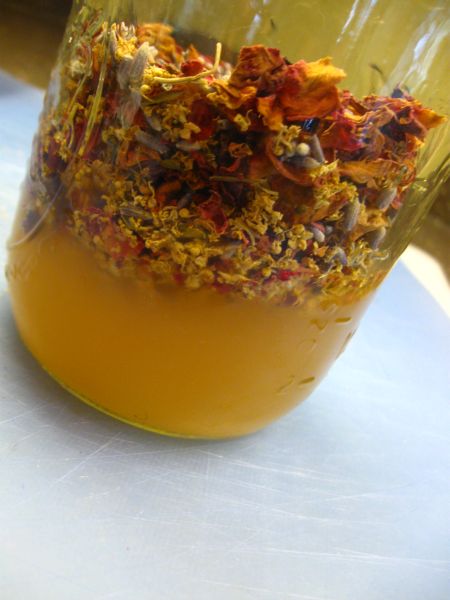 Here's how to make it:
Combine all the flowers in a clean glass canning jar, and add the apple cider vinegar. 

Stir to combine. 

The flowers will float to the top, so you will need to stir a few times over the next two weeks.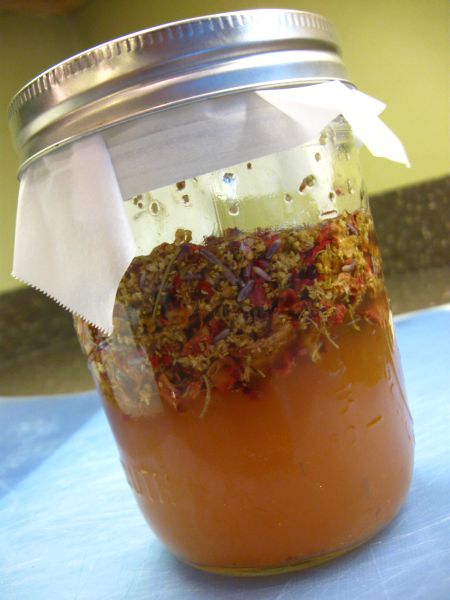 The vinegar will start taking on a reddish hue from the rose petals almost immediately.  Stash it someplace dark and cool to infuse. After one to two weeks, it will look something like this: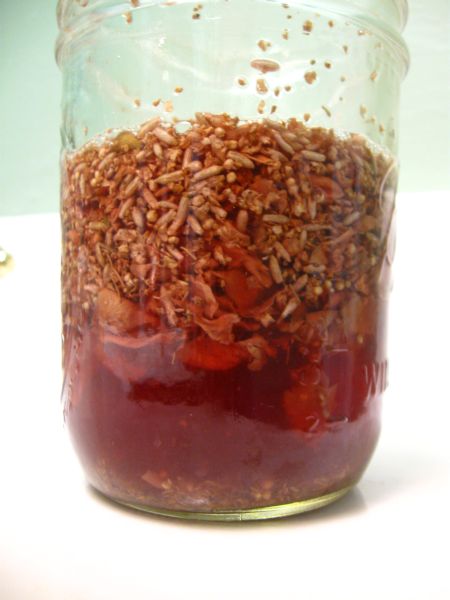 The flowers look really gross, but the vinegar has taken on a gorgeous color and smells amazing at this point. Strain the vinegar and herb mixture through muslin or cheesecloth into a clean bowl, then transfer to a brown glass bottle with a screw top. I prefer to keep mine in the refrigerator, but as long as it is kept in a relatively cool, dark place it will be fine. Label, and enjoy as desired!