Links contained in this post and elsewhere on my website may include affiliate links. When you make a purchase through these links, I earn a commission at no additional cost to you. I only link to products and services that I love - and that I think you will love, too!
Read Time:
3 Minute, 53 Second
If you love tulsi, you won't want to miss this recipe. Learn to make an elegant tulsi and lavender sparkling water that's just as perfect to brighten a stressful day or mark a special occasion.
I really, really believe in the saying "Keep It Simple, Sweetie!" when it comes to health and herbs. There is no reason to struggle with icky-tasting extracts or down a handful of pills when it's quite simple to make something beautiful and delicious that you will actually want to eat or drink- like this simple and refreshing lavender and tulsi recipe from my book!
Tulsi is one of my favorite adaptogens for several reasons, not the least of them that it actually tastes pretty good on its own, either fresh or dried. It's also very easy to grow at home from seeds, which makes it perfect for DIY herbalists.
I started tulsi seeds in the garden this year, but there was a really bad drought. So I rescued a few plants, potted them up, and searched for a spot where they would be happier since they were looking droopy in the garden. Honestly, nothing seems to phase it, considering that everything else in the garden pretty much gave up.
Most plants sulk when you transplant them, but my tulsi put on about another inch of growth once I moved it to the pot! I'll be bringing mine inside to overwinter, but several of my friends just grow it as an annual. Bonus points: it sometimes reseeds itself.
This sparkling water recipe features tulsi and one of my other favorite herbs, lavender. Like the tulsi in my garden, this drink is at home pretty much anywhere.
Weekend getaway? Check. Fancy dinner party or special picnic? Yep, got it covered. What about the "My workday is way past stressful and it's not even 9:30am"? Oh, yeah- that, too. Whether you are by yourself or with friends, celebrating, or taking a little time to yourself, this is a great way to fit a little adaptogenic magic into your day.
This sparkling water ends up an enchanting pale green. Because of my grey backdrop, my photos look more blue but here's a peek at the real color. And yes, that's my cat trying to take a sip.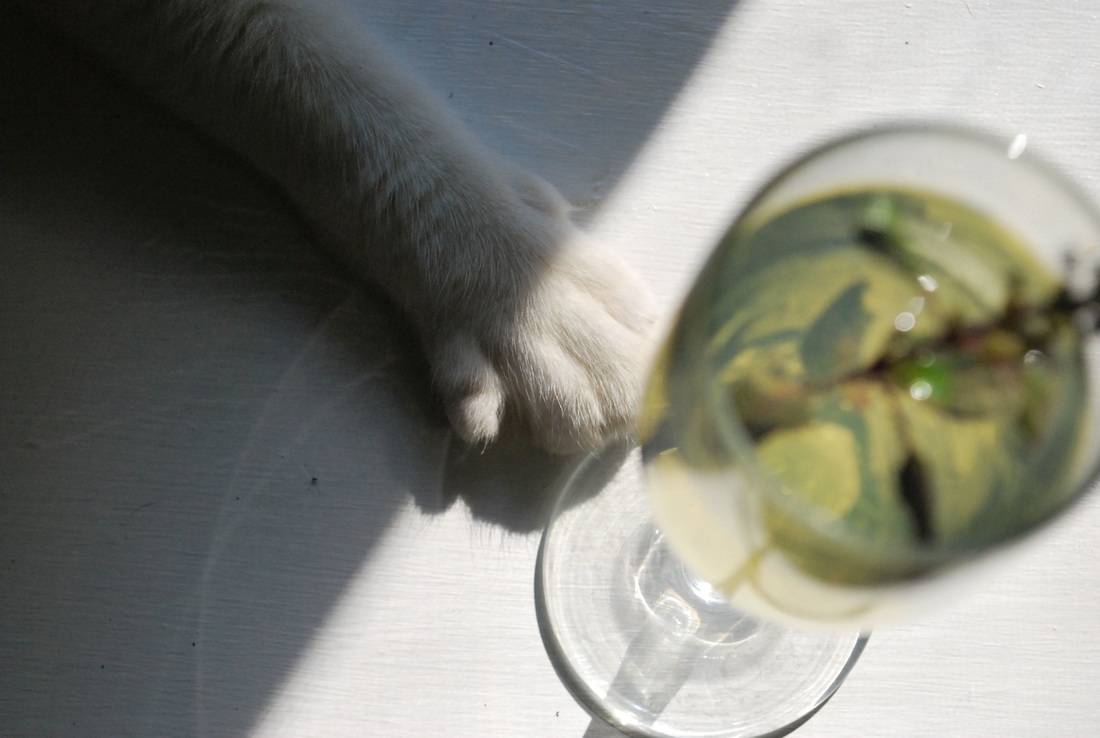 Don't you just love the kind of DIY stuff that is gorgeous without any effort whatsoever on your part, + it's actually good for you? This recipe also has a mild, refreshing flavor that is just as enchanting as the color. I like mine without lemon, but a little citrus can help make the taste more familiar if you are new to herbs.
In the book, I call for garnishing with a sprig lavender, but you can use a little tulsi, too (like I did in the photos). A fancy glass makes it extra special, or you can just as easily mix it up in a single serving bottle of sparkling water while you are on the go.
But enough talk. Here's the recipe, straight from my book!
Lavender Tulsi Sparkling Water
From The Complete Guide to Adaptogens: From Ashwagandha to Rhodiola, Medicinal Herbs that Transform and Heal by Agatha Noveille
The only ingredients needed to make this refreshingly simple seltzer are lemon, lavender, and tulsi. Tulsi excels at offering emotional support during particularly stressful days or when you are feeling a little down.
Lavender and lemon are a wonderful flavor combination that complement each other beautifully. When combined with lemon, which always seems to be an uplifting taste to me, I think lavender does a very nice job clearing and acting as an emotional "reset" button. It helps that lavender is also a nervine and nootropic for emotional wellbeing.
YIELDS 1 (12-OUNCE) SERVING
1 (12-ounce) serving sparkling water
1 serving tulsi extract (usually around 30–60 drops, depending on the brand)
5 drops lavender extract (NOT essential oil or lavender flavoring)
1 lemon wedge
1 sprig fresh lavender buds (optional)
how to make
1. Pour the sparkling water into a glass. This will be the base of your drink.
2.Add the serving of tulsi extract and the 5 drops of lavender extract. Stir with a spoon to disperse the extracts into the water.
3. Squeeze the lemon wedge gently and drop it into your drink. Garnish with a sprig of fresh lavender buds, if desired.
You can buy tulsi and lavender extracts by one of my favorite herb companies here on Amazon. (*Affiliate links- thanks for supporting the blog!)
Whether or not you have such a handsome cat to "share" your drink with, I hope you enjoy the recipe!