Links contained in this post and elsewhere on my website may include affiliate links. When you make a purchase through these links, I earn a commission at no additional cost to you. I only link to products and services that I love - and that I think you will love, too!
Read Time:
3 Minute, 8 Second
Spilanthes acmella is an intriguing garden herb with unusual names like buzz buttons, eyeball plant, and electric daisy. This herb is also known as Acmella oleoracea.  It's actually very easy to grow spilanthes and impress your friends and neighbors. Plus, it's a useful addition to the home apothecary.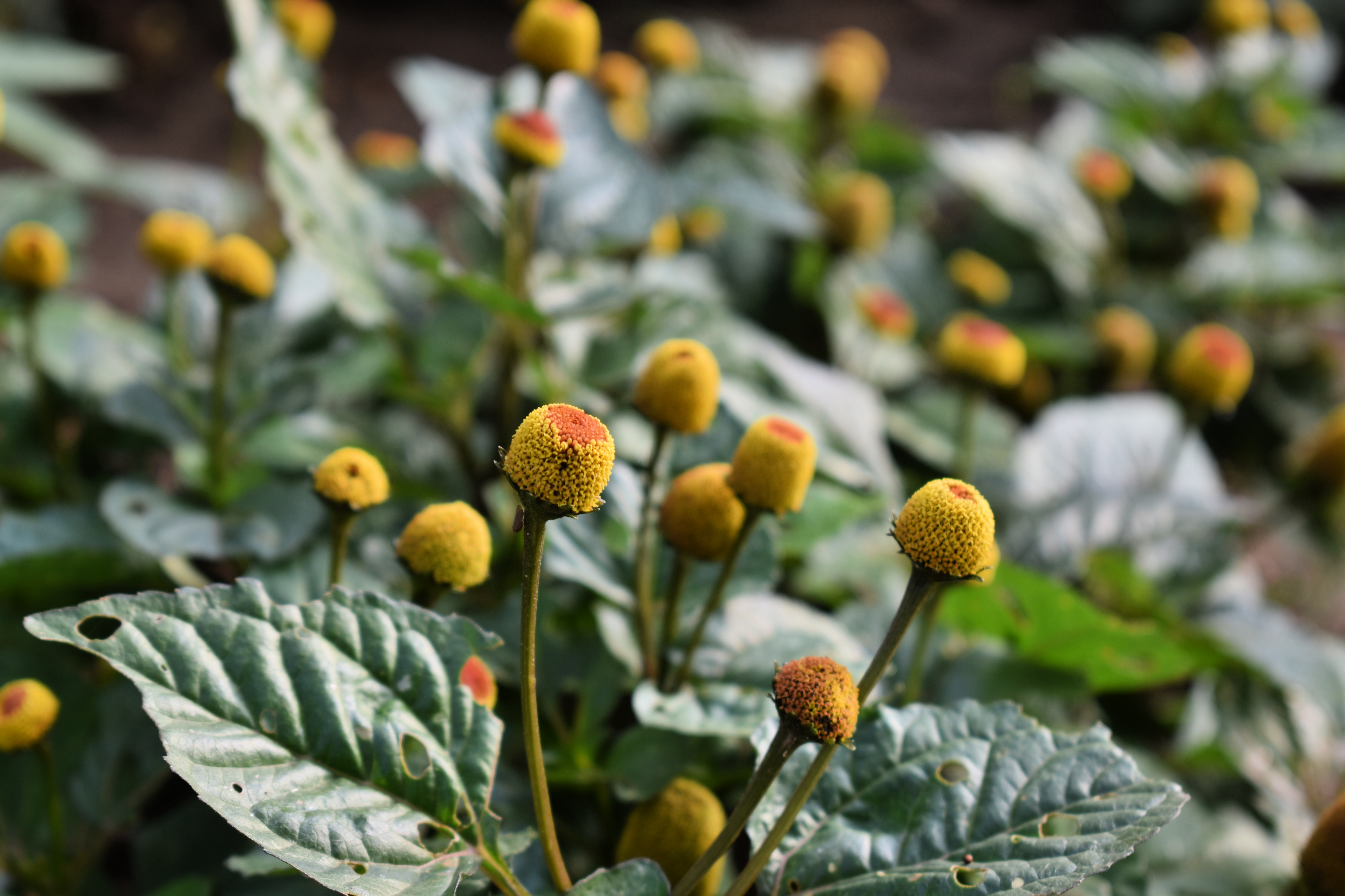 Besides having an intriguing appearance and bizarre names, spilanthes has a very interesting physical property. The leaves and flowers cause your mouth to go numb and salivate profusely when you chew them! As far as herbal uses are concerned, spilanthes supports immunity and digestive health. It can be used as a tea or made into an extract, and it's also a good addition to liniments for topical application.
Grow spilanthes at home
Spilanthes is an annual unless you live in a tropical environment. The seeds are very easy to start and no special care is needed. I start my spilanthes seeds outdoors in the spring, using small pots and regular potting soil on the porch. The seeds typically germ in 7-10 days. When they have a few sets of leaves, I transplant them to the garden.
This low-growing herb spreads out to the sides as it matures. It appreciates generous, regular watering and moist soil. It's quick to shrivel if it gets thirsty, but a good watering brings it right back. This herb usually tolerates partial shade. In fast draining soils, spilanthes may appreciate shade from taller plants during the hottest part of the day. My garden is in zone 7, and I've grown spilanthes next to roselle with good results. Roselle is tall and lush, and provides some shade for the spilanthes during the afternoon.
If you grow spilanthes, be careful – a single flower creates a ton of seeds! I find that mine often reseeds from one year to the next. The volunteer seeds germinate in my garden in July, which is much later than the seedlings I start in the spring.
Here's a look at some immature seeds I found when I was harvesting some Spilanthes. All of these came from a single flower. If you don't want Spilanthes to self-seed in your garden, you should be careful about harvesting the flowers through the whole growing season. Otherwise you may have it coming up here, there, and everywhere next spring.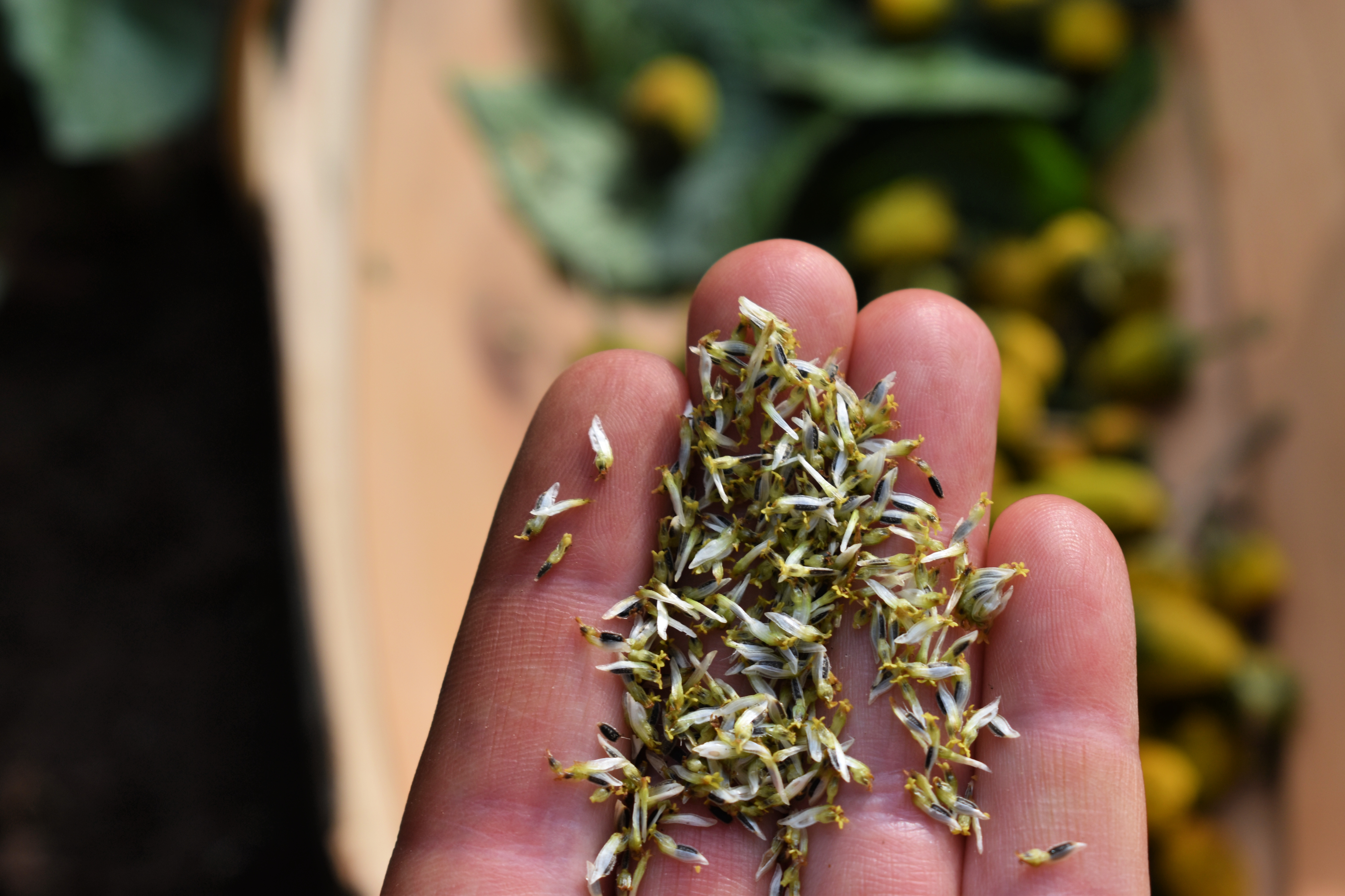 Harvesting and using spilanthes
After a month or so in the garden, spilanthes begins to produce the characteristic flowers that make it so entertaining. Harvest the flowers periodically before they go to seed, and dry them on screens. The flower buttons are dense, so drying them on screens with good air circulation helps prevent mold.
Once they are dry, you can use them to make tea or an extract. The leaves can be dried and used as a milder alternative to the flowers, and spilanthes can also be used fresh for the same purposes.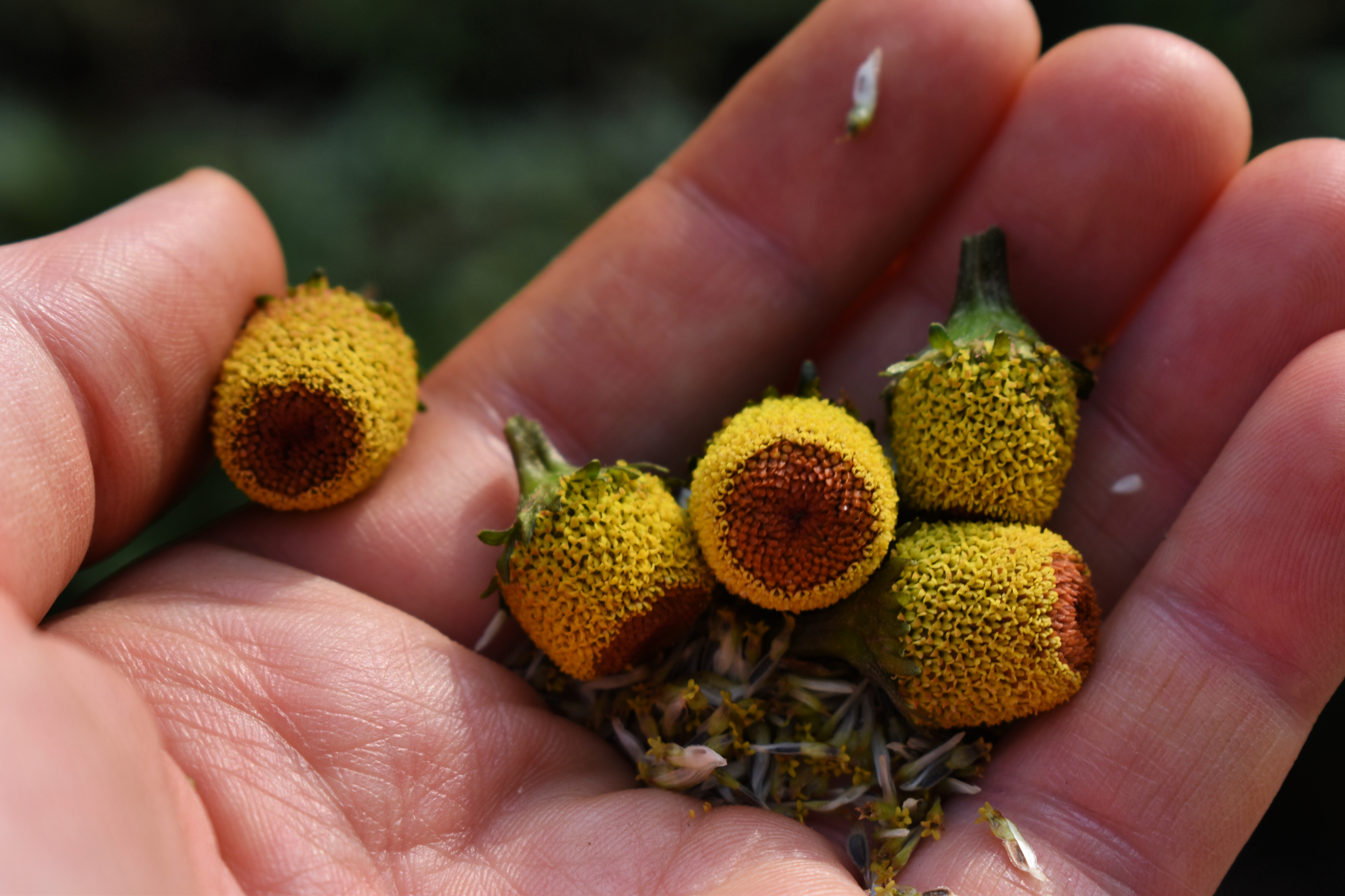 Growing spilanthes organically
I've noticed that spilanthes is a little more susceptible to pests than other herbs in my garden. Insects nibble on the leaves but nothing seems to bother the flowers. The damage is usually light, so I haven't been concerned. The plants are resilient and don't seem to mind. However, I can't help but wonder if there are little bugs running around nearby with very surprised looks on their faces! A mouth full of spilanthes might be more interesting than they expected.
Despite providing an occasional snack for insect guests, spilanthes grows well without much fuss. It's well suited to organic gardening as long as the plants have enough moisture and sun to stay healthy.
Learn more about harvesting spilanthes
If you've planted spilanthes, you may be wondering when it's ready to harvest! My article about the best time to harvest spilanthes explains the details.