Links contained in this post and elsewhere on my website may include affiliate links. When you make a purchase through these links, I earn a commission at no additional cost to you. I only link to products and services that I love - and that I think you will love, too!
Read Time:
2 Minute, 41 Second
Violet syrup is a staple in my herbal pantry. Here's a very easy leaf and flower honey syrup that I like to keep on hand during dry cough and sore throat season. This is a good project if you keep a violet patch in your garden or pasture. Just make sure the violets are from a clean area. Herbicide use to control violets is common.
Violets are very cooling and soothing, and the addition of honey amplifies the soothing properties. Violets are also wonderful as a lymphatic herb, so this syrup has several potential applications in regards to colds/flu and allergy season preparedness.
Violet syrup ingredients
To make this syrup, you need an infusion (basically a strong "tea") made with fresh leaves and flowers and local honey.
The recipe below uses parts. As long as the ratio between violet infusion and honey stays the same you can make as much or as little syrup as you want. I usually use one cup of infusion and 2 cups of honey.
Local wildflower honey works really well in this syrup. Start with one part infusion and two parts honey. Alternatively, you can use three parts honey if you prefer a thicker syrup. Be sure to store your syrup in the refrigerator. The recipe doesn't contain enough honey to be shelf-stable.
This is what violet leaf and flower infusion looks like. The color doesn't show in the finished syrup, which is a shame- violet infusion is simply gorgeous. For more information on how I made the infusion for this project, you can see the directions here.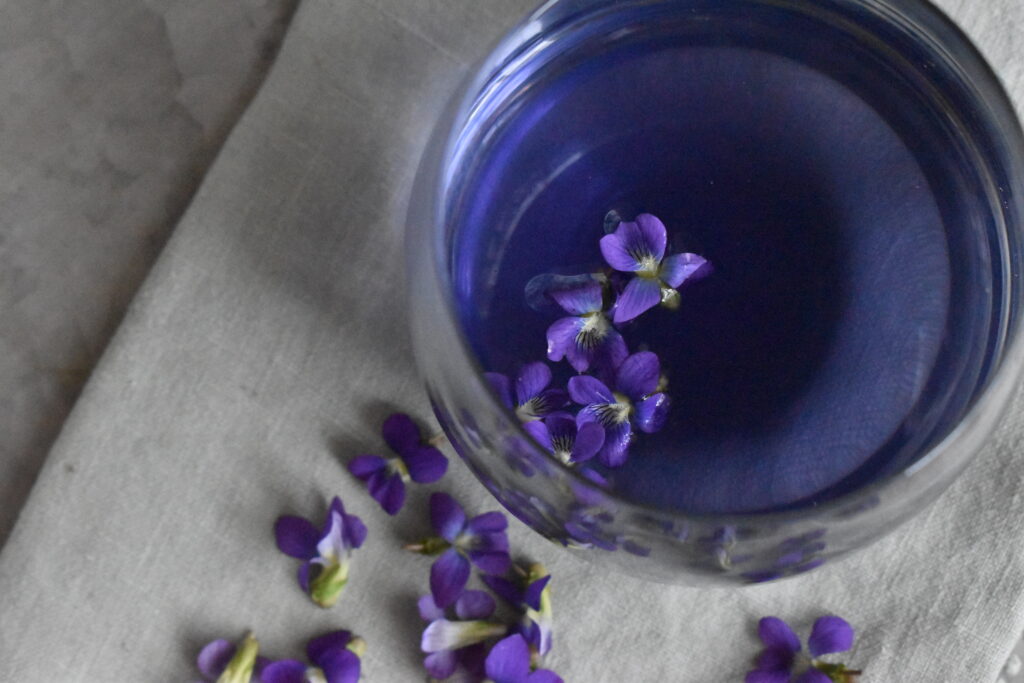 How to make violet syrup
I prefer doing an overnight steep for the infusion. For each cup of fresh violet leaves and flowers, use one cup of hot water fresh off the boil. Here are the steps:
Double-check your leaves and flowers for any bugs. Place the plant material into a clean glass canning jar.
Pour the hot water over the leaves and flowers. Cover with a lid or saucer, and wait for the infusion to cool to room temperature. Once the jar is safe to handle, place it in the refrigerator overnight.
In the morning, strain out the leaves and flowers.
  Combine the infusion and the honey in an enamel or glass pan over low heat. The honey will soon liquefy and be very easy to mix with the infusion.  
Stir until the infusion and honey are completely mixed- this will only take a minute or two. 
Immediately remove the pan from the heat and pour the syrup into a clean jar. 
You can add brandy for extra preservation if you like. I usually just leave mine as-is. Store the finished syrup in the refrigerator and it will usually keep for a year. 
Traditional uses of violet syrup
So, to recap: I keep this on hand for cough/cold season. Violet syrup is traditionally used for:
dry cough
lymphatic support
swollen glands
sore throat
constipation
Remember, though: it contains honey and should not be given to children under the age of one.
More violets information
For more info on violet, check out this list of great articles I rounded up, Traditional uses of violets.
You might also enjoy my violet oxymel recipe!