Links contained in this post and elsewhere on my website may include affiliate links. When you make a purchase through these links, I earn a commission at no additional cost to you. I only link to products and services that I love - and that I think you will love, too!
Read Time:
4 Minute, 6 Second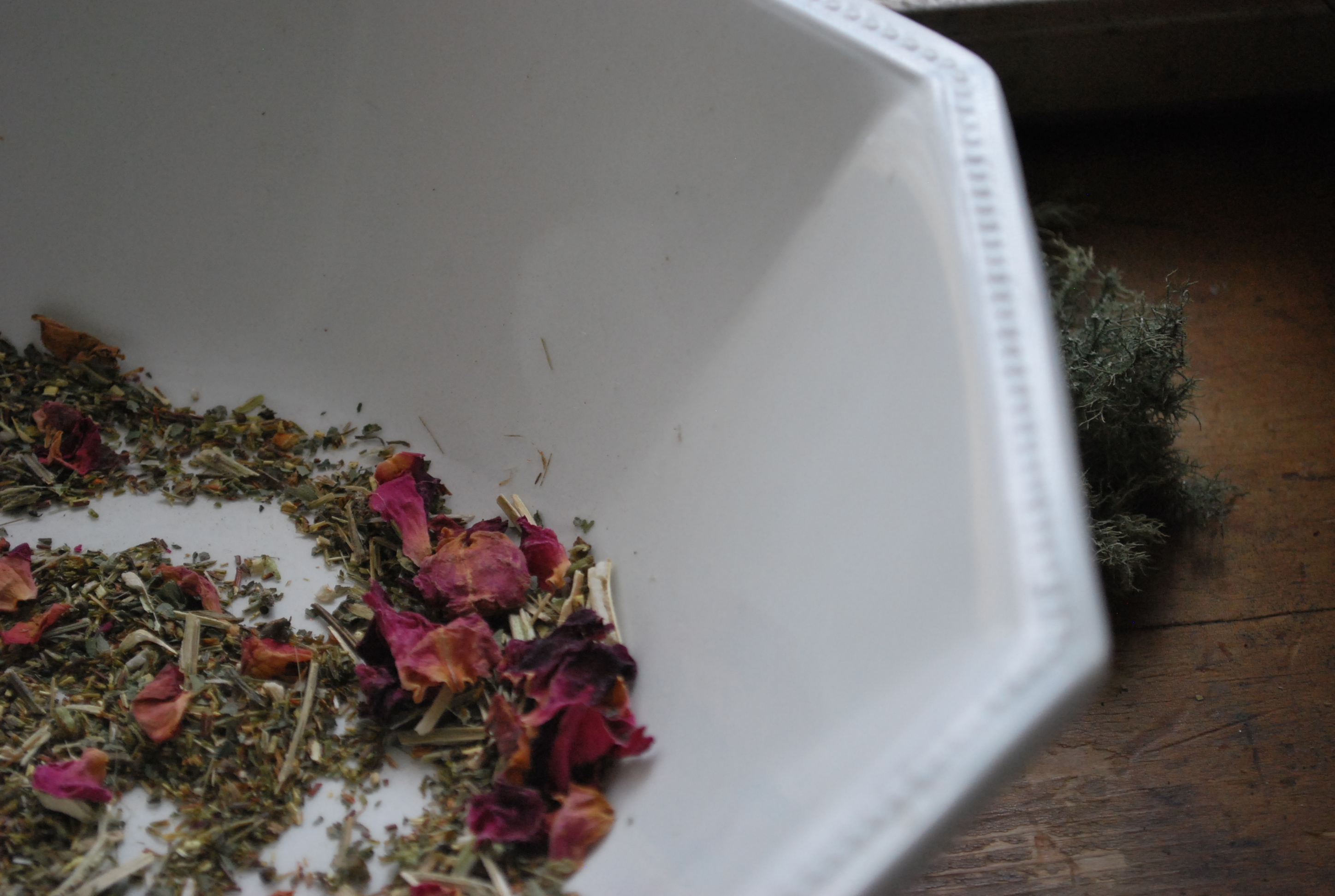 Today I'm sharing one of my homemade tea blends with you. I sometimes call this my "Holy Wow!" tea blend, because I enjoy punny names and it has tulsi (aka, Holy basil) as one of the main ingredients. It's also good for a get-up-and-go boost sans the caffeine, hence the "Wow."
Rooibos is the other main ingredient. Aspalathus linearis is a powerhouse herbal tea that is a wonderful addition to any tea cabinet, but especially so for those of us looking for an extra edge for overall health. Not only does rooibos taste wonderful, this member of the humble legume family is also rich in antioxidants and minerals, and doesn't contain caffeine.
Although I'll be the first to tell you that caffeine isn't necessarily bad, I can also speak from experience when I say it's best used with mindfulness! And I find that It's nice to have a variety of wonderful herbal teas at hand that don't lend themselves to the disrupted sleep schedules, after crash, and withdrawal headaches I deal with if I give in to regular caffeine use. Which is one reason that I love rooibos.
The Ingredients
Here's more info on rooibos and the other ingredients that I use in my tea. It's a simple blend to recreate at home because it only calls for three ingredients: green rooibos, tulsi, and rose petals.
Rooibos
Like the Camelia tea that gives us everything from Earl Grey to Oolong, rooibos can come in a green variety as well as the fermented "red" rooibos. While I do love red rooibos (and don't even get me started about rooibos chai- that stuff is amazing!), green rooibos is believed to be even higher in minerals and antioxidants, so I make a point of keeping it in my tea cabinet, too.
Red rooibos is a little fruity and a little sweet even without adding any sweeteners. Green rooibos tastes more "herbal" and "green" (surprise) but it's still a very nice cup of hot tea, especially with a little honey, and I really enjoy using it as an ingredient in tea blends.
Holy Basil, aka Tulsi
By the way, holy basil gets the "holy" and "sanctum" portions of its name because it is considered a holy plant in India, where it is considered sacred to Vishnu. In ayurveda, the traditional herbalism of India, holy basil is classified as a rasayana- a type of nourishing tonic that is believed to help people reach perfect health and enjoy a long life.
Modern studies seem to back up many of the traditional uses for this herb, and have shown that holy basil may have anti-stress benefits, immune enhancing properties, and an positive influence on blood sugar levels and allergy symptoms. In ayurveda, this herb is also used to promote clear thinking and better memory, and I find that a cup of holy basil tea is a wonderful way to bring scattered thoughts to order and give a boost to my focus for the day.
One of the key requirements for being an adaptogen is that the herb is safe to use for long periods of time, so holy basil makes a perfect ingredient along with green rooibos in daily tea blends for regular use.
Rose Petals
Red rose petals are the other ingredient in this recipe. Rose has a very long tradition of use in many cultures for many applications, including as a gentle vision and liver tonic and for tuberculosis. In keeping with our theme of the holy and sacred, rose petals are also sometimes used to make rosary beads. I added them mainly for their action as a nervine to complement the holy basil, and also because I love the flavor. They add depth and an exotic floral note to the finished tea.
Holy Wow! Green Rooibos Blend
Ingredients
To make this recipe you will need:
3 tsp green rooibos
2 tsp holy basil
1 tsp rose petals
Directions
Blend dry ingredients together and store in a glass canning jar with a tight-fitting lid. Use one or two teaspoons of the dry mix per cup of water. Makes 3-6 servings. To make a larger quantity of dried mix, tablespoons may be used instead of teaspoons.
To Make Tea
To make a cup of tea (one serving), bring water to boil in a tea kettle. Pour one cup of hot water into your teacup or mug of choice. Place 1-2 teaspoons of Holy Wow Green Rooibos blend into a tea strainer and place the strainer into the cup. Cover the cup with a saucer and let steep for 5-10 minutes. Remove the saucer and strainer, sweeten if desired, and enjoy!
I find that it is very nice as a hot tea in the winter, but it's also great over ice in the summer.
All the Best,
Agatha