Links contained in this post and elsewhere on my website may include affiliate links. When you make a purchase through these links, I earn a commission at no additional cost to you. I only link to products and services that I love - and that I think you will love, too!
Read Time:
5 Minute, 33 Second
Steeping herbs in alcohol is a quick and simple way to extract and preserve their benefits. Alcohol-based herbal extracts are potent and have a good shelf-life, so it's no wonder that the little brown bottles of extract have become ubiquitous. Pre-made extracts are available for sale in almost every herb shop. It can seem like alcohol free herbs just aren't an option.
Even though it's cheap and effective, some people need or want to avoid alcohol. At first, it might seem like that narrows down your herbal options. Don't worry! Whether you want to avoid alcohol because of health or religious reasons, or due to pregnancy or a medical condition, there are still plenty of choices. This article is a quick overview of the types of alcohol-free herbal preparations you can make yourself. I've also included links to some of my recipes to help you get started!
A version of this post originally appeared on the Herbal Academy blog. (#affiliate)
Herbal teas and capsules are widely available, so they are also a great place to start. But really, going alcohol free gives you many, many more options. In fact, going sans-alcohol means you can fully embrace the creative side of herbalism and create a vibrant home apothecary. In the process, you will showcase the variety and beauty of herbs, their many health benefits, and their flavors in a way that you totally miss if you only use alcohol-based extracts.
Alcohol free herbs in vinegar
Stinky old vinegar isn't just for pickles! Vinegar can sub for alcohol when making extracts. It's always been a popular folk alternative when alcohol isn't available or desired. Vinegar extracts usually have a shelf life of six months to a year, though. You'll need to replenish them more often than alcohol extracts.
Apple cider vinegar is the most popular choice. I also enjoy using white wine vinegar, prosecco wine vinegar, and rice vinegar. They are milder than ACV, for one thing. They also have their own flavor profiles worth exploring.
Infused vinegars are another type of alcohol-free herbal recipe. They focus on herbs for flavor as well as health. Infused vinegars are delicious as vinaigrettes on a salad or as a cooking condiment. They also are the base of a "shrub"- a type of drink made with fruit and vinegar. And don't forget the old herbalists standby for cold and flu season – no herbal medicine chest (alcohol free or otherwise) would be complete without fire cider! You can find my Thai-inspired fire cider recipe here.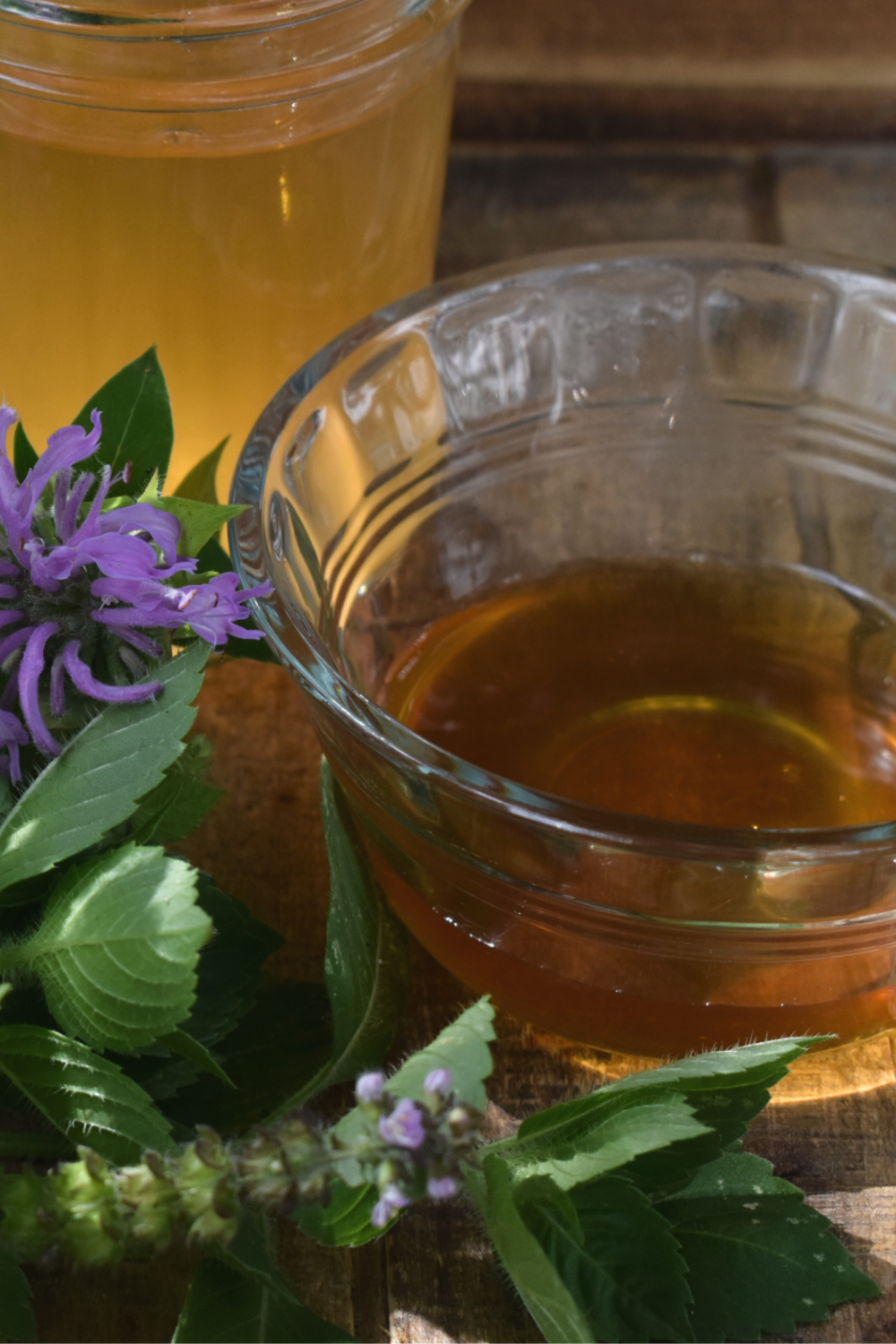 Oxymels for the alcohol free apothecary
An oxymel is an herbal preparation made with honey and vinegar. They are especially nice as a drink. I like them iced! I mix a tablespoon into a glass of still or sparkling water. They can also be enjoyed right off the spoon. Oxymels have an unusual sweet and sour taste that can be a nice change of pace. It's a unique way to access the benefits of herbs extracted with vinegar while tempering the sour vinegar flavor. By adding fruit-flavored herbs like elderberry or hibiscus to the vinegar you can often make the oxymel even more delicious.
Glycerin for herbal extracts
A glycerite is an herbal extract made with a base of vegetable glycerin rather than alcohol. Glycerin has a sweet taste but has no carbohydrates or sugars- it's actually extracted from fats and oils – and so doesn't impact blood sugar levels. Glycerites are very shelf stable, and can last as long as two years. If your glycerite recipe uses fresh herbs, 100% glycerin can be used, but when using glycerite with dried material you should add around 30% water to help rehydrate the herbs.
Glycerin has an affinity for extracting herbs like white oak or raspberry leaf that contain high levels of tannins, but it can be used for most herbs. It's also wonderful for very aromatic herbs and flowers. You can read my guide to making a heavenly mimosa flower glycerite here.
Alcohol-free herbal syrups
Herbal syrups are simple to make with an infusion or decoction and some honey, maple syrup, molasses, or other sweetener. Whether it's a blend of herbs for a specific health challenge, or as a way to make a single herb more palatable, a syrup is a good basic recipe to know. Without alcohol as a preservative, you must keep herbal syrups in the fridge. They will usually keep for six month to a year – if they last that long! A 1:1 ratio of sweetener will also help give your syrup a longer shelf life.
Using sugar is the most economical way to make herbal syrups. I don't eat foods that contain a lot of processed sugar, so I don't feel that there's any reason to vilify using it in my herbal syrups. This is my favorite recipe for elderberry syrup with astragalus, Schisandra, and rosehips. It makes a big batch so you can share with friends and family (just remember to transport in a cooler with ice and store in the refrigerator).
Creative alcohol-free herbal drinks
Herbs are infinitely drinkable, whether you start with a tea base or explore herbal syrups and shrubs. There are so many delicious and creative herbal teas on the market. Pukka Teas have some of my favorites, with incredibly rich flavor and clever blends to support health. By taking a tea or tea blend and adding sparkling water, fruit, spices, or other flavorings, you can create delicious herbal drinks that are as unique as they are healthy! Oxymels, shrubs, and syrups also make a wonderful base for iced herbal sips and sparkling mocktails.
The list could go on and on! Herbal gelée, herbal honeys, smoothies made with herbal teas instead of water or with herb powders and spice blends, herbal lozenges and lollipops. . . Ditching the alcohol gives you more opportunities, not less!
Other options for herbal preparations
With so many delicious, easy alternatives, your taste buds will be delighted that you made the switch, and you'll find yourself pushing aside the little brown bottles to find the good stuff.
My herbal recipe book, The Complete Guide to Adaptogens, has lots of wonderful alcohol-free herbal recipes for you to try. You can order a copy online or wherever books are sold.
A version of this post originally appeared on The Herbal Academy blog. The Herbal Academy is my favorite online herb school for beginner herbalists or herbalists who want to start an herbal career. Learn more about their affordable, high quality courses here (#affiliate).