Links contained in this post and elsewhere on my website may include affiliate links. When you make a purchase through these links, I earn a commission at no additional cost to you. I only link to products and services that I love - and that I think you will love, too!
Read Time:
9 Minute, 54 Second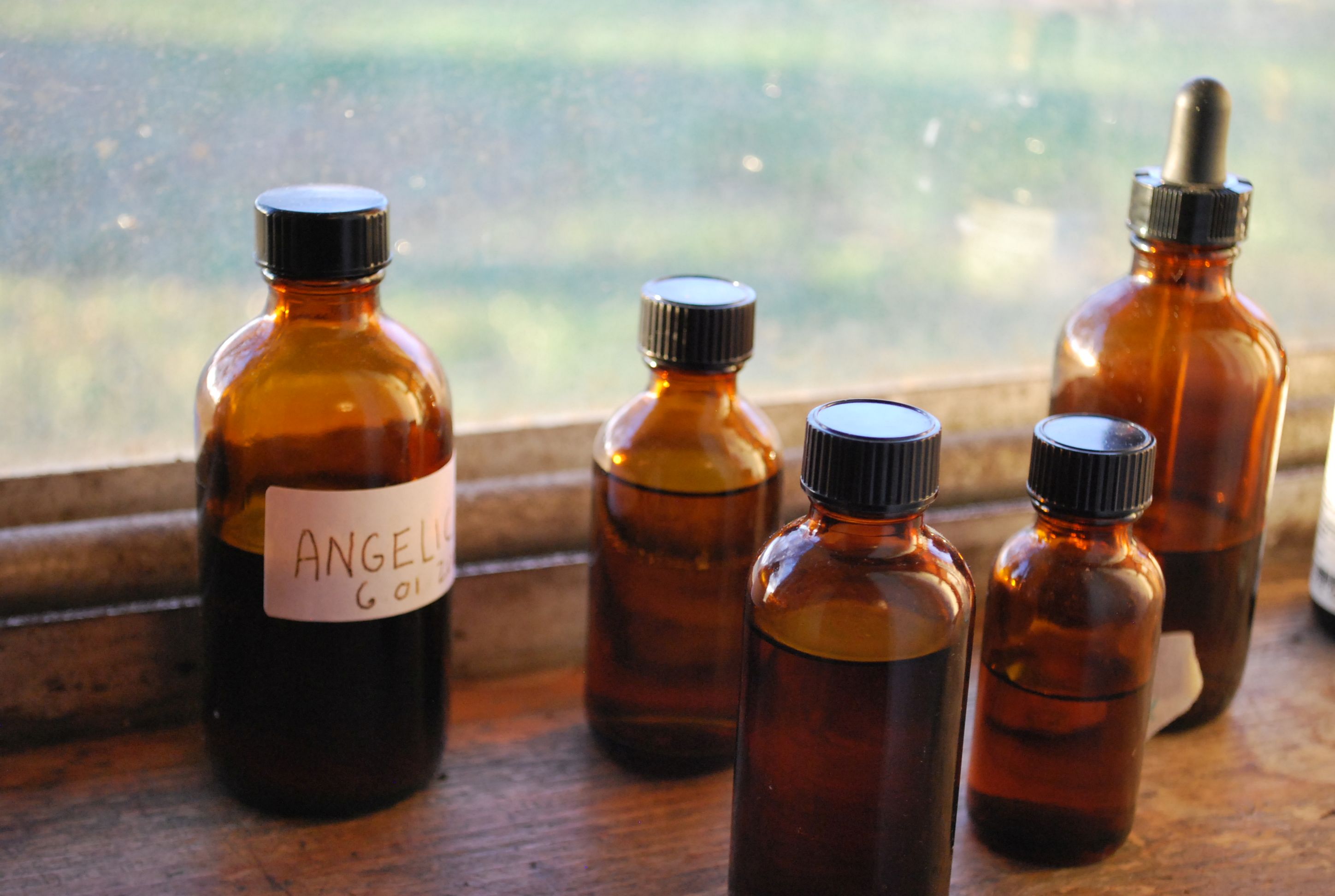 A few years ago I did a mini tour of my home apothecary, and it has been one of the most popular posts here at indieherbalist. It offered a glimpse into how I like to organize my tools and supplies- but it was a fairly short post. Many readers have contacted me with questions and asked for more pictures and specifics.
In December I spent some time focusing on what was and wasn't working well for me in terms of organization and workflow. I've found that every few years I really benefit from taking a look at what I'm spending most of my time doing and how to make my work space better serve my needs.
This time, I ended up rearranging everything! I hope to make even more improvements and changes during 2018, so it's time for an update. Not only am I outlining all of my main work space areas for you and including tips and suggestions for creating your own working home apothecary, I hope that this will be a fun "before" and "after" comparison next January.
Warning: it's not a particularly stylish space. I know I'm NOT going to be winning any interior design awards on the internet now that I've posted this. But we can hope that by next January it will be much prettier! Also, I hope it is encouraging for any other would be writers and herbalists out there who are self conscious about their own work spaces. Sometimes, real life is whatever works. 😉    
What I Do
As many of my regular readers know, I'm a freelance writer who specializes in herbalism. I've worked closely with the Herbal Academy on some of their courses and on articles for their blog; I have written a book of herbal recipes for Adams Media that focuses on adaptogens (the second edition of which is due out this summer!); and have articles here, there, and everywhere in print and online. 
Running the website and blog here at indieherbalist keeps me busy as well, so my home apothecary reflects the need to be herbalist, entrepreneur, writer, gardener, and photographer all in one place. 
The only way to pull it all off is to stay focused and organized. Focus isn't usually difficult, because herbs truly are my passion, but if I don't keep organization front and center things can get really stressful.
How I Keep it Together
Thankfully, I have an entire room to myself for my writing and – as my boyfriend calls it- my alchemy. I've organized it mainly by grouping specific categories together like all of my tools in one set of cubbies, herbal supplies and extracts in one cabinet, and reference materials on a specific bookshelf. I definitely recommend that, because it makes finding tools and supplies much less stressful. 
I also created designated areas for specific activities:
Standing desk with cubbies for tools and staging/organizing projects
Bookshelves for reference materials and items I use often
Desk and shelves for writing/computer work and home office activities
Tall cabinet for dried herbs and stock extracts
This is also something I recommend, because I've found that physically being in different spaces within the room can really help me with getting into different mental spaces to focus on the task at hand.  
I do tend to spill over into the living room for photography (because the light is better) and into the kitchen (for recipe development and other experiments), so I try to keep a basket or two around to make it easier to move props and supplies from one area to another.
Standing Desk and Cubbies
When I am developing a new recipe or working on the photos for a blog article, I generally use my storage cubbies as a standing desk. I move the plants over to the desk and have a nice place to stage or measure ingredients and experiment to my heart's content. A friend gave these to me, but I think they came from Ikea originally. I love having it on casters, too! They make it so easy to clean underneath.
The cubbies are really nice for keeping extra honey, vinegar, glycerin, and alcohol close at hand- and separate from household supplies- so I always have what I need. I also use them for keeping my dedicated herbal tools ready to go – things like cutting boards, a kitchen scale, muslin bags, coffee grinders, etc. Obviously, this arrangement will not work well if you are making herbal products to sell because you need a squeaky clean manufacturing environment that is up to code, but it works great if you do recipe development and content work.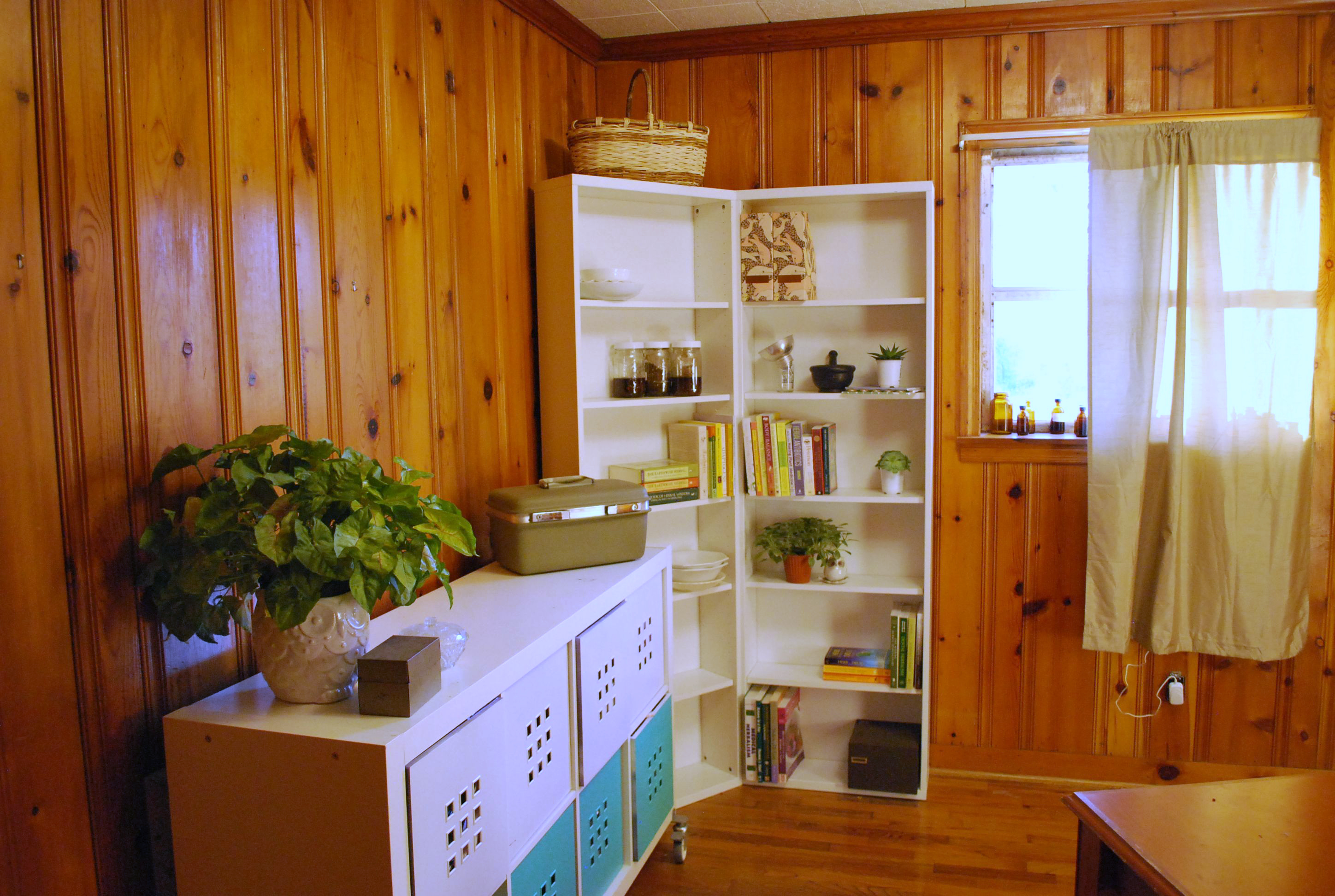 Bookshelves
I like keeping my herbal books in the office so I can reference as needed. It's also a good place to keep my camera, three ring binders with my editorial calendar and business plans, personal materia medica, and some of the tools I reach for often.
I enjoy adding a few fun items like more house plants, pictures, and personal items to cozy up the place and add inspiration, too!    
Home Office Corner
This corner is where I keep the desk and office tools like the printer. I also keep my empty jars and bottles inventory in here behind the desk so I can see at a glance if there's anything I'm low on or need to reorder. Mason jars are stored in the kitchen (too many to go in here!), so this a shelf for amber glass bottles, nalgene bottles, salve tins, and other small cosmetics jars. 
Having a laptop is nice because when I'm not using it I can put it away, which helps streamline my desk and keep clutter at bay. I tend to rely heavily on paper and pen for my scheduling and project management sytems, though, so I also keep my planners and calendar in this area.
I use Leuchtterm notebooks for keeping daily to do lists. My favorite is this lemon yellow one (#affiliate)- I'm a HUGE fan of bullet journaling for keeping track of business and projects. If you've seen the crazy colorful and involved "bullet journal" layouts all over Pinterest these days – no, that's not what I'm talking about.  The original bullet journal system is quick and utilitarian, although if you have time to spend hours making impressive layouts and that's what makes you happy, go right ahead! On the other hand, if you've been looking for a realistic way to develop a to do list and tracking system, then I think you will be impressed with the simplicity of the original system. 
For my main calendar I use a purse-size day planner. This is where I keep up with non-business tasks (like grocery shopping and household chores), but I also keep track of income, business receipts, and mileage so I can see everything in one place. It makes accounting easier for me, and since it fits in my purse I always have it with me to make a quick note as needed.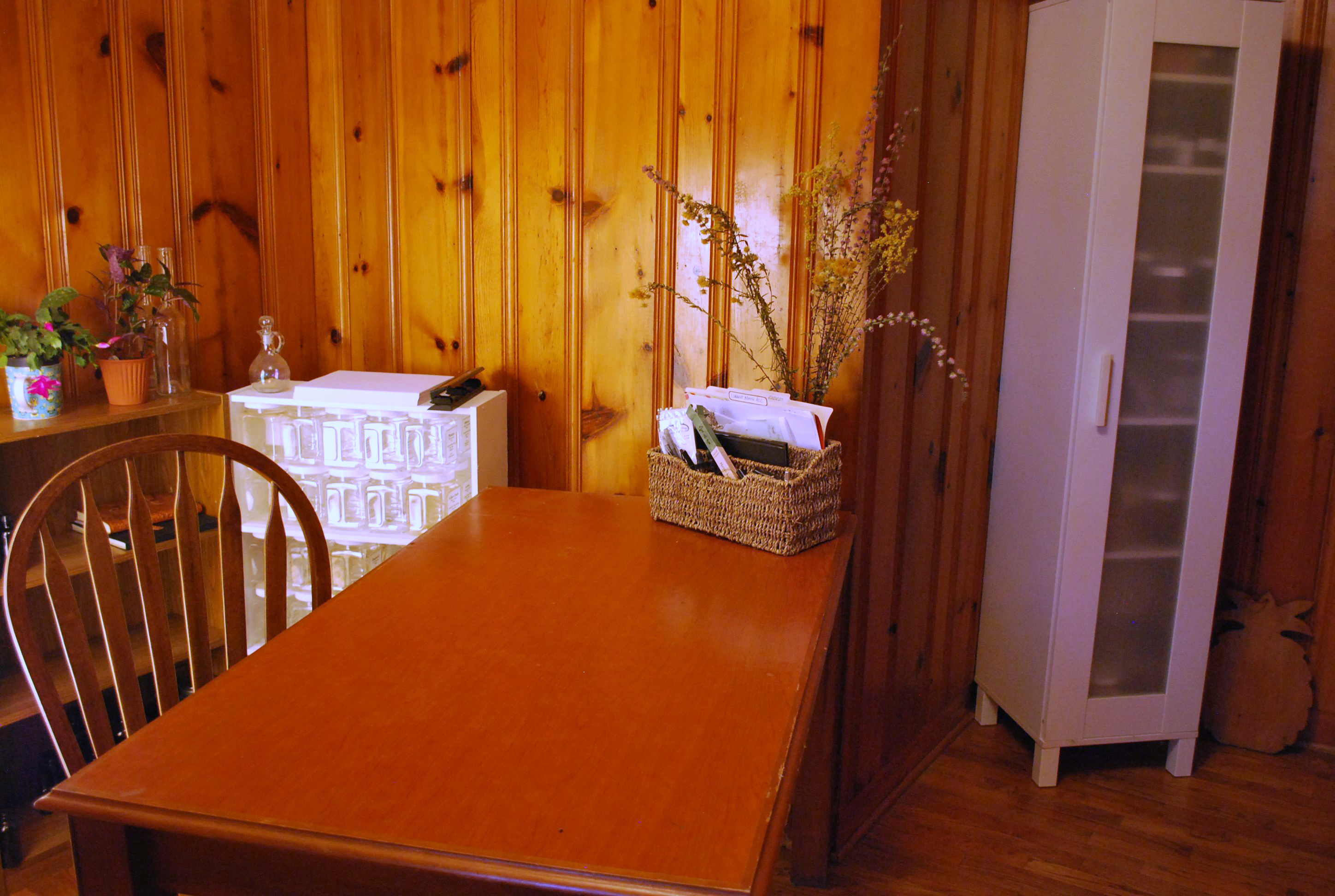 Herb Cabinet (Aka the Cabinet of Curiosities)
This is affectionately known in our house as The Cabinet of Curiosities. I've had this system for longer than I've had my blog, so it's obviously working out really well! It's a simple, freestanding cabinet with a door that helps block out the light. Now that it is facing a window, I hope to add a fabric panel and paper on the inside of the door soon.
Yes, having herbs in glass jars on a shelf looks really pretty at first. . . and then the light bleaches everything out and the herbs start losing potency within a few weeks. The secrets to protecting the investment of time and money that is a completely stocked home apothecary? Darkness, airtight containers, and an environment away from excessive humidity and moisture. Think dark, dry, and sealed up!
I like keeping extracts on the top shelves and then have bulk herbs arranged by type on the remaining shelves. By type, I mean I like to keep leaves and flowers together on the same shelves while roots, barks, and berries have their own areas. Some people like to organize alphabetically, but I tend to recognize by sight faster than I do by reading a label so I don't bother alphabetizing.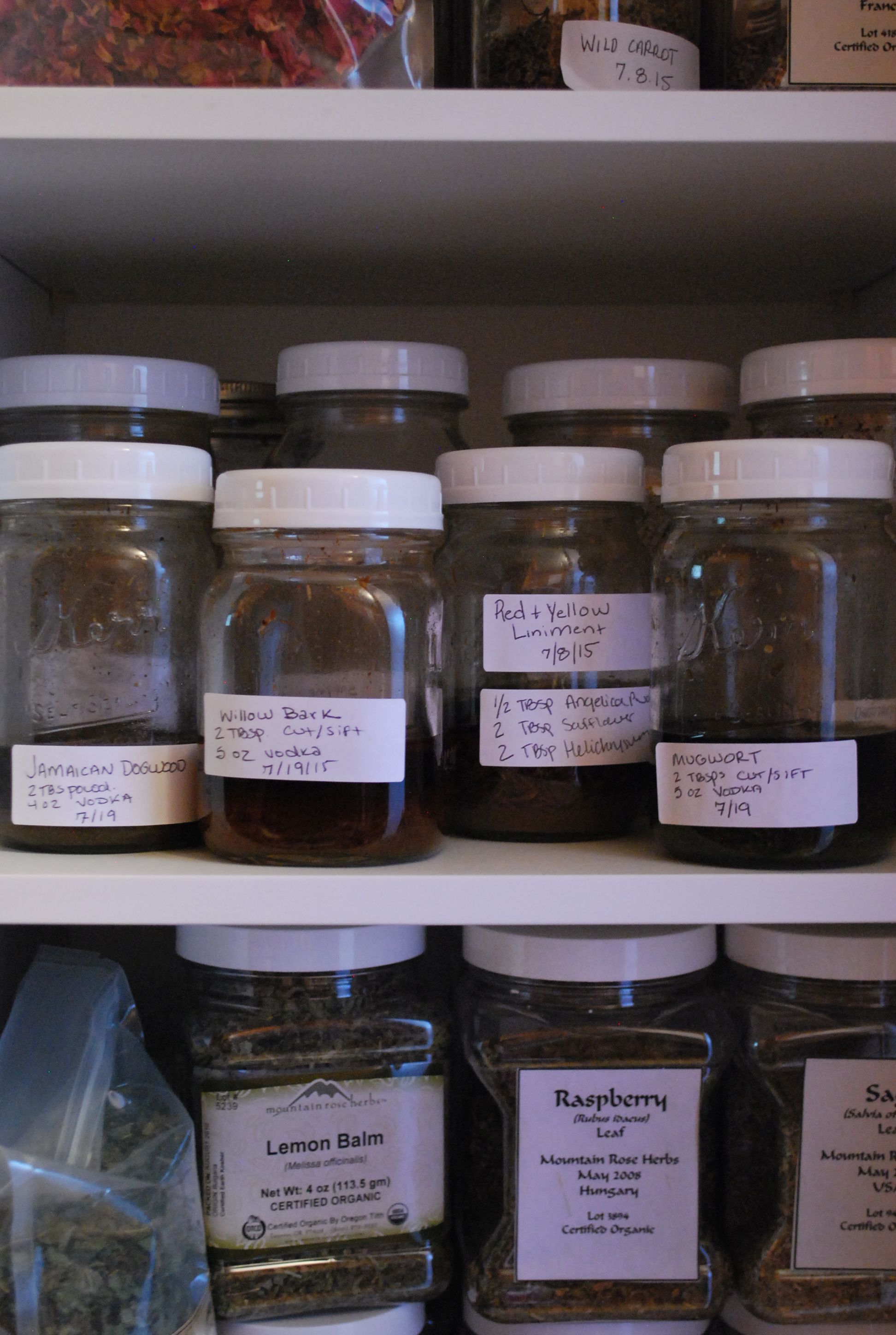 What I Would Like To Add This Year
I find that tuning in to my work space from time to time helps me stay organized. Part of this is noticing if something is just not working well for me, or if I start thinking "Hmm, I really wish. . ." Keeping an open mind about what's working and what isn't can definitely pay off for productivity in the long run, and you don't have to go crazy with it. This year, I'm giving myself permission to focus on my home apothecary and turn it into my dream work space. I use it constantly, so it's actually kind of silly that I've just "made do" for so long. Here are a few adjustments I'm looking forward to making as the year gets underway.
More Lights
This room is DARK most of the year. Especially in the summer with all of the shady oak trees that are around the house. Love the trees, love having a room entirely to myself, but if I don't get more light in here I will go nuts. So picking out some fun lighting is going to be a big thing this year. I like the concept of different layers of light with area and accent lighting to help bring the room together and feature different tasks or areas, so I'm trying to identify what types of lighting and where to place it for best results.
Make the Desk Corner More Interesting
Although I have been very grateful to have my desk (it was given to us when we moved into the house), I don't like the way it blends into the paneling. I'm hoping to either refinish it in fun colors, or maybe score an awesome thrift store find to replace it. I'd really like to focus on that corner this year to give it more personality and really let it pop. Right now I get sleepy if I sit there for too long because it's dark and quiet. The uncomfortable chair is so that I don't fall asleep, so I'm hoping I will get a comfy chair, too!  I love to paint canvases, so I'm thinking my art is going to be a big part of the apothecary workspace at some point, especially this corner.
Settle In
After moving every two years or so over the last ten years, I've been here for almost three years so far and am really feeling the urge to nest!  I want to fill in little details and add more personal touches. All of the houseplants have been a huge part of making my apothecary come to life for me, and I'd love to add more sensory bits and bobs – maybe an essential oil diffuser, speakers for the laptop to upgrade my Pandora listening binges, and a comfy crash spot in the (currently empty, not pictured) corner for better brainstorming sessions. It's also going to be a year where I focus on slowing down and refusing to be "busy" so I can't wait to transform my home apothecary to reflect that. I feel like I have a sturdy framework to build on, and I can't wait to see where we are this time next year!  
What do you find essential for your herbal workspace? Do you enjoy adding personal touches and "nesting" a bit now and again? Tell me all about it in the comments!
All the best,
Agatha