Links contained in this post and elsewhere on my website may include affiliate links. When you make a purchase through these links, I earn a commission at no additional cost to you. I only link to products and services that I love - and that I think you will love, too!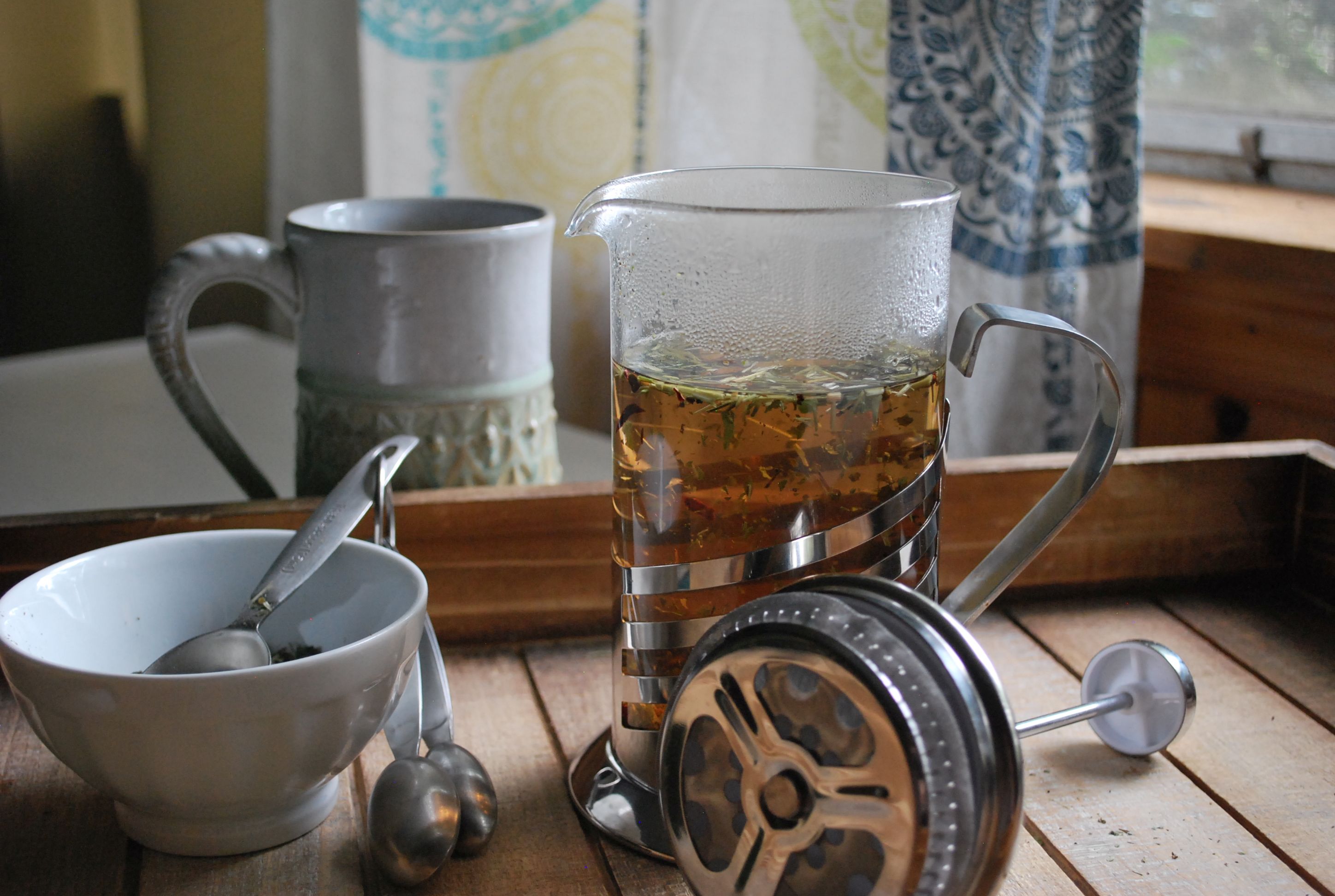 Using loose-leaf herbs is an economical way to make healthy herbal teas. You can often buy a few ounces of, say, chamomile for the same price as a box of chamomile tea sachets- and the same holds true with most herbs.
Once you have collected a few different herbs, you can even experiment with blending your own herbal teas. But what do you do without those handy little tea bags? That's what we're going to cover in today's edition of Modern Alchemy Mondays! If you want to make the switch from tea bags to loose leaf herbal teas (with as little mess as possible), read on for some of my favorite tips and tricks.  
My Favorite Tool for Making Herbal Teas
For brewing loose-leaf herbal teas, you need two things: a heat safe vessel to hold the brew, and a way to strain the herbs out before you drink your tea. There are actually quite a few different ways to accomplish this.
A mason jar and a kitchen strainer or colander can work in a pinch, and of course there are specially designed tea strainers that dip right into your cup. For an elegant solution, there are even teapots designed with a strainer basket under the lid. One of my favorite methods, however, is usually associated with coffee.
Yep, that's right – I'm talking about a French Press. It's heat safe, easy to find, and can be quite inexpensive. As a plus, they are reasonably durable. I've had strainers and teapots break over the years (they tend to get a lot of use around here), but so far the $3 French press I bought on clearance has held up wonderfully.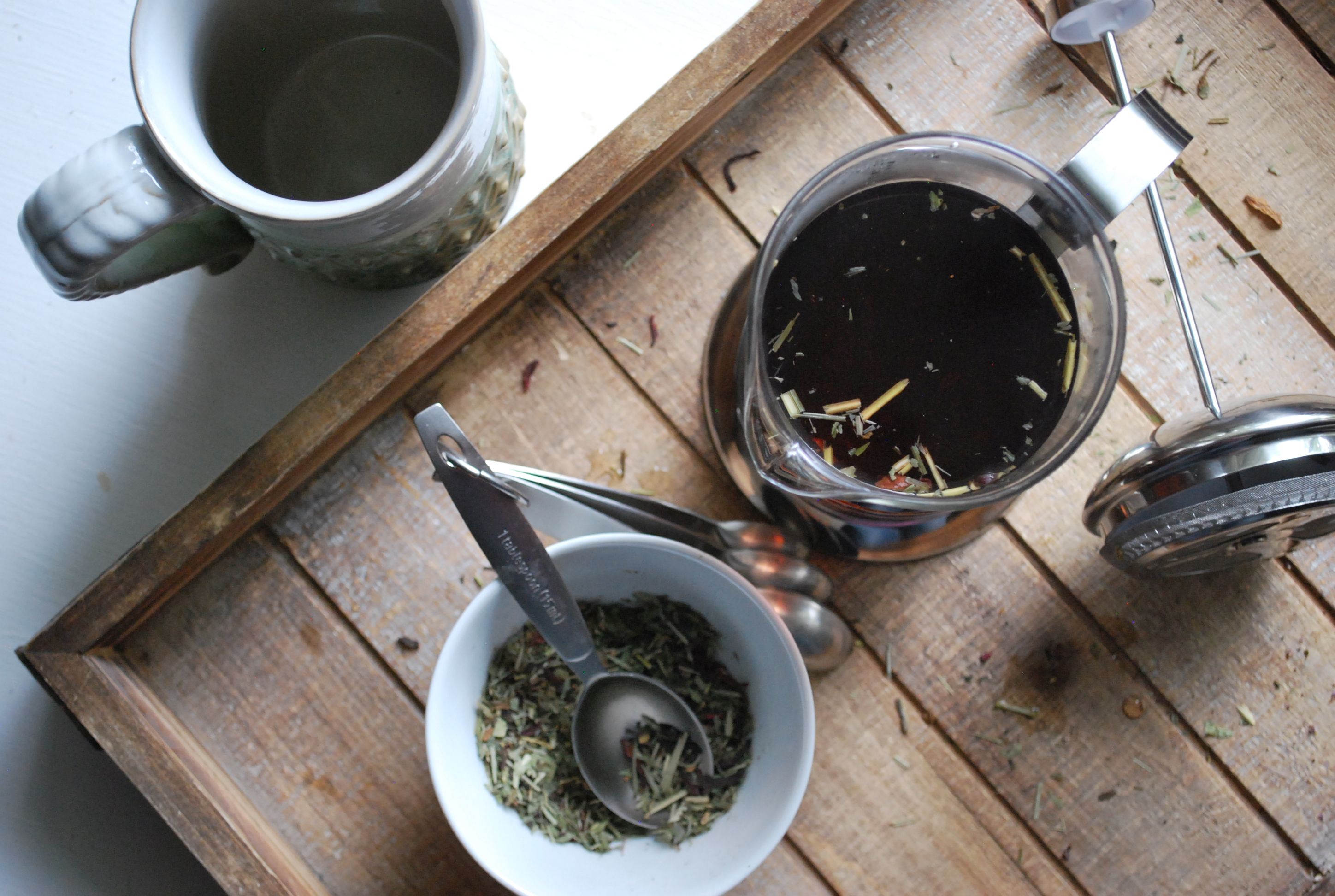 Benefits of Using a French Press for Herbal Teas
There are several reasons that using a French press to make herbal teas is better than other methods.
A French press stores neatly in the tea cabinet – no hunting through drawers or need to designate a jar or other container to keep your tea strainers organized.

It's easy to pour from a French press. Once the lid is in place and the plunger is pressed down, your herbs will stay in the bottom of your press while you pour. 

French presses are easy to clean. It can be hard to keep tea strainers clean with just a simple wash and dry if they are used often. I sometimes need to use a bottle brush or other small scrubbing implement. . . and that can be fiddly. The French press screen is easy to clean with the usual dish sponge – handy!    
Drawbacks of a French Press for Herbal Teas
There are, however, a few reasons you might not like using a French press as much as I do.
You might not like disassembling your French press from time to time to give it a deep clean. Personally, I think it's still less fiddly than getting into the nooks and crevices of your typical tea strainer.

It's not as easy to judge how much water you've added if you are trying to make a single cup of tea, so it may take some practice to get it just right the first few times you use a French press. 

On a somewhat trivial note, y

ou might not think it's as cute as a teapot. I know part of the fun of making herbal teas is the ceremonial aspect, and collecting favorite tools can be a treasured part of the process. Although, I happen to think my French press is pretty cute.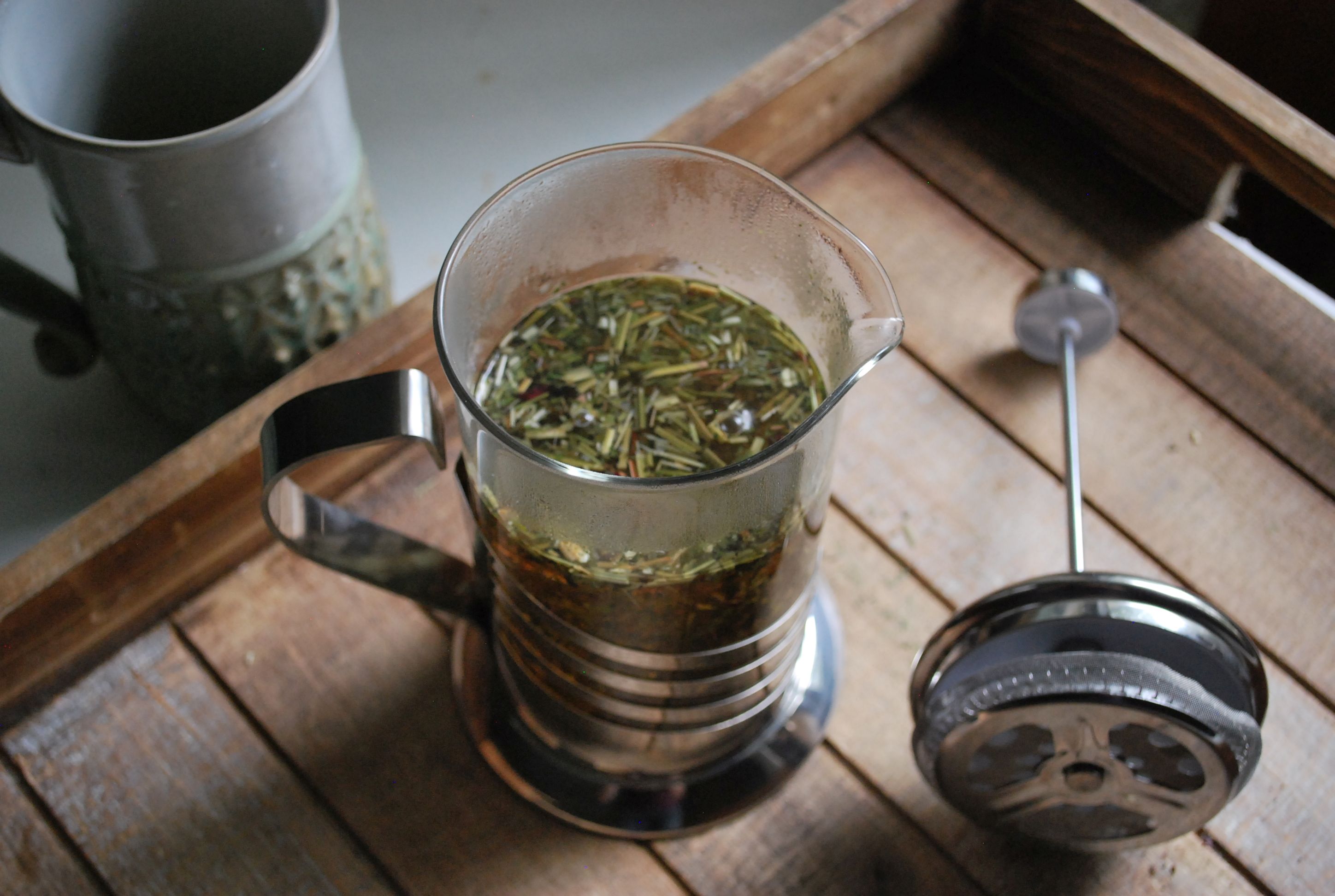 Tips for Using a French Press for Herbal Teas
Here are a few things that I've learned about using a French press to make herbal teas that you might find helpful!
Don't worry about buying an expensive one. I found one of my French presses on clearance at a grocery store, and another at a discount home goods store. One cost $3, the other was $8. I'm very happy with both of them and the way they have weathered constant use.  

Reserve a press just for teas to avoid your herbal brew tasting faintly of coffee. Coffee has a pretty strong aroma and flavor. Leftover coffee oils clinging to your press can sneak into your herbal tea. . . Eeew.    

If you are new to using a French press, it can be helpful to take a little time to figure out what 8 ounces and 16 ounces of water look like in your press pot. Measure out the appropriate amount of cold water and add it to your press so you can get a feel for how much hot water to add when you make tea.
My herbal recipe book, The Complete Guide to Adaptogens, is full of creative recipes for home herbalists! Be sure to check it out if you enjoy making herbal teas and elixirs and love to incorporate herbs into your everyday wellness routines.
All the best,
Agatha