Links contained in this post and elsewhere on my website may include affiliate links. When you make a purchase through these links, I earn a commission at no additional cost to you. I only link to products and services that I love - and that I think you will love, too!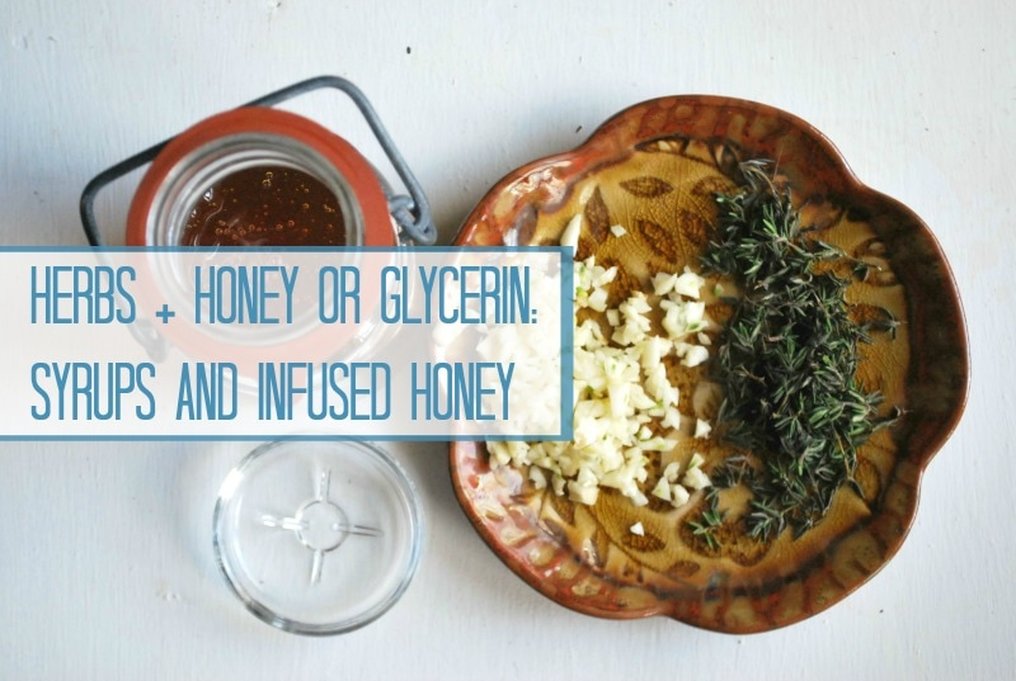 ​It's so hard to believe we are at the end of Week 3 of the #40DayHerbalist Challenge! Today's Challenge focuses on the topic of herbs and honey, with a tutorial on how to make a simple Garlic and Thyme Honey, and directions to help you navigate making an herbal syrup.
Time needed: 30 minutes
Tools/Supplies:
1 cup of Honey
1 Tbsp finely chopped fresh thyme
1 Tbsp finely chopped fresh garlic
Herbs + Honey
First, let's talk about herbal syrups, because I know there is a lot of curiosity about how to make these and also a good bit of misinformation floating around on what makes a safe syrup (speaking in terms of germs and other food safety matters).
Syrups
Syrups are convenient and palatable herbal preparations that can be enjoyed straight from the spoon, used as a flavored sweetener, or stirred into warm water to make a quick beverage. Honey makes a nice syrup medium, as does glycerin. Maple syrup, too – but it has a lot of water compared to the other two so it will have a shelf life of basically nothing unless you add alcohol. Simple syrup made with sugar and water is another option.
The only ingredients needed to make an herbal syrup are: a strong infusion or decoction of the desired herb, or herbs, and raw honey. The ratio to use is 2:1 (two parts sticky substance to one part strong infusion or decoction). To make your infusion or decoction you can use up to an ounce of herb by weight per quart of water.
The directions are pretty simple: place the herbal infusion/decoction and the sweetener into a saucepan over low heat. Stir gently until the  and herbs are combined. Once the herbal infusion and sweetener are completely blended together, pour into glass canning jars and cap with lids.
Opened syrups are best stored in the refrigerator. If mold forms on the syrup, throw it away. Honey is naturally antimicrobial to a point, but mold becomes a possibility for syrups because adding the herbal decoction or infusion creates a higher water content.
Some herbalists like to use a 1:1 ratio for making their syrups. Personally, I have not had luck with honey or sugar syrups made at a 1:1 ratio of sweetener to decoction- even if refrigerated. They tend to develop mold within a few weeks. So I always add alcohol to my finished syrups now, and usually go with a 2:1 ratio of syrup.
Sterilizing the jar is also a very good thing to do. National Center for Home Food Preservation has the essentials for learning to sterilize jars here.  
A note on shelf stability and food safety with elderberry syrup
Elderberry syrup is a classic herbal staple that's easy to make at home, but it's also easy to be careless with it in terms of food safety and spoilage.
Unless your syrup either contains alcohol or is at the proper pH, poured into sterilized jars, and canned using correct water bath processing, chances are it's not going to be shelf stable for any length of time.   
University of Utah Cooperative Extension has information on how to preserve elderberries by canning them (including a basic syrup recipe). Just remember that if you add other ingredients or use other recipes the final product may not be safe, even if you follow water bath canning procedures. It will still be best to refrigerate a canned elderberry syrup once it has been opened.
Based on everything I've read, 20% alcohol is enough to preserve your finished project, and that's what I use. You can even use an extract instead of plain vodka or brandy for an extra boost. For every 8oz of syrup, I add 1.6 oz of extract or alcohol.
Infused Honey
Now that we have discussed the complexities of herbal syrups, let's look at infused honeys and today's recipe. Infused honeys (or glycerin) are the easy way to learn about herbs and sticky stuff. I've found that for every cup of honey I can use about 2 tablespoons of fresh, finely chopped herbs without fermenting anything accidentally.
I prefer to leave my ingredients in my honey when I use it, but you can also warm your honey a little and strain it through a jelly bag if you prefer.
The benefit of an infused honey or glycerin are shelf stability and palatability. They are less concentrated than extracts or syrups, but still helpful. Today's recipe is a garlic and thyme honey that I use for supporting lung and immune system health.
Ingredients
1 cup honey* or glycerin (*please remember that honey shouldn't be given to children under 2 years of age)
1 tbsp finely chopped fresh garlic
1 tbsp finely chopped fresh thyme
To make:
Start with a clean jar. There's no need to sterilize your jar (unless you want to), but I prefer to wash mine in hot soapy water and dry thoroughly with a clean towel before I begin.

Pour ½ of the honey into the jar.

Add the chopped herbs to the jar, and cover them with the remainder of the honey. Cap the jar with a lid.

Check on your jar daily for two weeks. I like to turn my jar upside down and then rightside up again after a few seconds, and some herbalists prefer to stand the jar on it's head for a day and then right side up the next- make sure to put a saucer or something underneath if you want to leave it inverted. Just in case it leaks! Turning the jar over everyday helps keep the herbs submerged in the honey.

After two weeks you can begin using your honey! Use a teaspoon or two at a time to sweeten tea, add to food, or enjoy straight from the spoon.
​
Your Mission
For today's mission, I hope you will try your hand at making the infused herbal honey above. If you don't want to use honey, you can use glycerin instead.  
​
More Fun!