Links contained in this post and elsewhere on my website may include affiliate links. When you make a purchase through these links, I earn a commission at no additional cost to you. I only link to products and services that I love - and that I think you will love, too!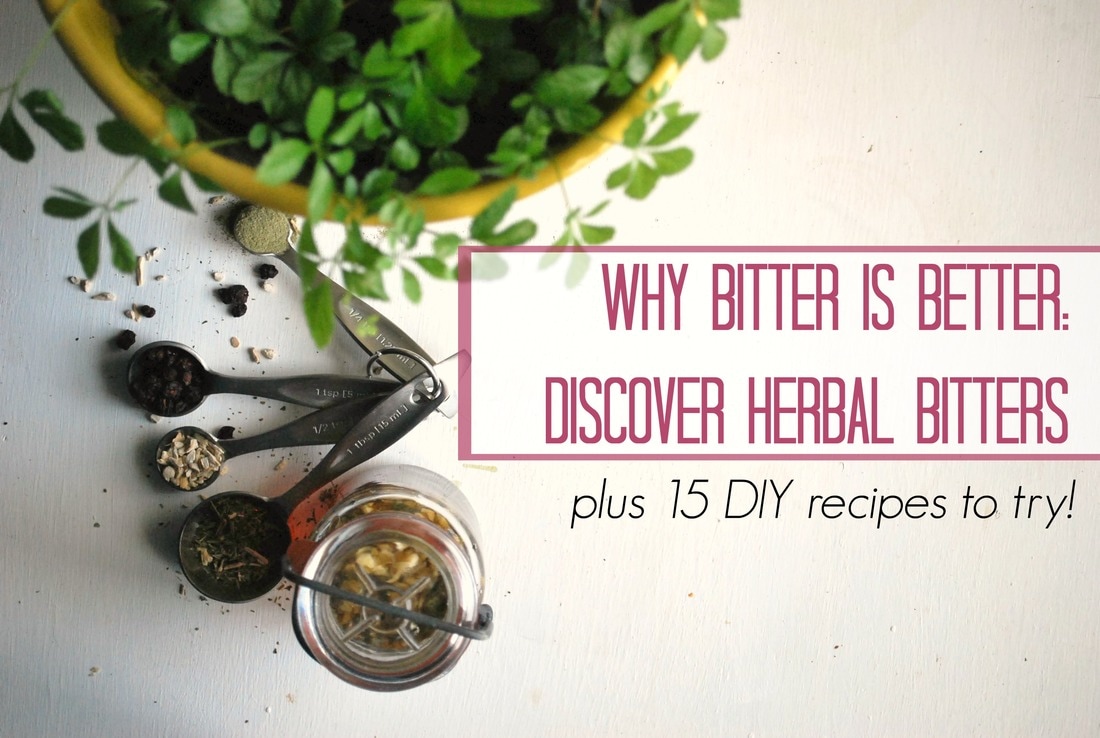 ​Welcome to Day 18 of the 40 Day Herbalist Challenge! Bitter is a yucky flavor, am I right? I actually have a fondness for a few bitter things (grapefruit and gin, for instance – oh, and don't forget dark chocolate!) but for the most part bitter is not a flavor I appreciate, and I'm sure you probably have other flavors you would rather taste as well.

But the bitter taste is actually really important for a number of reasons. Enter herbal bitters. By combining bitter herbs like dandelion and burdock with selected spices, you can create intriguing blends that keep you coming back for more – even if it is bitter! For today's Challenge, let's take a look at why bitters are important and get inspired with a recipe roundup!

Time needed: 15-20 minutes
Tools: pens/pencils, notebook 
​
The Benefits of Bitter Herbs

What are the benefits of bitters?
Our modern diets often lack foods with a bitter flavor, but there are many indications that our bodies function at their best when challenged by bitter tastes. Bitter tasting foods and herbs actually start a chain reaction that begins in the mouth and extends all the way through the digestive tract to prime the body for digesting and assimilating food. Thus, the most common use for herbal bitters is to support healthy digestion- but the benefits don't stop there. In fact, bitters may:
Support healthy immune function (read a

fascinating article about that here!

)

Give the liver and gallbladder a gentle daily detox

Prime your body to optimize digestion and absorption of nutrients

Support the pancreas, liver, and gallbladder
The Wild Medicine Solution by Guido Mase is a great book if your are interested in learning more about the benefits of bitters and ways to add them to your diet.

Who can use herbal bitters?
Although bitters should be fine for most adults, if you have health concerns regarding your liver or gallbladder it's best to check with your doctor before you add bitters to your daily routine. Many bitter herbs should also be avoided during pregnancy. Aviva Romm, MD, has a list bitters that expectant mothers should be especially careful to avoid, but it would be wise to check in with an experienced herbalist and your doctor before you use any bitters – even ones that aren't on this list.

Some bitters are also fine for kids and can be a blessing for keeping little ones regular. That being said, you may have to be creative in finding a way to share bitters that won't make your little ones disappear into hiding the next time you proffer something herbal. Chamomile is a mild bitter that is generally kid approved in tea form (sweetening with a few drops of apple juice makes it tastier) but be careful with chamomile if your kiddo has a ragweed allergy.  

What are some bitter herbs?
Gentian and dandelion are well known herbal bitters, but there are actually many others. Angelica, elecampane, ginger, oregon grape root, burdock, motherwort, hawthorn, and yellow dock are all common choices in DIY herbal bitters recipes. Even chamomile is a mild bitter!

How to Use Bitters
15 minutes or so before or after meals, put 30-60 drops of bitters into 4-8oz of sparkling or still water and sip. You can also put the drops directly in your mouth, but I like diluting them a little. You can use bitters in between meals, too – I find they can be super helpful for sugar cravings when used that way. Do be aware that if you have a sensitive digestive system your tummy may not thank you for using bitters when it's very empty. Of course, bitters can be added to your favorite mocktails and cocktails, too, from time to time!

15 Herbal Bitters Recipes

Although there are plenty of herbal bitters readymade by awesome herbal companies like Urban Moonshine and Herb Pharm, making your own bitters can be a fun DIY project. Besides vodka, you could use gin (my favorite) or rum. I've collected 15 amazing herbal bitters recipes from around the web to inspire you on your own DIY bitters adventures – so read on to find one that looks interesting!

Dandy Tummy Bitters
Fennel gives a slight licorice flavor to this recipe for Dandy Tummy Bitters.
Find the Recipe Here

Homemade Citrus Spiced Dandelion Bitters
These homemade citrus spice bitters feature dandelion, ginger, cardamom, and cinnamon.
Find the Recipe Here

Grapefruit Bitters
This recipe features artichoke and hawthorn instead of the usual dandelion or gentian, plus it includes lots of unusual ingredients like hibiscus and coriander. Yum!
Find the Recipe Here

Orange and Elecampane
Elecampane is one of my favorite bitters, and this recipe uses them as the main bitter herb and adds orange and vanilla.
Find the Recipe Here

Chamomile and Mint Dandelion Bitters
Chamomile and mint sounds like a blissful combination for these dandelion bitters.
Find the Recipe Here

Fancy Cherry Vanilla Bitters
The ingredients list for these looks long, but with all kinds of interesting options it's hard to say that's a bad thing! This also links to recipes for chocolate bitters and strawberry ginger bitters.
Find the Recipe Here

Mole Bitters
Chiles and chocolate. Need I say more? This recipe uses angelica and wormwood for the bitter herbs.
Find the Recipe Here

Sarsaparilla & Sassafras bitters
Sarsaparilla and sassafras with wintergreen and molasses give a very unique flavor to this bitters recipe!
Find the Recipe Here

Juniper Berry Bitters
This bitters blend includes peppercorn, thyme, and juniper berries.
Find the Recipe Here

In Bloom Bitters
These feature lavender, rose, and sage.
Find the Recipe Here

Grapefruit and Rosemary Bitters
And also a recipe for Tangerine + Spice bitters.
Find the Recipe Here

Bitternut Hickory Bitters
If you like to forage, these might be something you'll enjoy.
Find the Recipe Here

Savory Cocktail Bitters
Dill, fennel,  garlic, parsley, and rosemary are part of this unusual savory bitters blend.
Find the Recipe Here

Coffee Bitters
Coffee beans, cacao nibs, wild cherry bark, and star anise are some of the ingredients in this recipe that's perfect if you love your go juice.
Find the Recipe Here

Summer Bitters Recipe
This elegant and simple  bitters recipe features gentian, dandelion, and licorice.
Find the Recipe Here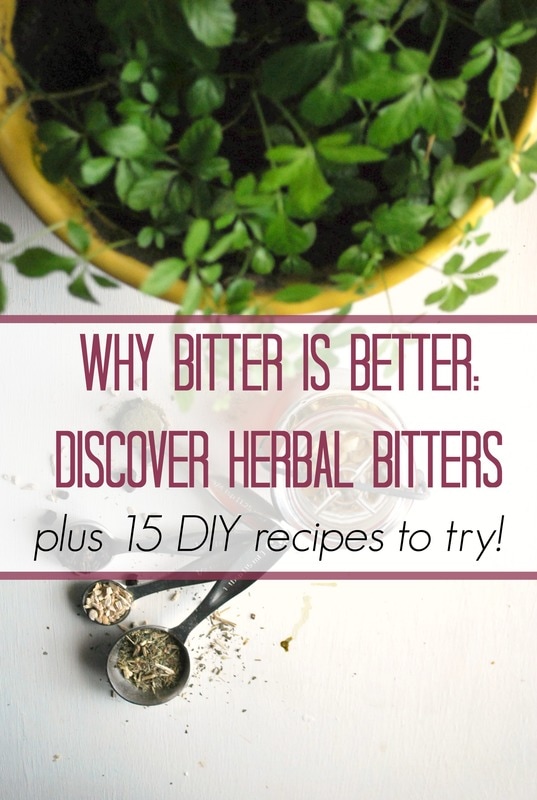 Your Mission
For today's mission, consider choosing a recipe from the list above so you can make your own herbal bitters to use. If you would rather read more about bitters first, I've included links to a few excellent articles in the More Fun section below.
All the best,
Agatha
More Fin!