Please note: links contained in this post and elsewhere on my website may include affiliate links. When you make a purchase through these links, I may earn a commission at no additional cost to you. I only link to products and services that I love - and that I think you will love, too!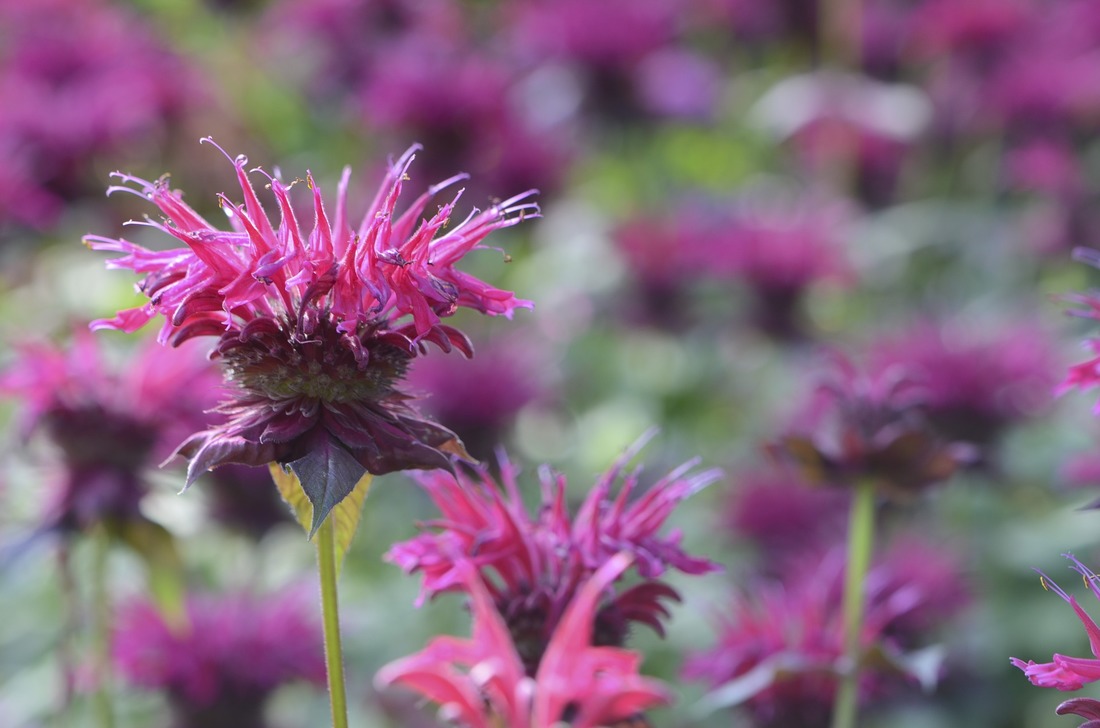 Sometime the most familiar plants in your garden can surprise you. My mom always grew bee balm (Monarda spp.) in her garden because it attracts birds and butterflies, and as a child I was fascinated by the unique flowers and lovely scent of the leaves. I knew that this popular garden flower is a native wildflower, but until recently I didn't know that it had herbal uses.
I was delighted to read about it in Matthew Wood's The Book of Herbal Wisdom, and decided that I wanted to make an extract. The extract is not, as far as I know, available commercially, but I purchased a plant from Strictly Medicinal Seeds and it grew quite happily in a container on my patio all summer, with a harvest yielding a six oz bottle of extract.
How to Use Bee Balm in the Kitchen
In case you haven't ever tried it, you should know: bee balm extract is delicious. It's sweet, and spicy, and a little bit buttery. ​
Traditionally, it has a reputation for use for 'drawing out fire' such as in the case of burns or burning sensations (like urinary tract infections and joint paint); also as being a nervine. Among it's many other uses,  I am glad to have it on hand for sunburns, skin problems, and attitude adjustments (gotta love nervines).
Besides health supportive uses, though, this herb is also really nice to have in the kitchen! Whether you are foraging bee balm or growing it in your garden,  read on below to find some of the ways it can be used.
As an Oregano Substitute
Bee balm has a flavor and aroma that's a bit like oregano, a bit like mint, and a bit like Earl Grey tea. It's an easy to grow, native spice that you can use almost anywhere you would use oregano. Fish, lamb, pizza, spaghetti. . . bee balm is good stuff!
As a Sophisticated Tea
Besides the health benefits of bee balm tea, because it does have a flavor that's reminiscent of Earl Grey it makes a lovely tea- either as a base for other herbs or on its own. Try it as an after dinner tea or as a pick me up on days that leave you feeling stressed or down. The flowers add a touch of beautiful color to tea blends.
In Salads
Minty herbs are usually really good in salads that incorporate fruit, and bee balm is no exception.  The edible flowers are beautiful and are fun to include as a garnish, or you can use the leaves. It also works well in dressing recipes that would use oregano.
To Make Spice Blends
If you like to make your own spice blends in the kitchen with homegrown herbs, you definitely want to keep bee balm around. You can use it as the main ingredient, to feature it's unique flavor, or use it in smaller amounts to add interest to other blends.
Added to Baked Goods
I really want to make bee balm flower cookies, although my plants haven't spread enough to make a big flower harvest just yet. I've seen them used in breads (yum!) and they would also make a stunning cake or cupcake garnish. The leaves would also make a lovely ingredient in herbed breads or savory baked goods.
In Aguas Frescas
Minty, citrusy bee balm is a no brainer for agua frescas made with fresh fruit and herb infused water. Melon and bee balm, berry and bee balm- Actually, I can't think of a single fruit that bee balm wouldn't compliment. And probably several veggie garden additions, too, like cucumber.
For Creative Cocktails/Mocktails 
A dropper full of bee balm extract in sparkling water is really delightful and makes for a fun and sophisticated healthy sip. It would also make a lovely ingredient to infuse and flavor vodka or gin. Case in point, Purple Sage, Lemon Balm, and Bee Balm Infused Gin.  .  . Need I say more?
After my initial experiment with bee balm in a container on the patio, I started a bee balm patch in the garden, and that's also doing well. The container had to be watered daily, but now that the plants are in the soil they are thriving and haven't needed any attention at all.  All in all, it has been an easy to grow native herb that is a joy to work with in the kitchen!