Please note: links contained in this post and elsewhere on my website may include affiliate links. When you make a purchase through these links, I may earn a commission at no additional cost to you. I only link to products and services that I love - and that I think you will love, too!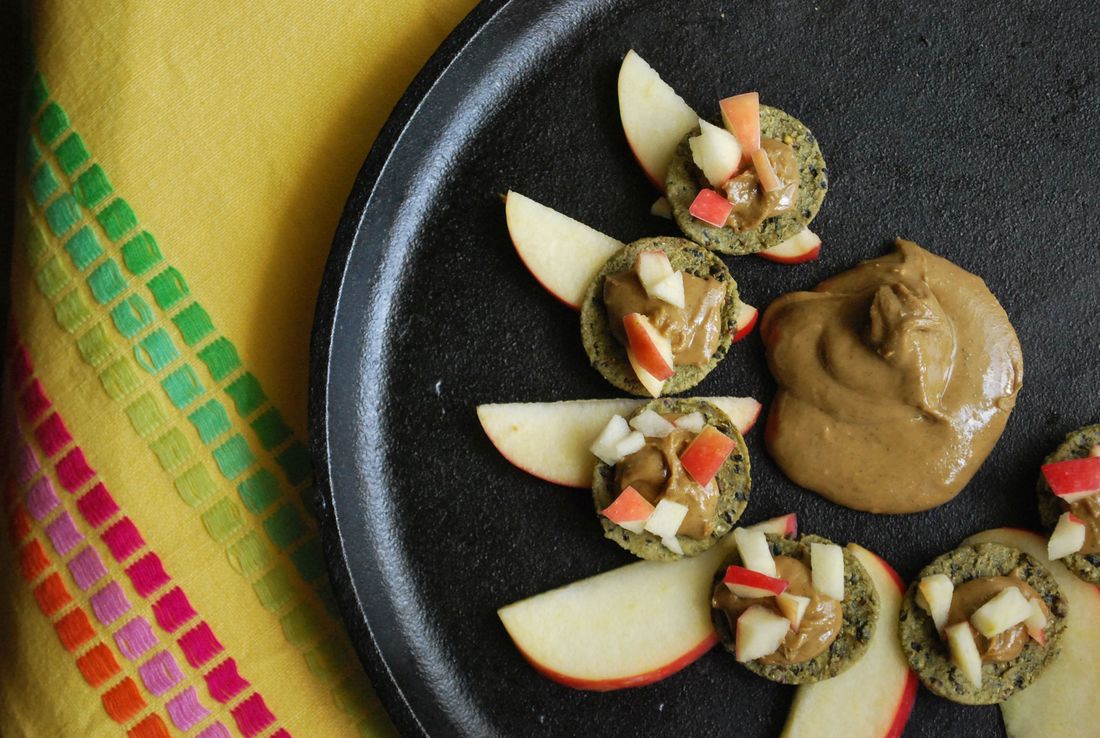 ​
Do you love sunflower seed butter? I do! This simple and delicious recipe showcases sunflower seed butter with ginkgo, rhodiola, and rosemary for an adaptogenic, herbal boost that's sure to please finicky and sophisticated palates alike. If you have my book, Adaptogens: 75+ Herbal Recipes and Elixirs, you can also find this recipe on page 101, along with directions for making homemade sunflower seed butter from scratch. Yum!So, here's how to make your own upgraded sunflower seed spread.
I like to call this recipe "sunpower spread". You'll need to make a batch of sunpower powder for this recipe, but that's easy. After that, it's just a matter of combining the powder with the sunflower seed butter and deciding how you want to enjoy it!
sunpower powder
Yields 1 cup powder (enough for 12 cups sunpower spread)
6 tablespoons powdered ginkgo leaves
4 tablespoons powdered rhodiola root
6 tablespoons of powdered rosemary leaves
How to Make It
1. Place the powdered ginkgo, rhodiola, and rosemary into a medium mixing bowl and stir them gently until they are evenly combined.
2. When the herbs are blended together, transfer the powder into an airtight container, label the container, and store in a cool, dark place until you are ready to use .
How to Use It
Stir in 4 teaspoons of sunpower pwder per cup of sunflower seed butter until well blended, or add 1/4 – 1/2 teaspoon of powder per serving in other recipes.
Sunpower spread goes really well with apple slices and/or crackers. I love it with some 3 seed kale crackers and a slightly tart apple like a Braeburn. You can also use it on sandwiches with all-fruit preserves. Strawberry and grape are especially good!
About the Herbs
Rhodiola is the adaptogen in this blend, and included for it's reputation as a neuroprotective. It's also considered to be a cardioprotective and an herb that was traditionally used to support healthy immunity and both mental and physical stamina. Ginkgo and rosemary are both nootropics. Ginkgo is especially supportive of healthy circulation and cerebral function, while rosemary (in addition to cognitive and cerebral support) is a nervine that supports mood, and also a mild liver tonic.
Sunpower spread makes a great work or study snack, but I also like using it to refuel post-workout. Besides the support Rhodiola offers for athletes, ginkgo has been studied for its anti-inflammatory properties. Combine that with the protein in the sunflower seed butter, and I find it's a great option to keep in mind!
All the best,
Agatha
Agatha is an herbalist and author in Atlanta, Georgia. She founded Indie Herbalist in 2011. Her herbal recipe book, The Complete Guide to Adaptogens, is available wherever books are sold. To listen to her podcast or enroll in one of her herbal courses, visit Indie Herbalist's sister site, Teacup Alchemy.